Polls free, claims AL
BNP blasts EC for 'partisan role'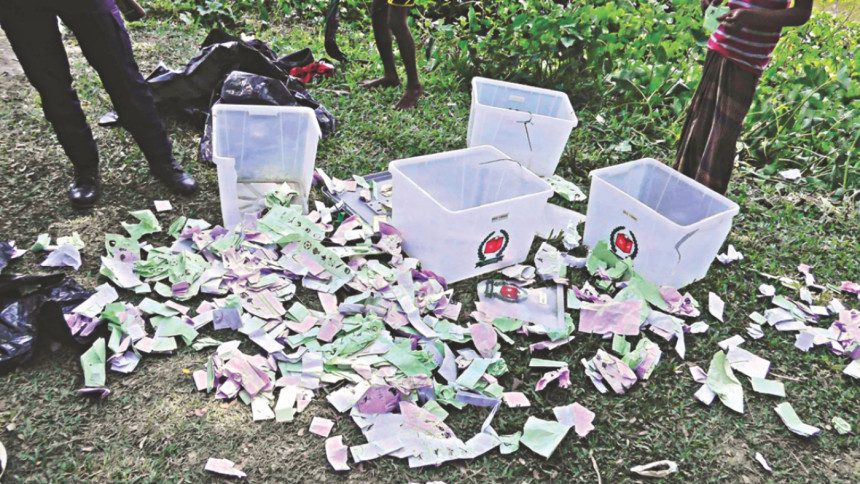 The ruling Awami League has claimed that the union parishad election was held in a free, spontaneous, and transparent manner while its political opponent BNP termed the polls "farcical under a partisan Election Commission".
The main opposition in parliament, Jatiya Party, claimed that the ruling party-men were engaged in vote rigging, capturing ballot boxes, and had driven away Jatiya Party polling agents from over 35 election stations.
"This union parishad polls was peaceful, spontaneous, and transparent than any other polls in the past," AL Joint General Secretary Dipu Moni told reporters at a briefing, held at AL president's Dhanmondi office yesterday.
She also claimed that the election was 99.72 percent fair as voting of only 18 centres out of over 6,500 had been suspended. The AL leader thanked voters, law enforcers, and officials related to the elections for making the polls peaceful and fair.
Dipu Moni also came down heavily on the BNP for "resorting to falsehood" regarding the Election Commission.
Even though she claimed that voting of only 18 centres had been suspended, the chief election commissioner said voting of 56 centres had been suspended over allegations of irregularities.
BNP Joint Secretary General Rizvi Ahmed, while speaking at a press briefing at BNP's Nayapaltan central office, said, "We're receiving information that most voting centres of 717 Union Parishads have been captured. We also have information about vote rigging, ballot box snatching, stuffing, driving out of our agents, and their assault, intimidation of voters, and other massive irregularities."
He said the first phase of the UP polls have once again proved that no fair election is possible under the current regime.
BNP acting secretary general Mirza Fakhrul Islam Alamgir said the government was holding a farcical election "under a partisan Election Commission" and was trying to make a fool out of the country's people and the world.
Fakhrul, while talking to reporters after placing wreaths at the grave of late president Ziaur Rahman, said they took part in the union parishad elections as part of their "ongoing democratic movement".
He BNP yesterday demanded the EC holds re-elections in at least 50 unions. A party delegation, led by BNP Vice-Chairman Abdullah AL Noman and its Joint Secretary General Mohammad Shahjahan, placed the demand while meeting the CEC.
The BNP leaders told the reporters afterwards that if the EC held the re-election, the number of polling centre capture would reduce in the next phases.     
Jatiya Party said AL men were engaged in vote rigging, capturing ballot boxes and driving away of their election agents from polling stations of over 35 union parishads and demanded the elections at those UPs be suspended immediately.
A JP delegation led by Senior Joint Secretary Rezaul Islam Bhuiyan filed a complaint with the Election Commission Secretariat in this regard.
"While meeting him, Election Commissioner Shahnawaz phoned the superintendent of police and returning officers of Barisal, Satkhira and Pirojpur. But the situation remained unchanged," SM Foysal Chisty, a JP leader present at the meeting, told The Daily Star.