Can we justify censorship in culture?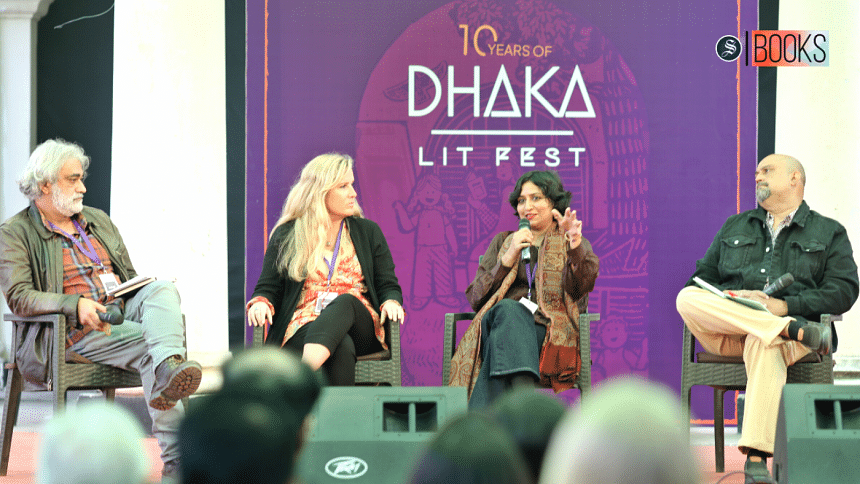 Sarah Churchwell, professor of American Literature and Public Understanding of the Humanities at the University of London, Nilanjana S Roy, prominent Indian journalist and literary critic, and Vivek Menezes, co-founder and co-curator of the acclaimed Goa Arts + Literature Festival, came together on the second day of the Dhaka Lit Fest in a panel titled 'Culture Wars', moderated by award-winning author and photographer Ranbir Sidhu to discuss how censorship has remodeled itself in the age of social media. 
The panel set out to discuss whether the exclusion of certain authors from certain venues advance anti-discrimination or foster a new form of censorship. The leading question posed by the moderator was to define the distinction between state sponsored censorship versus the new kind of censorship from public opinion and societal pressure. How does one justify that?
"They use these pretexts to dominate the conversations", Professor Sarah Churchwell said of corporate media, drawing attention to the transformative effects of new technologies, the Trump years and events that led to the January 6 insurrection when Trump supporters broke into the US Capitol as Joe Biden was announced as the winner of the 2020 presidential election. 
For journalist and author Nilanjana S Roy, it is a question of discussing internal censorship faced by novelists in India today. She described the current state of free speech in the country and shared experiences of editor and writer colleagues who have faced repeated lawsuits, which she referred to as "second prisons" that have put a stop to their work. 
"But cancel culture is also the place where so many other movements came up. It gave us a voice in #MeToo. It gave us a voice to speak out against corruption in many places", she added. "Just because some part of this needs to be adjusted doesn't mean that you should forget the power of what happens when people in a democracy are given the mic".
On the topic of cancel culture, Professor Sarah Churchwell elaborated how it is not about "canceling" but more about consequences. "You're not canceled. Society is saying there should be consequences for serious criminal behavior. And there is a sense that if the justice system is not going to take care of it, there might be a kind of poetic justice that would take its place", she stated. 
The panel spoke broadly about censorship, #MeToo movement, mob mentality, cancel culture, JK Rowling, and social media echo chambers. 
Upon being asked about the things that are becoming "unsayable" in India, Vivek Menezes pointed out, it is not only in India but around the world that there is a "growing fear around [talking about] certain topics, certain individuals and certain buzzwords" because of [things like] the "woke or cancel culture", the fear of the law, or eliciting certain reactions from "the mob". 
In practice, he adds, it is not as cut and dry as it is believed to be.
"Because", he explains, "if you see the broad swathe of Indian media, where—even though the window [of critical discourse] is growing smaller—the conversation still does exist. There is a place for that in public discussions."
The panel made for an important discussion on free speech and censorship from varying perspectives. It ended with a Q&A session with charging questions from the audience. 
Usraat Fahmidah is a freelance journalist & writer.