Hartal called in Banshkhali tomorrow
Relatives file 2 cases, cops sue 3,000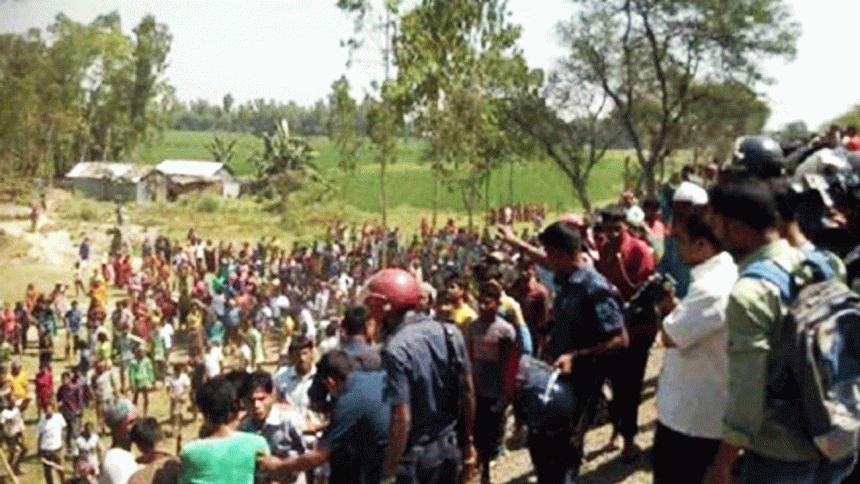 - Cops sue 57 named, 3,000 unnamed
- Relatives of 2 victims file 2 other cases
- Hartal tomorrow
Banshkhali Chhatra Oikya Forum called a dawn-to-dusk hartal in the upazila of Chittagong for tomorrow protesting the yesterday's incident that left four people killed in "police firing".
Shah Newaz Chowdhury, convener of the upazila-based student front, made the announcement today from a human chain formed in front of the Chittagong Press Club this afternoon, reports Chittagong correspondent.
In his brief speech, Chowdhury said adequate compensation will have to be given to the family members of the victims.
He also called upon the authorities concerned not to harass any innocent people implicating them with the case deliberately.
Meanwhile, three lawsuits have been filed, one on behalf of police and two from relatives of the victims, over yesterday's Banshkhali firing incident that left at least four people dead in Chittagong.
Police, who said they were forced to open gunfire after attacked by a mob protesting installation of a power plant of S Alam group, sued 57 named and over 3,000 anonymous.
Relatives of two victims filed two cases. All the lawsuits were filed with Banshkhali Police Station, Chittagong police Superintendent (special branch) Abdul Awal told our local correspondent this morning.
READ MORE: 4 killed in clash over setting up power plant
Monowara Begum, wife of deceased Zaker sued 1,500 anonymous people while Bashir Ahmed, relative of another deceased Anwarul, filed a case against six named and 1,500 unidentified people over the incident.
A majority section of the locals were protesting against the power plant – to be set up by November 2019 in collaboration with a Chinese company – for quite some time now.
In continuation of the unrest, two rival groups called counter rallies yesterday that ended in police being forced to open fire. At least four people were killed, but locals claim the number to be higher.