Christians press govt for fighting minority killings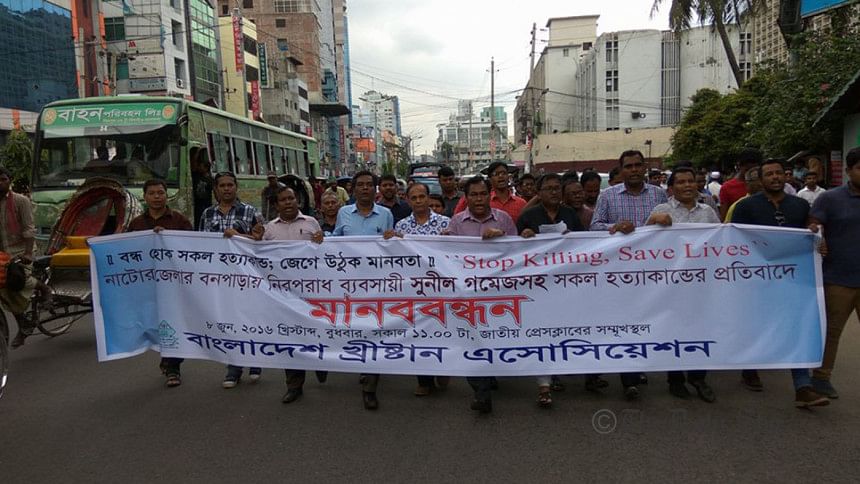 The Christian community demonstrated in Dhaka today urging the government to take steps to stop the on-going attacks and killings including that of minorities.
Bangladesh Christian Association organised the human chain under the banner of 'Stop Killings, Save Lives' in front of Jatiya Press Club.
Apart from condemning the recent killings, the participants of the human chain also protested the recent killing of a Christian grocer Sunil Gomez in Baraigram upazila of Natore.
Four members of Christian community were killed, and two others attacked in separate incidents in last six months, Nirmol Rozario, secretary general of the organisation, said at the programme.
Now, not only the religious minorities are targeted, the majorities are also affected and killed, Rozario said.
Unknown assailants on June 5 hacked to death Sunil Gomez, the latest in a series of attacks on religious minorities. Sixty-year-old Gomez was alone in his shop at Bonpara Christian Palli in the upazila around noon after offering Sunday prayers.
We know that the government is trying to stop the killings and bring criminals to book but its efforts will go in vain as we are not sure whether the killers are hiding amongst us or not, he said.
International Crimes Tribunal Prosecutor Rana Dasgupta expressing his solidarity with the human chain and urged the government to stop such killings in the country.
Different organizations including Dhaka YMCA, Jatiya Church Parishad, Dhaka Christian Co-operatives and Bangladesh Garo Chhatra Shongothon participated at the human chain.