4 killed in clash over setting up power plant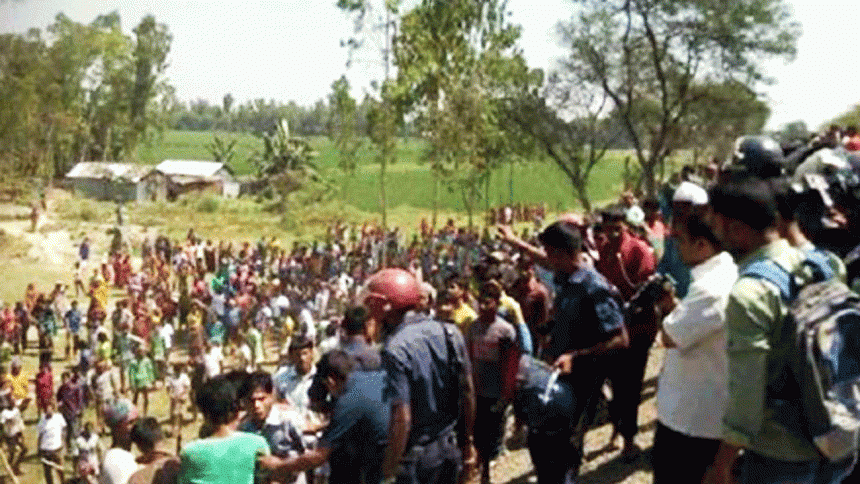 At least four persons were killed and 30 others injured yesterday in a clash between law enforcers and locals in Banshkhali upazila of Chittagong over installation of a coal-based power plant, said police.
The dead were identified as Anwarul Islam, 44, and his elder brother Mortuza Ali, 50, Zaker Ahmed, 50, and Md Zaker, 50, from Gondamara union, said Habibur Rahman, additional superintendent of police, Chittagong District (South).
Of them, Md Zaker was declared dead after he was taken to Chittagong Medical College Hospital.
There was a bullet mark in Zaker's abdomen, said Md Aminul Huq, a doctor who attended the victim.
The bodies of the other three were kept at Banshkhali Police Station, ASP Habibur told our Chittagong correspondent.
Locals, however, claimed that the number of deaths was higher.
CMCH sources said six of the injured -- Mujibur Rahman, Ansarullah, Md Zahir, Abdul Khaleq, Md Abu and Md Motaleb -- were admitted to the hospital with bullet wounds.
Police said the administration imposed a ban on gathering (section 144) at Hajipara School field in Gondamara union around 3:00pm yesterday after two rival groups announced that they would hold rallies at the same venue in the afternoon -- one in support of installation of a power plant by S Alam Group and the other against it.
On information that the two rival groups took position at the spot for holding rallies, a team of 25 to 30 policemen went to the spot around 3:30pm, said ASP of Satkania Cirlce AKM Emran Bhuiyan, who was at the spot during the clash.
"As soon as police reached the field, several hundred people opposing installation of a power plant attacked police with brickbats and locally made weapons, and then opened fire. Police retreated, but the locals again swooped on them, prompting the law enforcers to fire shots at the mob in self-defence," said Emran.
He said 11 police personnel, including the officer-in-charge of Banshkhali Police Station, were "wounded by stray bullets" during the clash.
However, Md Jamir Hossain Kader, a witness to the incident, claimed the protesters were unarmed, and no shots were fired on police.
"When the unarmed people tried to hold a rally, police turned up there and fired shots without any provocation, causing casualties."
Later, an infuriated mob tried to block the road when police were leaving the spot but there was no attack on police, he added.
Arif Ullah, chairman of Gondamara union parishad, told The Daily Star that tension was prevailing in the area for the last one month over setting up of a power plant by S Alam Group.
"Around three days ago, some people from S Alam Group visited the spot. As they were inspecting the site, they came under attack from villagers who opposed the plant's installation. A case was filed with Banshkhali Police Station over the incident, and six to seven people were arrested early today," he added.
The opposing group led by ex-union parishad chairman and BNP leader Liakat Ali decided to hold a rally to protest yesterday's arrest and also plant's installation, while Awami League men led by local AL unit president Shamshul Alam Master announced a plan to hold a counter-rally in support of setting up the plant, he said.
Giving his account of the clash, Arif said that at one stage, locals hurled brickbats at police, but he didn't know whether locals opened fire on the law enforcers.
Talking to The Daily Star last night, Deputy Commissioner of Chittagong Mesbah Uddin said a one-member committee comprising Additional District Magistrate Mominur Rashid was formed to investigate the incident.
It was asked to submit a report within a week, he added.
ASP Habibur said a case would soon be filed over the incident.
Meanwhile, BNP Chairperson Khaleda Zia slammed the government for "the killing of five people in a police attack" in Chittagong.
In a statement, she demanded that the government form a judicial probe body to identify the culprits and give them exemplary punishment.
Despite repeated attempts, The Daily Star couldn't reach Mohammed Saiful Alam, chairman and managing director of S Alam Group, for comments.
On condition of anonymity, a senior official of the group said, "This issue concerns the police. They imposed section 144… We have nothing to say about it."
In December 2013, S Alam Group, one of the fastest growing local companies, struck an agreement with SEPCO3 Electric Power Construction Corporation of China to set up a coal-fired power plant in Banshkhali.
On February 16 this year, the government signed power purchase agreements with two private joint ventures led by S Alam Group to buy electricity at Tk 6.61 per kilowatt-hour from two projects with power generation capacity of 1,224MW.
SS Power-I Ltd and SS Power-II Ltd -- both joint ventures of S Alam Group -- and SEPCO3 Electric Power and HTG of China will set up the power plant by November 2019.
The project will require an investment of $2.4 billion of which $1.75 billion will come from Chinese lenders. The plant is being implemented on a 600-acre site.