Rampal Project: Special kind of construction materials not being used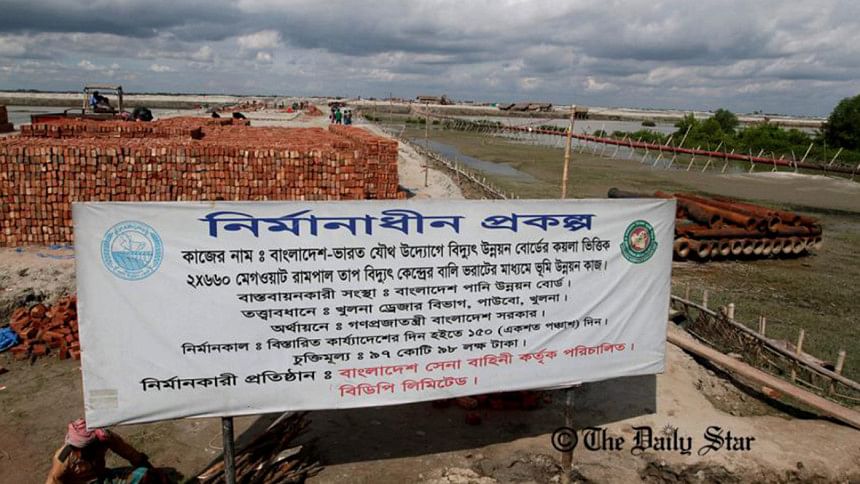 Lifespan of the proposed Rampal coal-based power plant in Bagerhat is feared to be shortened by almost two-thirds (25 years instead of expected 75 years) due to corrosion and other weather factors, as the construction materials required to withstand coastal corrosive weather are not being used as they are not specified for the scheme, said noted engineers and businessmen yesterday.           
Besides, unlike Padma bridge project, there is no national-level technical advisory body to oversee the work and its technical qualities of the much talked-about 1320-MW power plant being built under Bangladesh-India joint venture, they said.
They came up with the concern at a discussion on 'resilient infrastructure for the blue economy' jointly organised by The Daily Star and steel (re-rolling) manufacturing company BSRM at The Daily Star Centre in the capital.  
It may be mentioned that Padma Bridge has a national advisory body consisting of prominent national experts like Prof Jamilur Reza Choudhury, Prof Shamim Z Bosunia and some other noted experts, who monitor the work and suggest technical changes. 
The specification for special kind of cement, concrete and steel required for withstanding the corrosive saline weather, tidal surge and coastal wind load used for a similar power plant in Chennai are not being used in case of Rampal, said Prof AMM Safiullah, vice-chancellor of Ahsanullah University of Science and Technology.
"Epoxy-coated iron bar, for example, is needed for reinforcement of structures in the coastal regions," he said.
Prof Ishtiaque Ahmed of civil engineering department at Buet echoed Safiullah. 
It is the similar power plant and the same contractor building the schemes in Chennai and Rampal but they are not using the same coastal weather-resilient construction materials in Rampal project as they are doing in case of Chennai, speakers said.
Specification of such construction materials is neither mentioned in the Rampal tender documents nor sufficiently in the Bangladesh national building code, said M Firoze, head of marketing and product development of BSRM, adding that specifications should be incorporated in the national code.
In India, specifications of special construction materials for the coastal zones are required by law, he said.
Prof AFM Saiful Amin of civil engineering department at Buet, said that specifications of materials are needed for durability but use of epoxy-coated steel is not the only solution.
There are other options as well, for example, thick concrete covering is another way that may address the challenge of coastal zone construction, he said.
Finally, the national building code has to be revised to incorporate dedicated zone-wise codes on coastal zone, bridges and roads construction, he said.   
It is time that the government incorporates updated and specific building codes for coastal zone construction and requires the manufacturers for improved standard of materials, said Fahima Shahadat, head of infrastructure and technical services of LafargeHolcim Bangladesh.
Abu Salem Md Nuruzzaman, superintending engineer of Roads and Highways Department, said that the issue of specialized construction materials for Rampal power plant was raised very late and that tender documents of scheme cannot be altered at will.
As to why the government on its own did not require coastal weather-resilient materials for the scheme, Nuruzzaman said that material like epoxy-coated steel was 'not available' in the country.
Bangladesh-India Friendship Power Company Limited, implementing company of the mega project, launched the construction work in April last year and is expected to complete the project in 41 months.
As to the observation that specialized non-corrosive construction materials were not being used in the construction of  Rampal power plant, a general manager of Bharat Heavy Electricals Limited, the contractor building the power plant, said asking for not to be named that the apprehension over the plant's life span is unfounded.
"We do not know upon what engineering calculation one could say that," he said adding that they are using corrosion-resistant steel, though not exactly epoxy-coated ones, and other materials pursuant to American (ACI) code and British Standard building code.
He also said that they have so far procured 12500 tons of steel locally from BSRM. 
He however admitted that they are not following Bangladesh National Building Code (BNBC), as it is not required by the contract document and that they are going as per terms of the contract.    
It may be pointed out that BNBC does not have specific zone-based code for construction in the coastal belt.   
Bangladesh and India are jointly constructing the Maitree Super Thermal Power plant which is popularly known as Rampal coal fired power plant.
The Power Development Board, Bangladesh and India have jointly formed a private limited company titled 'Bangladesh-India Friendship Power Company (Pvt) Limited (BIFPCL).
The company has been formed with equal stakes of Bangladesh Power Development Board (BPDB) and India's National Thermal Power Corporation (NTPC).
Last year, the BIFPCL selected the Indian power company (Bhel) to construct the 1,320-megawatt coal power plant in Rampal close to the Sundarbans.
Bhel had to arrange the finance from the Indian Exim Bank on behalf of the Friendship company. Of this finance, $1.39 billion will be in foreign currency and another $101 million in local currency.
So far activists and green campaigners protested the coal fired power plant near the Sundarbans on environmental grounds as it would harm the fragile biodiversity of the biggest sweet water mangrove forest.
However, the issue of specialized construction materials, as made mandatory in India and other countries, has not formed part of the public debate so far.
The Rampal plant is located just 14 kilometres upstream of the Sundarbans. The plant, which will be comprised of two 660MW supercritical units, is estimated to burn 4.72 million tonnes of imported coal a year.