Team Olik from SUST wins the NASA Space Apps Challenge 2018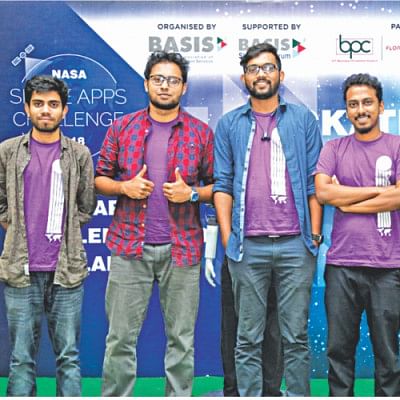 Out of 1395 teams and 18,000 participants from around the world, Team Olik has won the award in the 'Best use of Data' at NASA's International Space Apps Challenge 2018. The team, which is from Shahjalal University of Science and Technology (SUST), are set to visit NASA. Team Olik is comprised of Sabbir Hasan, S. M. Rafee Adnan, Kazi Mainul Islam, Abu Sabiq Mahdi and Coach Biswapriyo Chakrabarty.
Olik won the award for a VR application titled Lunar VR. The application lets users immerse themselves in their own space odysseys, such as, taking part in the landing of the Apollo 11, experiencing a solar eclipse from the moon and orbiting over the moon with LRO satellite. The team collected the 3D models and other assets from NASA.
The NASA Space Apps Challenge is an ongoing international hackathon and it is in its 8th year. Two teams from Bangladesh, Atto-Unmesh and Team Englitas were nominated for the People's Choice award in the NASA Space Apps Challenge of 2017. But no team from Bangladesh had won an award in a category at the competition before. And Lunar VR is available for download on Android. However, the program is usable for only open testing to further the development of the application.