Hope of 'light' against cancer
Team leader in breakthrough discovery calls for intense research for greater benefit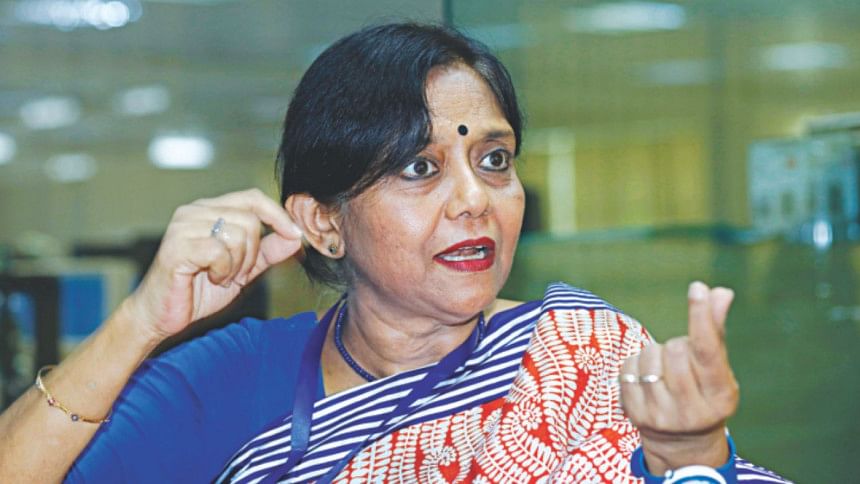 The breakthrough discovery of optical biomarkers that can help diagnose cancer has opened up a new field of research and work must continue to get greater benefits from it, said Yasmeen Haque, who led the team behind the discovery.
"I feel it is a great achievement to be [able to be] the first to say that cancer can be detected by nonlinear optical method," the physicist from Shahjalal University of Science and Technology said in a recent interview with The Daily Star.
Explaining the technology, she said that nonlinear optics was the study of how intense light interacted with matter.
"We witnessed a significant difference between nonlinear parameters of blood samples from cancer patients and healthy people," she said.
A team of 25 physicists, led by Yasmeen, came up with the findings recently.
It revealed that the method could detect even minor changes and could theoretically open up new possibilities in cancer detection at early stages.
"We are the first to claim [that] we got optical biomarkers [not chemical biomarkers] of cancer."
The team has applied for patents for "Method and system based nonlinear optical characteristic of body fluid for diagnosis on neoplasia". Preceding that was an extensive research.
The patent applications were accepted both in Bangladesh and the USA on July 9, Yasmeen added.
HUMBLE BEGINNINGS
The path to discovery began when the team started studying fundamental properties of light-matter interaction back in 2013.
During that time, RA Mashelkar, president of Global Research Alliance, paid a visit to the university.
"He was very happy to see our lab and the experiments we were doing …. He then said, 'why don't you see if there are applications of this?'."
That prompted her students to see if there were nonlinear changes that could lead to cancer detection.
Back then, glucose and cholesterol concentrations were being measured by nonlinear optical method but no one had yet used it for cancer diagnosis.
They submitted a proposal in October 2015 to Higher Education Quality Enhancement Project (HEQEP) under the University Grants Commission and it was accepted.
Yasmeen fondly recalled how proud she was of her students who put in a lot of hard work -- from setting up the lab to conducting the research.
The experiments were very arduous. "Our lab [that they set up] is the most sophisticated lab in the country. The whole experimental procedure is automated now and they did it all by themselves."
Referring to innovative ideas that the team had come up with in different steps of the research, Yasmeen said they even developed quartz sample holders for TK 500 each and normal glass holders for Tk 20 each.
Such a holder used to be imported spending Tk 27,000 and once it was stained with blood and subjected to laser beams, it became useless and had to be discarded.
The team received financial support from the education ministry and the World Bank under a university-industry collaboration, the first of its kind in the country. 
In this project, the industry partner is Invent Technologies Ltd, which helped process blood samples and provided the team with the serum to conduct the test.
TIP OF THE ICEBERG
The team is now working to make a prototype device of the lab-size equipment used for conducting the experiments and hopes to get reliable results.
It is expected to be ready in a year and will help conduct the tests within a very short time for less than Tk 500. Then industries may come in if they want market the product, Yasmeen said.
Two companies -- one local and another foreign -- have already shown interest in investing in the upcoming phases of the research.
Asked if this method would diagnose cancer with more accuracy than other existing ones, Yasmeen said it was too early to say but "the method we are using is very sensitive". 
"At this moment all we are trying to say is that we are going to try to identify optical biomarkers -- some markers saying this blood is different from normal, healthy blood.
"Since we have seen some signs that we didn't expect to see so early, maybe we can see some signature that will tell us whether this [a sample] is cancerous … at an earlier stage."
In Bangladesh, a patient is diagnosed with cancer usually when it reaches the third or fourth stage.
The team is yet to determine the accuracy and experimental measurement error that may occur during the test. It conducted the optical experiments on blood samples from 10 healthy people and 40 cancer patients.
Experiments on a larger scale would help find the accuracy rate, Yasmeen said. However, the test does not require any reagent which means there are no external parameters to look into, said the lead researcher.
Regarding the financial aspect, the SUST professor said it was the lack of funds for research that drove talented Bangladeshi students to countries like the USA.
If the government or industries come forward to fund scientific research, the country will be able to keep its talents, gain new knowledge and turn it into wealth, Yasmeen said. 
"The best outcome of our research is a strong non-linear optical research team with exciting work ahead. This is just the tip of the iceberg. The research has to continue for years and years to come."