NASA Space Apps Challenge winners denied US visa
Six govt officials set to attend Kennedy Space Center event, leaving behind Sust team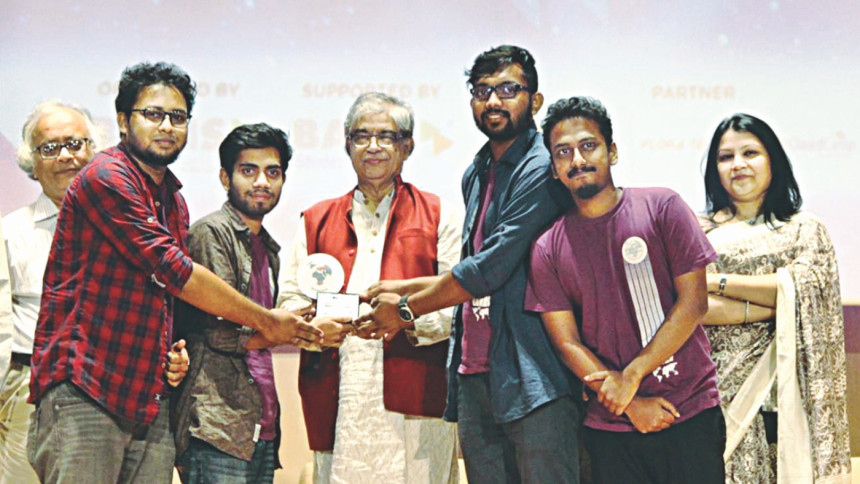 Olik -- a four member global winning team in NASA Space Apps Challenge 2018 -- from Shahjalal University of Science and Technology (Sust) was denied US visa required to attend several programmes at the Kennedy Space Center in Florida from July 21 to 23.
A group of six officials from ICT Division who were supposed to accompany the winning team, however, are set to attend the programmes along with a Bangladesh Association of Software and Information Services (BASIS) official.
The Sust team participated in the NASA Space Apps Challenge last year and on February 16 this year they received confirmation from NASA that their Lunar VR Project won in the "Best Use of Data" category.
On May 29, they were invited to attend several programmes at the Kennedy Space Center, but the expenses of the trip were supposed to be covered by the participants.
After communicating with the organisers, the ICT Division decided to cover the entire travel costs of the participants.
On June 27, the division published a circular mentioning the names of 16 persons -- six ministry officials, five BASIS officials, four members of the team and their mentor -- who would be travelling to Kennedy Space Center. The circular mentioned that the ministry will bear the costs of 13 persons and three others will accompany the group on their own expense.
Abu Sadiq Mahdi, team leader of Olik, said, "On July 11, we attended the interview at the US Embassy in Dhaka and they rejected visa applications of eight persons that include us and the BASIS officials. We have provided all necessary documents but visa was denied according to INA Section 214(b)."
"We later contacted the embassy through the recommendation of the foreign ministry but they confirmed that they cannot arrange another interview before July 22, so we had to end the process," he added.
According to INA Section 214 (b), their visa was denied either because they did not sufficiently demonstrate to the consular officer that they qualify for the non-immigrant visa category and/or they did not overcome the presumption of immigrant intent, required by law, by sufficiently demonstrating that they have strong ties to their home country that will compel them to leave the United States at the end of their temporary stay. 
An ICT Division official, who is set to attend the event in Florida, said the ministry officials got the visa from the embassy without interview as per regulations.
He said they are not feeling comfortable to attend the programme without the winning team but the ministry tried its best to facilitate their visa process after they were denied.
Raja Md Abdul Hye, deputy secretary to the ICT Division, who signed the circular said he would not comment on this, as the list of participants was granted by the ministry and he was just the signing authority.
Team Olik leader Mahdi said, "It's unfortunate that we cannot attend the programme at Kennedy Space Center, but the organiser requested us to provide a video, which they will be screening at the programme."