Bangladeshi team wins NASA Space Apps Challenge 2022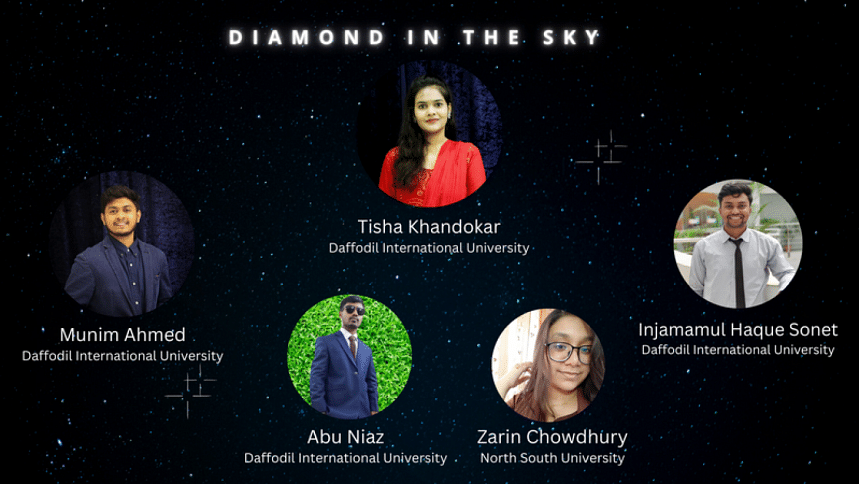 A team from Bangladesh named Team Diamond, consisting of students from Daffodil International University and North South University, won the 'Most Inspirational' award in NASA Space Apps Challenge 2022. The winning team consists of team leader Tisha Khandokar (DIU), system architect Injamamul Haque Sonet (DIU), UX designer Munim Ahmed (DIU), developer Abu Niaz (DIU) and researcher Zarin Chowdhury (NSU).
The annual global competition NASA Space Apps Challenge is held by NASA to feature aspiring space engineers and breakthroughs in youth-led ideas and developments for space exploration. This year, the competition had over 5,300 teams from over 160 countries. 
This is the second time in a row Bangladesh has earned the first place in a category in NASA Space Apps Challenge. Last year, Team 'Mohakash' won Global Finalists in the category 'Best Mission Concept' for their project 'Advanced Regolith Sampler System (ARSS)' - a battery-powered motor tool to collect space fragments called regoliths.
This year, Team Diamond won thanks to their interactive space learning app called 'Diamond in the sky', which aims to teach children about space science. Developed for kids from 10 to 12 years of age, this learning material allows children to learn how the cosmic entities in the night sky move, as well as how stars can come in different patterns, colours and brightness.
According to the project description on the official NASA website, this game-like app is meant to teach kids how the night sky slowly changes naturally and how stars function - basic but essential features in understanding space science. When the player progresses in this app, they can unlock further details about real-life temperature and distance changes regarding stars.
As per the project description, Team Diamond used official data from NASA to develop the app, including providing accurate information regarding stellar variability, colour, the reasons behind color changes and the period when the mass of stars increases and decreases. Team Diamond believes that with 'Diamond in the sky', kids will be able to "create new eyes to see the unseen" and grow more interest towards space science.