A Bangladeshi youth on a mission to provide low-cost robotic hand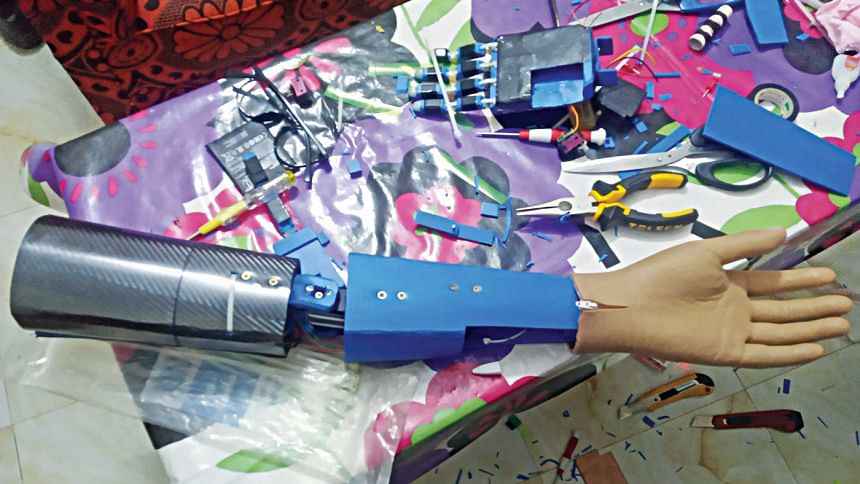 When an arm is lost or amputated, an artificial hand can help in the rehabilitation of a person. However, such robotic hands come with a huge expenditure. Joy Barua Lablu, a Bangladeshi youth has a mission to provide such hands at an affordable price to all those who are in need.
Joy Barua has previously developed robotic hands that can do household chores or risky missions. In 2020, he aimed to develop bionic prosthetic hands for people with no limbs. After almost a year of research and experiments, Joy Barua initiated his first trial on an individual without a hand from Bandarban in September 2021, receiving immense success. Now he has over 200 orders in hand among which some are from India, Malaysia and the US. He has already sent his first international order to Turkey.
How does a robotic hand function?
Before determining what kind of a bionic prosthetic hand a person needs, Joy Barua performs electromyography (EMG) and other essential tests. Each hand is exclusively customised for each individual. There are four kinds of robotic hands in his workshop.
EMG-control robotic hand
The first type of hand is the 'EMG-control robotic hand' if the EMG test is positive. This is for those who do not have a limb or hands but are able to control robotic hands with neuro-linked assistance. This basically works with the help of nerve signals stemming from the user's brain.
Auto self-control hand
Sometimes, the nerves of the hands do not work actively and the EMG test is not successful, making the EMG-control robotic hand an unideal solution in specific scenarios. In such cases, patients are provided with auto self-control hands. These work with the aid of an auto control switch which has nothing to do with nerves.
There can be two kinds of auto self-control hands. The first one is the voice-control hand that can be controlled by the voice of the user, a device made with the aid of voice recognition programming. As per the request of the user, the language can be set in English or Bangla. The other kind of auto self-control hand is the leg-control hand, which works through the movement of the owner's toes. When a person does not have any hand, a small transmitter is set to his toes that provides a wireless signal through their movements to the robotic hand.
Robotic hands for daily chores and risky missions
Besides these, there are two more types of robotic hands that Joy Barua makes. Robotics third hand is for those who have both their hands but need another for additional work while increasing efficiency. It can be used by setting it up on the back of a person with the help of a belt. Another one named wireless robotic hand is for those who are involved in any kind of dangerous work, such as firefighting. A transmitter remains connected to the owner of the hand that copies his movement and sends signals to the robotic hand, which works up to 800 metres away from the user.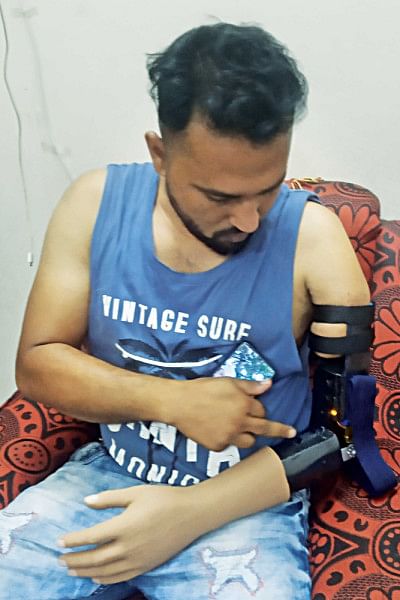 Possible price range
The cost of a bionic prosthetic hand can range from Tk. 30,000 to Tk. 1 lakh. For people from low or lower-middle-class families, Lablu tries to provide prosthetic hands within Tk. 25,000 to 30,000 but these are without silicon covers. The cost would be at least Tk. T 40,000 to 50,000 to have silicon gloves with such hands, that provide both the look of a real hand and additional protection.
There are a total of 4 versions of bionic prosthetic hands upon which the price depends. Version one is for those who do not have palms, version two is for those who do not have hands above the palm, version 3 is for people with no hands from the elbow, and version 4 is for people with no hand parts at all. The higher the version, the higher the cost.
One of the barriers that Joy Barua faces is that the silicon covers of prosthetic limbs are not available in Bangladesh. They are exclusively imported from China due to which he is not able to complete a sufficient amount of orders in a month despite completing the main parts of these hands in time. Basically, 30% of the essentials need to be imported and 20% of them need to be developed exclusively in his workshop. As per Joy Barua, he could have completed his orders faster if all materials were available locally and enough support was provided.
For his works regarding different types of robotic hands, Joy Barua Lablu became the first runner-up in 'Abishkarer Khoje' by ESSAB in 2018 and was the district winner in NASA Space Apps Challenge 2019 from the Chittagong district. He also got the second position in the agriculture round of the 'Esho Robot Banai' TV show by Channel i. Besides that, he has also won several prizes in competitions organised at Chittagong University, science fairs and competitions organised locally in Chittagong and Hathazari.