RU left bodies blame BCL for clash, arson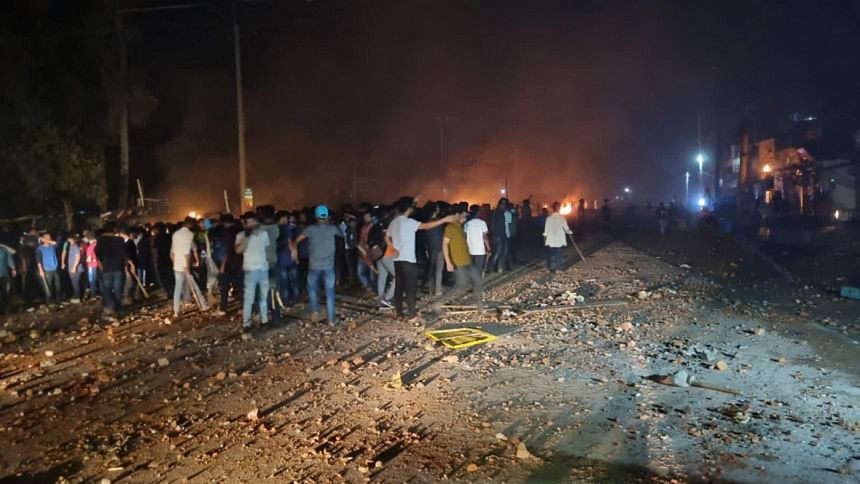 Eight left-leaning student organiasations of Rajshahi University in a statement today held leaders of Bangladesh Chhatra League (BCL) responsible for the clashes and arson that took place on the campus since Saturday evening.
The statement also accused the university administration of negligence and demanded safety of all students.
On Saturday, according to the statement, Al-Amin Akash, a student of the sociology department and his friends engaged in a scuffle with transport workers in Binodpur Bazar area.
When some traders of the market attacked Akash and his friends, RU BCL President Golam Kibria Joy appeared at the scene and got locked into a clash with the local traders.
As the clash broke, BCL activists from different residential halls of RU equipped with local weapons like Ramda, Chapati, rod, hockey-sticks and cricket stamps thronged the market.
The statement claims that Anik Mahmud Boni of Rajshahi city unit BCL along with local activists of the organisation and also Awami League and Jubo League took the side of the traders during the clash.
The clash between BCL men and locals was circulated as a clash between general students and traders by some media outlets, resulting in gathering of general students at the scene, the statement says.
Locals, on the other hand, set on fire a police box and some nearby shops. As the incident started escalating, the statement says, no effective action was taken by the university administration.
The vice-chancellor reached the spot at 10:30pm but returned without resolving the situation, the statement claims.
At this stage, police fired tear shells, rubber bullets, and shotgun pellets on the students, causing serious injuries to many.
On Sunday night, Zannat Ara, president of Munnujan Hall unit BCL, led the arson on the railway track near fine arts department, the statement read.
The eight organisations also placed a six-point demand that includes an apology by the VC, removal of the proctorial body, and proper treatment of injured students.
They also demanded proper investigation into the cases filed by the university administration, police, and Bangladesh Railway, and called upon the authorities to ensure that the general students and traders are not harassed in the cases.
The demands also include actions against "illegal hall occupation" and "seat trade" by BCL and revival of the Rucsu.
However, RU BCL president Golam Kibria denied the allegations made in the statement. He said the statement deliberately accused BCL members and the allegations are not true.
"Chhatra League men supported the movement of general students," he said, denying use of weapons during the clashes.