Protect our migrant workers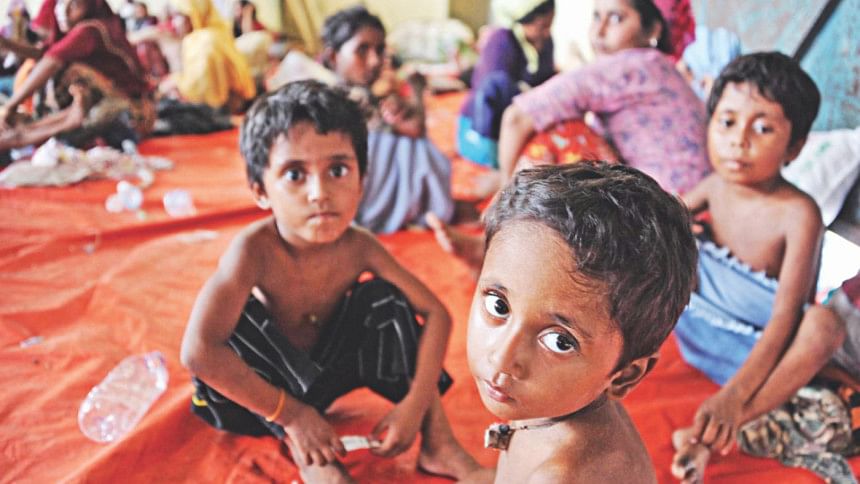 IN 2015, we witnessed the ghastly experiences of thousands of Bangladeshi migrants, rescued from the death traps set by the human traffickers in the Bay of Bengal. After the rescue of thousands of trafficking victims and the discovery of corpses of ill-fated Bangladeshis and Rohingya people in Thailand and Malaysia, the issue finally drew the attention of the national and international media. The United Nations High Commissioner for Refugees (UNHCR), International Organisation for Migration (IOM), the UN's Human Rights body, the USA, the UK and many other organisations and countries put a strong emphasis on the need to hunt down the traffickers and dismantle the Southeast Asian anti-trafficking network. 
Unfortunately, our government seems to have forgotten that trafficking has ruined the lives of thousands of migrants and their families in Bangladesh. Traffickers from Bangladesh, Myanmar, Thailand and Malaysia have allegedly been running their activities in the sea routes based in the Bay and Andaman Sea. They have been targeting unsuspecting jobseekers from poor countries like Bangladesh and Myanmar to realise ransoms from their families. The traffickers use any means possible to compel the victims and their families to pay ransoms -- by confining them under the platforms of wooden boats floating in the seas or in the dark jungles in Thai-Malaysia borders.
Traffickers have been running this slave trade for several years with the assistance of government officials of the Southeast Asian countries. A BBC reporter found that people of almost all sections in South Thailand were directly or indirectly involved in trafficking.
Thailand arrested some top police and immigration officials for their link with traffickers. But the other three countries -- Bangladesh, Malaysia and Myanmar -- failed to identify the kingpins of the traffickers. Interestingly, the Bangladesh government named some people with little power or wealth, like rickshaw-pullers and shopkeepers, as the trafficking masterminds. Our law enforcement agencies arrested some people and killed them in "shoot-outs" after identifying them as traffickers. But many national and international organisations have claimed that our government should find out which, if any, members of our law enforcement agencies are patronising the traffickers.
Stina Ljungdell, country chief of UNHCR, at a discussion at the National Press Club, expressed her frustrations over the Bangladesh government's reluctance to identify the gang leaders . Our government has, indeed, totally failed to deal with the issue except compel some returnee trafficking victims to file cases against some local manpower brokers. Officials at the Criminal Investigation Department (CID) has so far identified more than 200 cases and arrested several hundred people for their alleged involvement in the trafficking. Unfortunately, the trial of a single case is yet to be completed, indicating that our government does not take the issue seriously. 
Many organisations working for the country's migration sector have observed that Bangladeshis have fallen victims of trafficking mainly because markets in Malaysia have been restricted for our people for the last seven or eight years. There are also reports that people in Malaysia remain involved in this inhumane crime. It is urgent for the governments of Bangladesh and Malaysia to reach an agreement to maintain a steady flow of recruitment, so that aspiring migrants can enter the country legally. 
According to government data, more than five lakh male and one lakh female migrants have already left the country in the last 11 months for foreign jobs, and it is definitely a positive trend for the country's economy. But we cannot express our satisfaction as many of our male and especially female migrants are still facing discrimination in finding well-paid jobs in comparison to other countries' nationals. Many of our female and male migrants face physical, mental and sexual abuse at the hands of manpower brokers and their employers. But our labour wings, foreign missions, concerned ministries and other government organisations can do little for their protection. Even officials at these government functionaries, who are supposed to protect the rights of our remittance earners, misbehave with them. Every year, more than 3,000 migrants die in their workplaces as a result of different accidents or untimely diseases. In addition, the migrants' families and children also face different problems at home in their absence over the years. 
Our government and non-government organisations must keep their focus on protecting the rights of our migrants and developing their professional skills, so that we can truly reap the benefits of our migrants' dedication to their families and the country. 
The writer is a reporter on migrants' rights issues at The Daily Star.