What it means to be a woman in the workplace
It is rare for women to be at the top, period. And even rarer for women to have worked their way to the top—more commonly, those who hold privileged positions often inherit their family businesses. Here, we feature women in diverse industries who have worked their way to the top, in a man's world.
We look at what their experiences in the workplace were like and how things have changed over time. What does it mean to be a woman in the workplace, especially in light of #Me Too? Media attention is currently focused on cases of sexual harassment at the workplace, a common problem faced by women in the workplace, in addition to gender bias.
Sexual harassment comes in many forms at the workplace, ranging from unwelcome verbal sexual advances and inappropriate touching to offensive statements posted online. Working women can be subject to quid pro quo sexual harassment, the promise of employment or career advancement in exchange for sexual favours, and hostile work environment harassment, pervasive behaviour or conduct by others that leads to a hostile or abusive work environment. 
Does a culture of harassment and gender bias hold women back from reaching the top? We talk to some women who have "made" it to know their thoughts on the topic.
Breaking through the glass ceiling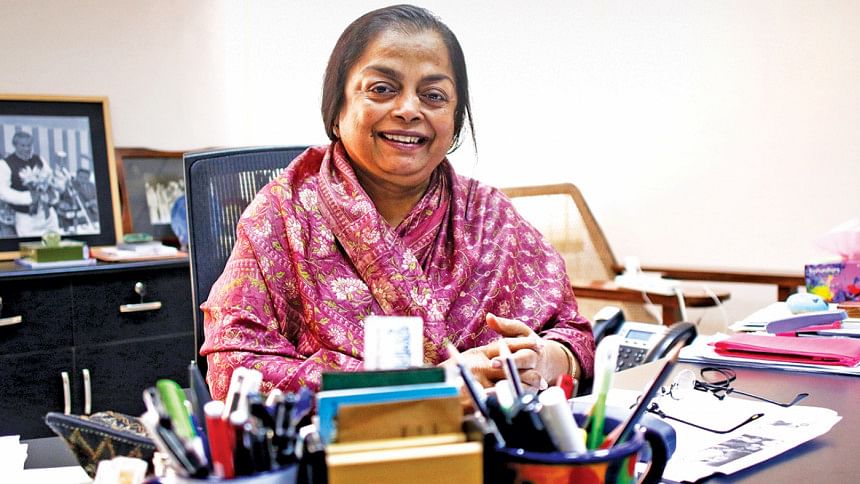 .
The University of Dhaka (DU) started its journey with 60 faculties, none of whom were female. Even a decade ago, the number of female teachers in DU was quite insignificant. The university's second and longest-serving female Pro-Vice Chancellor (Academic) Professor Dr Nasreen Ahmad has successfully broken this culture of gender bias against female scholars. She has led the recruitment process of more than 600 teachers and 40 percent of them are female.
"All the female teachers got recruited by virtue of their merit. I only ensure that none of the candidates face any form of discrimination," asserts Dr Ahmad. "As we have created a gender friendly and equal-opportunity environment in Dhaka University, we are seeing that female students are performing better than male students. However, there is no doubt that female participation in tertiary education is still not satisfactory. During one of the teacher recruitment processes, when we noticed that all the best candidates are female, some board members requested me to take one male candidate because they thought that a male teacher would be necessary for the department as he could travel here and there for official purposes. However, I selected the best candidates and told them that these female candidates have already proven their capability and they will definitely prove that being female can never be a barrier to perform official duties," shares Dr Ahmad.
Less than a decade ago, it took at least six or seven years to complete a four-year undergraduate degree in DU. However, thanks to timely reformation in the university's academic and assessment process such as the introduction of the semester system, holding regular classes and exams, session jam has now become a thing of the past. The credit for this much needed reformation goes mostly to Dr Ahmad. "It is not my personal glory. Without my colleagues' support and cooperation, such positive change would not be possible," states a humble Dr Ahmad.
"To eliminate session jam, our teachers agreed to take extra classes to hold the exams in time. For this reason, they agreed to sacrifice one of their two weekly holidays. During countrywide strikes in 2014, we opened the dormitories for all students so that they could stay in the campus, study peacefully and attend the exams. However, risking our lives, I and all of my colleagues reached the university regularly in time to hold the exam as per schedule only to prevent any recurrence of session jam," explains Dr Ahmad.
Dr Ahmad started her career at DU in 1984 as an Assistant Professor and proved herself as one of the most successful teachers in the history of the university. Besides guiding the university's academic programme as Pro-Vice Chancellor (Academic) since 2012, Dr Ahmad has silently served the university in many important positions in an environment dominated by males—such as being elected Dean of the faculty of Earth and Environmental Sciences, Chairperson of the Department of Geography and Environment, Project Director and founder Provost of Bangamata Sheikh Fazilatunnesa Mujib Hall, elected member of the Senate and Dhaka University Teachers' Association—and pioneered an era of women empowerment in DU.
From the very beginning of her student life, Dr Ahmad engaged in spaces where women were the minority. She was elected as the Common-room Secretary of Dhaka University Central Students' Union (DUCSU) in the academic year 1969-70—a remarkable feat for a woman at that time. As a student leader, she actively participated in the mass upsurge of 1969 and organised cultural movements against the dictatorial regime of Ayub Khan. During the liberation war, Dr Ahmad took the risk of serving in the Swadhin Bangla Betar Kendra, the famous Bengali broadcasting centre established by the freedom fighters, as its English newscaster.
"Our Honourable Prime Minister has been a staunch patron of women empowerment in Bangladesh. Her administration has been giving due recognition to women who are proving their capabilities. To sustain this positive change, a woman must be confident of her identity, of her role in society; if you're confident and know your job well, nothing can stand between you and your success," is Dr Ahmad's message to Bangladesh's young women.
Climbing the ladder 
Nasreen Sattar joined Standard Chartered Bank, then ANZ Grindlays Bank, in 1986. Very few women worked in banks then."I was the first woman here to be taken into a management position there. The bank took me in more to change their own perception—that they hired women."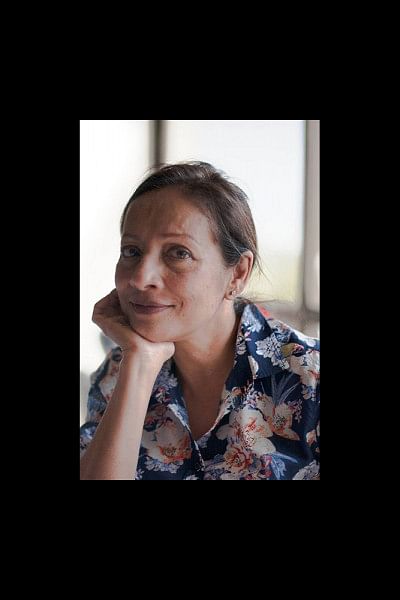 Having no previous experience in banking, she undertook training, learned on the job, and climbed her way to the top. It was not smooth sailing. Initially, she went through a challenging time being likened to decoration in the office, having been taken in only for show and not to be taken seriously. There were only two women in the bank in her early days there. "We had to work twice as hard to prove ourselves. Over the years, I stuck through because I decided I wanted to work hard and make a career out of it."
Almost 20 years into her career, Sattar was shocked when a promotion she felt she should have gotten, was handed to a male colleague junior to her. "I was told that he would be promoted and I would be reporting to him. To me, it was unacceptable and I put my foot down. They [the bank] never expected that I would object to it—they gave me a fancy title instead," she said. She explained to them her reason for objecting—that she felt she was better suited for the position. "In the end, they reevaluated the promotion and gave me a position where I didn't have to report to him, but he was promoted anyway."
Having gone through such challenges in her earlier years, she went on to be appointed Regional Head for Development Organisations in the bank. Then came what she saw as the chance of a lifetime, to become CEO of the bank in Afghanistan, a country then undergoing reconstruction but still in a volatile political state after decades of war.
Sattar spent two and a half years in Kabul, heading the first global bank to open operations in the country. She had to deal with exclusively male CEOs of other top banks and the governor of the Central Bank. "If you can prove to them that you're just as good, they will accept and respect you. It is up to you to conduct yourself well."
Now retired from the bank, she currently trains professional women in the banking sector to enhance and develop their leadership skills. Throughout her career, Sattar has seen her share of cases of harassment at the workplace, leading her to focus on ways to educate young women about these in her trainings. She talks about the Speak Up policy, a corporate policy encouraging employees to speak up about possible misconduct within the organisation, to their manager or HR representative. "In our time, we didn't have such policies. Nothing was formalised, like it is now," said Sattar.
"When this sort of harassment takes place at the workplace, you are no longer excited to go to work and have to go out of your way to avoid people," says Sattar. This can deter women from continuing in that employment, or even, from their career altogether.
Battle of the sexes
Supriti Dhar, journalist and founder of Women Chapter, a blog for women to speak out on their experiences, shares her own stories of the media industry that she had been part of for years. She started her career in 1998 in Prothom Alo as a sub-editor and simultaneously as a freelancer for the BBC Bangla Service. "Journalism is not just a profession for me, it's my passion. I would work from early morning to late at night regularly and was reluctant to return home because I thought important news would happen without me there to cover it," she says.
As one of few women in news, Dhar was subject to frequent criticism that amounted, in her opinion, to abuse. Her perfectionism and penchant for good work made her a "nag". She was a sub-editor her entire time at the paper and felt that she was simply being moved around. After eight years of this, she left for the online news site, bdnews24.com, where she was finally made chief sub-editor.
Dhar said her outspokenness made her unpopular at the office and eventually made her leave the paper, and the media industry itself, years later. "What they did then, they wouldn't be able to do to me now," she says of the harassment she faced from her colleagues, which she was not mentally prepared to deal with at the time.
Her subsequent experience in television media, having worked as joint news editor at both Jamuna TV and Maasranga, was a continuation of such gender bias. "All my years of experience seemed to count for nothing and someone junior, whoI felt didn't even dedicate time to his job, was made news editor above me."
Many women, she feels, are stalled at the level of senior reporter in the news media—the jump to news editor is practically non-existent. After having enough of a career where she felt she wasn't getting her due, she left the news industry for good. "I feel sad that I didn't get due recognition for my work and wonder whether it was really because of my work or because I was vocal."
She started Women Chapter in 2013. "Initially, I felt I should start it because girls such as myself were forced to leave their jobs in this way." Dhar feels that harassment towards women journalists has always been present— "it happened then, it happens now".
A tale of perseverance
Rupali Chowdhury, sitting in her plush offices at Berger Paints Bangladesh, says she never thought at the beginning of her career that she could become managing director one day. She started her career at a Swiss multinational company, fresh out of the Institute of Business Administration (IBA) at the University of Dhaka. Among her IBA classmates who joined the same company, she was the only woman. "At the time, I was also the only woman working in the company in a management position," she recounts.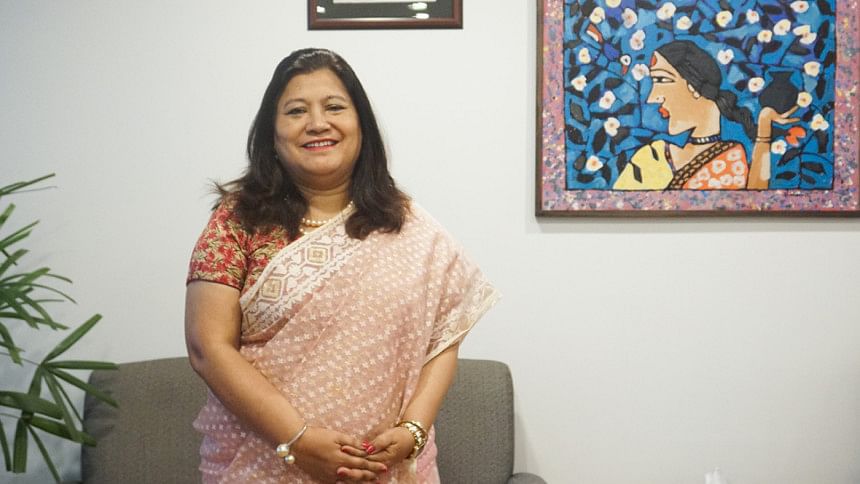 Having joined Berger in 1990, she worked her way to the top, becoming MD in 2008. When under consideration for the position, the board was worried about Chowdhury's ability to manage unionised factory staff. "It was thought to be a man's job to handle the workforce and unions," she said. But, according to her, "A human being is a human being first—gender comes second. If you can transcend this in your dealings with your male colleagues and if you're good at your job, they consider you first as a professional."
Chowdhury was also president of the Foreign Investors' Chamber of Commerce and Industry (FICCI) for two consecutive terms from 2013 to 2017. She was the only woman president and one of very few women members at the all men's club that is FICCI, a collective of the biggest corporate houses in the country.
Although there are many more women in management today, Chowdhury feels that career continuity is a problem. "They don't continue—many marry, have children and then leave the workplace." While these are legitimate causes for these women, she feels that it marks a premature end to their careers.
Another deterrent is, of course, harassment at the workplace. At Berger, there is a whistleblower policy which enables staff to report incidents such as fraud, discrimination or harassment at the workplace (anonymously or otherwise). A thorough investigation is conducted and if proof is found in the latter case, the harasser is sacked. The company has a zero tolerance stance against any proven harassment incident. "Presently we are working to build up a culture of reporting harassment incidents to reinforce a healthy workplace climate. We have come a long way." says Chowdhury. "Having said that, in spite of this, I don't think everyone in every organisation is courageous enough to report such incidents."
Given such challenges, what does it take to get to the top? "There were smarter people [than me]. Success is not only a factor of intelligence, there are other important factors to be considered like perseverance, hard work, and continuous improvement. People who have perseverance are not necessarily the smartest but tend to become successful at the end of the day."