Booters look for improvement against Turkmenistan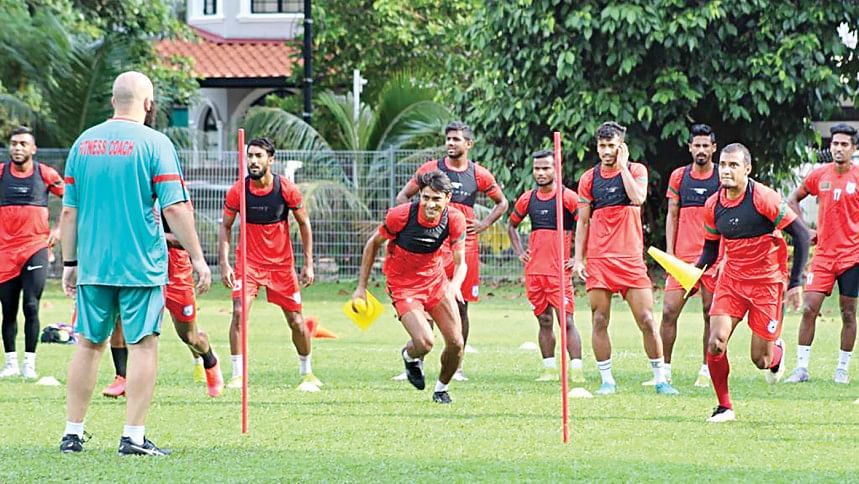 Bangladesh will look to improve their performance in the Asian Cup Qualifiers in their second Group E match against Turkmenistan at the Bukit Jalil National Stadium in Kuala Lumpur today.
The match will get underway at 3:15pm (Bangladesh Standard Time) with private satellite channel T Sports broadcasting live from the venue.
After a creditable performance against Bahrain in the group opener, Javier Cabrera's charges are upbeat about putting up an improved performance against Turkmenistan, a side that is 54 places ahead of Bangladesh in the FIFA Rankings.
Bangladesh's coaching staff and players watched Thursday's Turkmenistan-Malaysia match from the gallery and Cabrera tried to provide information to his charges after analysing the way Turkmenistan played against Malaysia.
"I think we are going to improve our performance in the next match. Ready for research and ready for tomorrow's challenge. It is an important chance for us to get something against Turkmenistan," Cabrera told the reporters at a pre-match conference yesterday.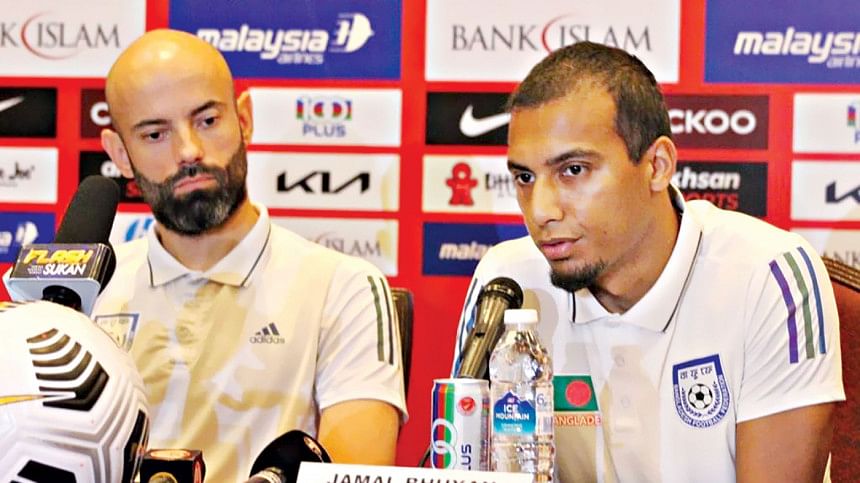 Cabrera informed that his charges would take to the ground to win the match but their main objective was to be competitive in every match.
"Our aim is always to win, but the main objective is to be competitive. We were very competitive in our last match and the main goal is that we are able to keep that line of discipline and game sense. I am convinced that we have a chance tomorrow," Cabrera said when he was asked whether it was possible to beat Turkmenistan.
Surprisingly, Turkmenistan suffered a 1-3 defeat to hosts Malaysia, who were leading 2-0 within the first 15 minutes. Cabrera believed that performance from Turkmenistan did not reflect their real character.
"Turkmenistan are a very strong side in terms of FIFA Ranking. I think they had some problems in the beginning because Malaysia started impressively, so they were surprised. Barring the first 15 to 20 minutes, Turkmenistan were able to control the game, which was an even match. They also created some chances," Cabrera said. "I don't expect that type of beginning from Turkmenistan again because they are a really strong team and have experienced players and are a physical side. I think it is big challenge for us."
Captain Jamal Bhuiyan was also looking forward to the Turkmenistan match.
"The first game was very tight but we tried our best. I think we did all right. We conceded two goals from set-pieces, so we have to prepare better for the next match. I think the squad is also alright with the result although we wanted to win the match. After the first match, we look forward to the next match," said Jamal, who believes a change has come over the squad under new coach Javier Cabrera, who prefers to having meetings and video sessions with the players regularly.
Asked if he had belief of a win over Turkmenistan, who beat Bangladesh 3-1 in 2002 Asian Games in Seoul, Jamal said: "Of course. I believe we can win but we can't win it by saying it. We have to work hard, have to have courage, confidence. By doing this, we have good chance against Turkmenistan."