Booters hoping to end on a high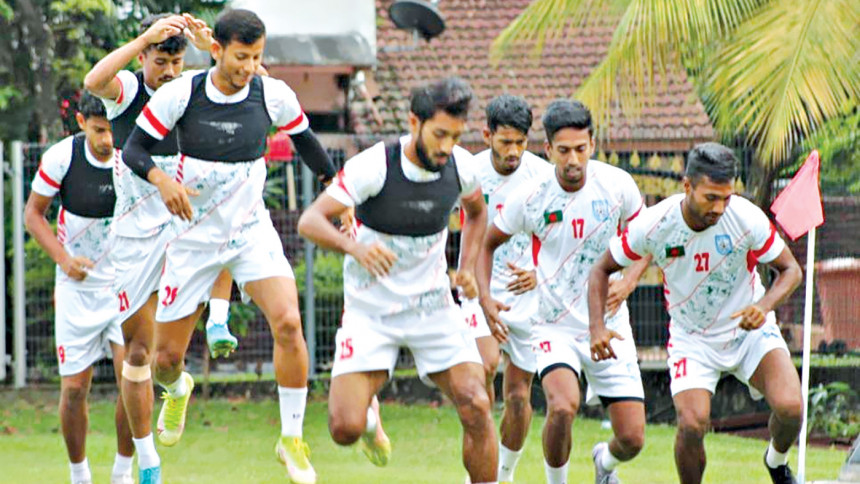 Bangladesh were looking forward to ending their Asian Cup Qualifiers campaign on a high ahead of today's third and final group-stage match against hosts Malaysia at the Bukit Jalil National Stadium in Kuala Lumpur.
The match will get underway at 7:00pm (Bangladesh Standard time) and be broadcast on T-Sports.
Bangladesh are bottom of the four-team table in their group, with no points to show despite impressing with their never-say-die approach.
Meanwhile second-placed Malaysia, with three points, will hope they can secure a place in the next round with a runners-up finish, although their fate also hinges on the outcome of the day's first match between group leaders Bahrain and third-placed Turkmenistan.
Bangladesh suffered narrow defeats to the group's higher-ranked sides, Bahrain and Turkmenistan, and are expected to face another stiff challenge not only from Malaysia, but also from their huge home crowd.
However, Bangladesh coach Javier Cabrera saw the crowd as motivation for his charges.
"Playing in front of 70 or 80 thousand spectators is not only extra motivation for players, it is a player's dream to play in front of such a big crowd in that kind of atmosphere. It is the perfect moment for us to show that we can compete against anyone. It is time to be consistent," the Spaniard told reporters at the pre-match press conference in Malaysia yesterday.
"It is a fantastic opportunity for the boys and will be beautiful day for us to do our best. Show consistency again like we did in the past three matches. I think we deserve more and want to give something to our supporters and go home with something. We believe in ourselves and we will do our best tomorrow."
Responding to a question about whether his side could score against Malaysia, Cabrera said: "Malaysia are going to give everything from the first second and try kill the match in the first 10 minutes. You need full concentration and attention to be able to stop them, hold them and punish them."
Captain Jamal Bhuiyan believes the pressure will be on Malaysia and his teammates are ready to deliver their best.
"Tomorrow [Tuesday] is our last game and everyone is looking forward to it. We want to end with a good result. I think all players are motivated for the match," Jamal said." It is a big match and the pressure will be on Malaysia because they have to win. Of course, we also need a result but I think we have to run more than Malaysian to get something."
Bangladesh's history against Malayisa is inauspicious, with six defeats in nine matches, although the last two meetings between the teams in 2012 and 2015 ended in draws. Bangladesh's lone win over Malaysia came courtesy of a 2-1 result in the 1982 Asian Games.