Talks about WC will create unwanted pressure: Mashrafe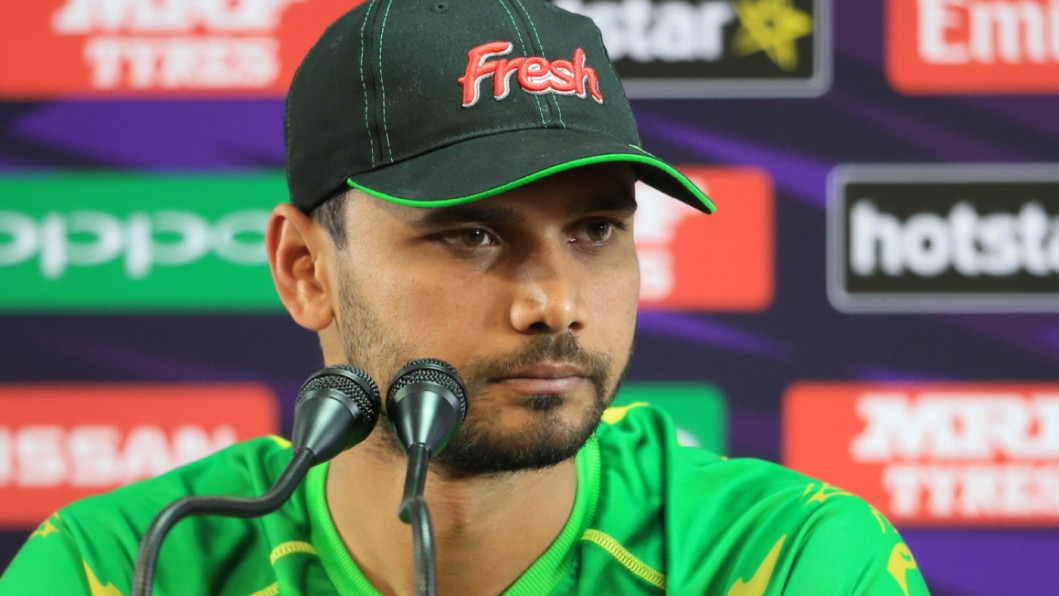 Bangladesh captain Mashrafe Bin Mortaza has said that the national team is not concerned about all the talks going around regarding the World Cup qualification and that they are merely focused on the three ODIs that they will be playing against England from tomorrow onwards.
In order to avoid playing the World Cup Qualifiers for the 2019 World Cup, Bangladesh need to remain in the top eight until September 30, 2017. They are currently ranked 7.
The Bangladesh Cricket Board president, Nazmul Hassan Papon, in a recent press conference had said that there is a good chance that Bangladesh will not have to play the Qualifiers regardless of the results of the series in the next one year, since as per the ICC's ranking policy, Bangladesh are likely to remain in the top eight. 
When asked if this revelation has given the team a sense of comfort, Mashrafe, during the pre-match press conference at Mirpur today, said: "No actually we are not thinking about that. Even if our qualification is confirmed, it doesn't mean that we will win the World Cup."
"We can't look too far. This current series is very important for us. If you think about what will happen one year from now, then it will create unnecessary pressure."
"We are thinking about tomorrow's game. If we can do well tomorrow then we will have passed one more day successfully. That's how we are thinking. No matter, what happens outside, we are focused on this series."
"It's not as though, we don't want to qualify directly. Of course, any one will want to qualify directly. But we don't want to create an unnecessary pressure on us," the skipper added.
With regards to the series, Bangladesh are yet to finalise their team for the first ODI.
They have a number of options to ponder upon. For starters, they will want to finalise the opening pair that will be playing against England. The question remains as to who will play with Tamim Iqbal at the top.
Will it be Soumya Sarkar? Or will it be Imrul Kayes? While Soumya is going through a rough patch, Imrul scored a magnificent century in the practice match against England and seems to be in good touch.
Mashrafe said that it was good to see so many players fighting for a place in the playing eleven.
"If you see, there are a few places where players from the bench are really competing for. Imrul is pushing for the opening spot, and it's the same in the pace bowling department."
"We couldn't observe Imrul's innings in Fatullah, but I am sure he played an outstanding knock. I am sure everyone's happy that he scored a century despite not being able to play any ODIs since his 37 in the first ODI against Afghanistan."
"He is mentally ready and he has scored a professional 100. It's good for him and even better for our team," said Mashrafe, adding that it would be important for the hosts to win the first ODI of the three-match series in order to gain confidence.
The skipper also indicated that the wicket for the England series wouldn't merely be a spin-oriented or a slow-and-low wicket.
"When we played against South Africa [in 2015] on a slow wicket we struggled in the first one day but after that we played on good wickets. [Bangladesh won the next two ODIs].
"The wicket will also depend upon the weather a bit so I can't really say much on it. But I believe that whatever will be difficult for us will also be difficult for them. So, a wicket shall be prepared accordingly," said Mashrafe.
"If you follow the Bangladesh's wicket in the last two years, it hasn't turned as much. We have played on sporting wickets and our batsmen have done really well."
"I don't think you can focus just on spinners or pacers. I think we rely on all our departments for wins," he added.
Bangladesh have beaten England the last two times the teams faced. They also beat them in Australia during the World Cup in 2015. When asked if the recent results make Bangladesh the favourites in this series, Mashrafe said: "Not really. We beat England in Australia in the World Cup which was about one-and-a-half years back. And since then, England have changed and have played like a champion team.
"They have won almost every series they played since then. Many of them have played in the IPL [Indian Premier League] in India, so they know the conditions well. I don't think they are going to face too many problems with the conditions either.
"But at the same time, I would also like to say that our boys have been playing well in the last two years and we are thinking of how we can constantly improve our game," he added.
He further said that he felt Bangladesh would be going against one of the best ODI teams in the world at the moment.