Happy Birthday, Mash!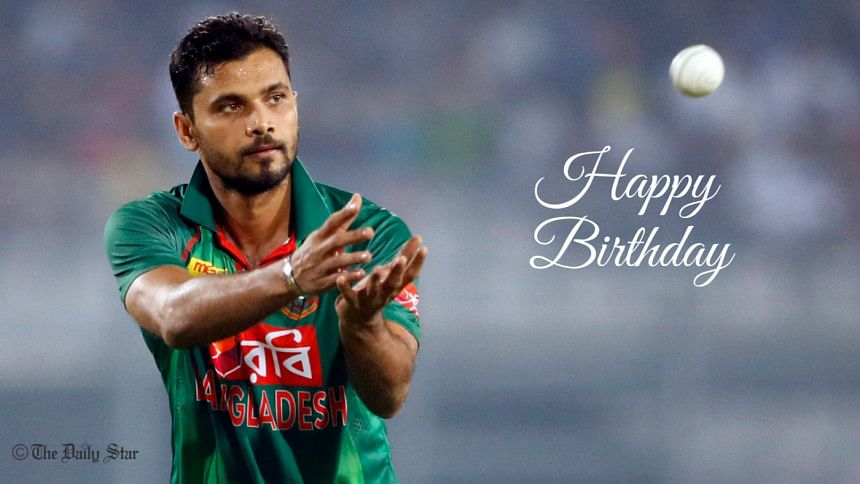 One of the most successful captains of the Bangladesh national cricket team was born on this very day. The one who beats in the hearts of all Bangladeshis and is none other than Mashrafe Bin Mortaza.
Born in Narail on October 5, 1983, he made his ODI debut in 2001 against Zimbabwe. Within a few years Mashrafe became the lead pace bowler of Bangladesh team.  Media dubbed him as 'Narail Express'.
He was probably the first genuine fast bowler of Bangladesh since the country made entry in the Test cricket level.
Pitches in Bangladesh are generally slow and spinner friendly. And the domestic cricket scene is dominated by the spinners. Mashrafe emerged from that scene and now is the second highest ODI wicket taker for Bangladesh. He has taken 208 ODI wickets after playing 161 matches. Mashrafe also bagged 78 Test wickets in 36 Test matches.
He is one of the most successful ODI captains of Bangladesh.  Mashrafe first captained the Bangladesh cricket team in 2009. His captaincy was off to a winning start when Bangladesh beat the West Indies in his first match in charge. This was the first overseas Test win for the team.  However, he injured his knee and was unable to take to the field on the final day.
Injury ousted Mashrafe from cricket several times. But he kept returning overcoming the struggle.
Mashrafe holds a brilliant record as a captain. He captained Bangladesh in 28 ODI where Bangladesh won 20 times. In T20Is Mashrafe captained Bangladesh 23 times and Bangladesh won in nine occasions. He has a hundred percent success rate as a Test captain, wining one match playing one as captain.
His best ODI bowling figure is 6/26, vs Kenya.
Mashrafe has been awarded Man of the match for ten times in ODI cricket. He won man of the series award twice. In two occasions in T20I he won man of the match award. 
We wish Mashrafe many happy returns of the day!