'Feelings matter more than flowers'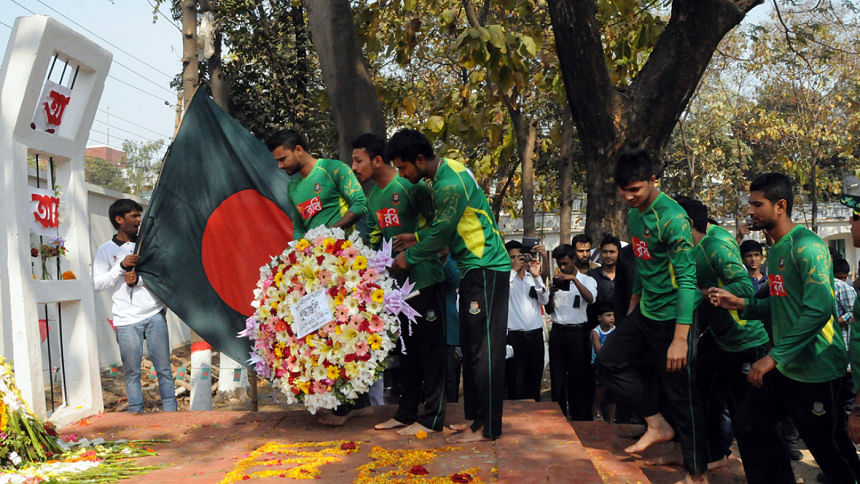 Bangladesh T20 cricket team's captain Mashrafe Mortaza, along with the national players paid their respect on the occasion of International Mother Language Day on February 21. They placed a floral wreath on the Shaheed Minar at Mirpur Bangla School before practice on Sunday.
Mashrafe was pragmatic in his response, when asked if the International Mother Language Day would inspire his team before the Asia Cup. "The historic day doesn't have any bearing on our performance whatsoever. Whether you believe with conviction or not is much more important. Keeping the homage we pay to language martyrs within ourselves is more important than giving flowers," said the skipper to the press.
"I don't think speaking in English is a big deal. I have said before, that there is no greater pleasure than being able to speak in Bangla as a Bangalee. We speak in English because we need to, that's why. Being able to speak fluently in English gives me no extra credit." Mashrafe added.
After the three-hour practice session was completed at Mirpur, Mashrafe Mortaza met the press, and 'February 21' dominated the topics of questions for him on Sunday.
When a journalist asked Mashrafe about the role of cricketers on preventing the distortion of Bangla, Tigers skipper was clear in his answer. He emphasized on giving priority to Bangla first, and as Bangalees, his teammates feel most comfortable expressing themselves in their mother tongue.
"Cricket is an international sport where English is used extensively for practical reason. However, the first choice to express ourselves is always Bangla," captain courageous explained.
Bangladesh will lock horns with India in the first match of Asia Cup on February 24, Wednesday at Mirpur stadium.
In the third match of the tournament in T20 format, a qualifying associate nation will face Bangladesh on February 26, Friday.
On Sunday, February 28, Bangladesh will meet Sri Lanka.
Tigers will play Pakistan on March 2, Wednesday in the 8th match of Asia Cup 2016.
All matches will begin at 7:30pm local time.