England embracing the heat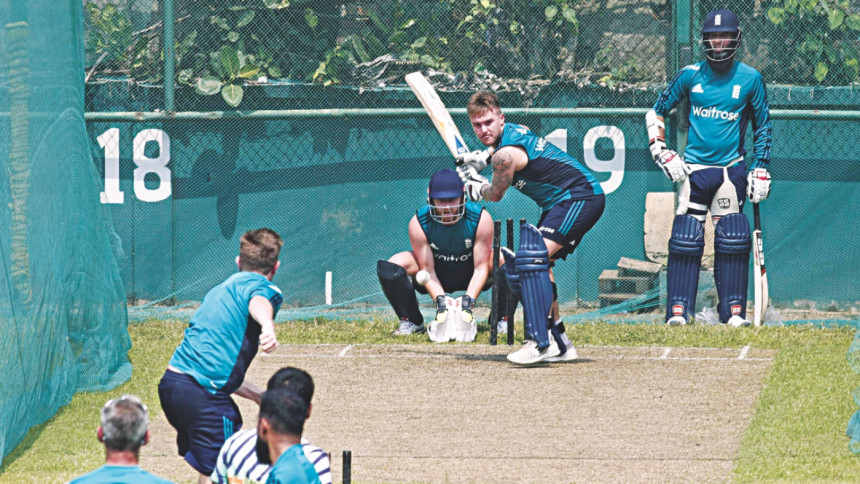 England attended their second day of practice at the Sher-e-Bangla National Stadium in Mirpur yesterday and judging by the gallons of water that the visitors were consuming during their morning session, they seemed to be having quite a tough time.
One cannot blame the visitors. It was quite hot in the morning. The Bangladeshi players had it a little better yesterday. They hit the field after the afternoon rainfall when the weather was slightly cooler.
On the bright side, the tougher the circumstances, the faster the visitors will be able to cope with the conditions here. It was an aspect opener Jason Roy focused on while speaking to the media yesterday.
"You don't really think about it [conditions] too much. You've just got to get on with your job. It can be draining but that's what training days and practice matches are for, so that when we come to Friday we are ready," he said.
"Getting all your fluids is important. You don't realise how much you are sweating and the next minute you can feel a bit weird. Concentration will be key; just keeping yourself ticking over and batting for as long as possible," he added.
This is Roy's first trip to Bangladesh with the national team. But that does not mean that he is unaware of the conditions. He has in fact done quite well in Asia in recent times. He has a century against Pakistan in Abu Dhabi. He scored a 78 against New Zealand in Delhi during the World T20 recently. He has done relatively well in conditions similar to here and he is confident he can carry on the good work.
"I probably won't change my approach mentally, but maybe a couple of things technically. Really it's all very similar, trying to get the team off to a good start -- the first 15-20 balls are going to be huge, getting myself in. Like I said, we have just had one real net session today so we will assess how the game goes tomorrow and go from there," said Roy when asked about his strategy for opening the series in these conditions.
The other challenge that the 26-year-old will have to overcome is getting used to his new opening partner. With Alex Hales not in the side, he will have to adjust to someone new.
"Whoever comes in deserves a go. That's exciting and they are going to get a huge opportunity to state their mark on international cricket. Whether it's Duckett, or Moeen, I've been batting with a few of the guys, I don't know yet -- I just get on with it. We get on that well we don't need to worry," he said.