Security drill performed at Mirpur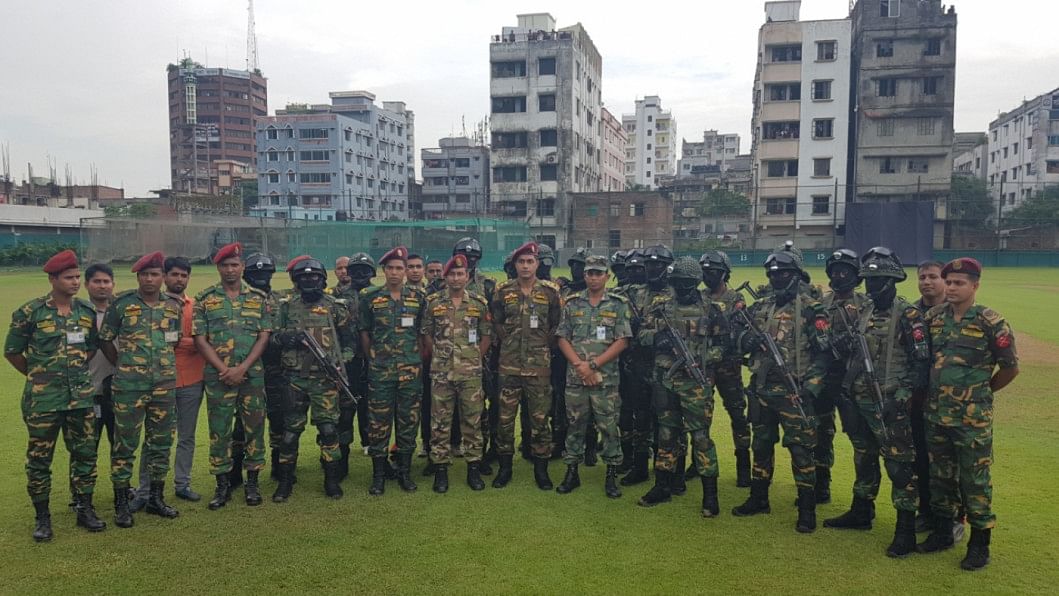 Security agencies performed a drill at the Sher-e-Bangla National Cricket Stadium in Mirpur in the morning today ahead of the ODI series between Bangladesh and England, set to begin tomorrow.
The 1 Para Commando Battalion, the Army Aviation Wing, the Bangladesh Air Force and a number of other security agencies took part in the demonstration.
As part of it, four Para Commandos climbed down from a helicopter that was hovering over the BCB's national cricket academy and took their respective positions on the ground at 11 am.
Minutes later, another helicopter, from the Bangladesh Air force arrived carrying four more Para Commandos and together, the eight Para Commandos headed towards the England dressing room at the main ground of the stadium.
The mission of the drill was to save the so-called hostages, roles played by other Para Commandos, from the England dressing room at the main ground. The Para Commandos charged in the main ground, performed a mock shooting drill and then took the hostages back to the helicopter at the national cricket academy.
Lt Colonel MM Imrul Hasan, the commanding officer of the 1 Para Commando Battalion spoke to the media following the drill.
"You all know that a series is going on between Bangladesh and England cricket team and so for the security purpose this is an arrangement we made. It's just a demonstration including all the stakeholders.
"I want to mention that Bangladesh Army and to be particular the 1 Para Commando battalion is always ready to safeguard the players," he said.
The England and Wales Cricket Board's chief security officer, Reg Dickason was present during the entire demonstration.
"What we have witnessed today has been a graphic demonstration of the response capability of the Bangladesh army and the response units. It gives us a lot of confidence for touring your wonderful country.
"The security that we have experienced to date in Bangladesh has been outstanding," said Dickason.
Meanwhile, the Bangladesh national team's training, which was supposed to begin at 10 am, was slightly delayed due to the rains. The entire ground was covered and as a result, the players had to focus on indoor training.