Security a necessary distraction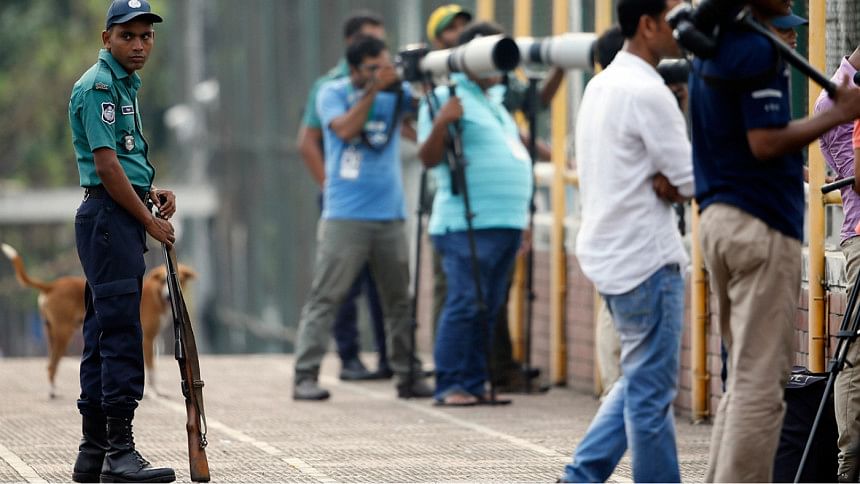 It can be quite a hassle to get to the Sher-e-Bangla National Stadium in Mirpur on match days. A number of roads leading to the stadium are blocked as per the security measures and one often has to walk on foot for quite a distance in order to reach the main gate.
Yesterday was not a match day. And yet, judging by the situation, both in and around the stadium, it seemed as though Mirpur was in the middle of hosting a mega event. When in actuality, it was merely geared up for the England national team's first training session.
England's arrival into the stadium in the afternoon was no less than a spectacle. At first, two police officers on bikes entered the stadium. Two patrol cars, filled with law enforcement officers, then entered through the main gate. They got down and formed a human chain of sorts. After that they let the two team buses, followed by a microbus which carried journalists from England, pass through.
Precisely at that very moment, one could see a helicopter hovering above the stadium. And finally, towards the end, a fire service truck made its way through the gate.
Right after the team arrived, the road immediately outside the stadium was blocked from both sides and most of the restaurants adjacent to the stadium were also shut down.
These are scenes that you do not normally see at the Sher-e-Bangla National Stadium, especially not on days when there is no match scheduled.
And having witnessed so many security drills, it was not a surprise that the first question England ODI skipper Jos Buttler was asked during England's first interaction with the Bangladesh media at Mirpur yesterday was regarding security.
He was asked as to how it felt to be in an environment with so much security around.
"Security is paramount when travelling to the sub-continent. We are always looked after well. Obviously, there is a lot of security but that's part and parcel of making the tour okay," replied Buttler.
"Thankfully, now we are here, we will start practising today and start thinking only about cricket. Once we start playing cricket, those things will go into the background.
"Bangladesh have been playing well in their own conditions. We need to be prepared. All we want to do is play cricket. Once we start, it will be very refreshing to start talking about the cricket side of things," he added.