Seminal triumph bears valuable lessons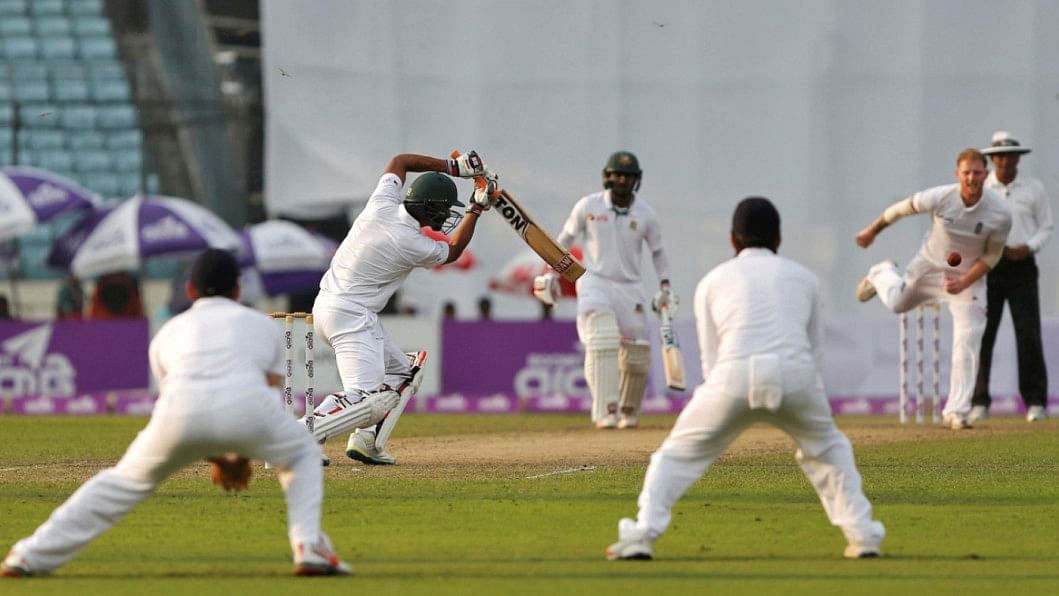 Is it the right time to look at the bigger picture, beyond Bangladesh's historic 108-run victory in the second Test against England in Mirpur on Sunday?
We can switch off the serious button for a while and shift focus from cricket to cricketainment with the return of the BPL, the slam-bang domestic T20 competition that starts on November 4 and will run till December 9. This is certainly a sought-after competition as far as the cricketers' financial prosperities are concerned -- an area where this latest format has contributed most, other than being the most lucrative tool for corporate interests.
It would be unwise, however, to turn off the serious focus on our cricket at large. We can still revel in that stupendous success against England which was actually due after that near-miss in Chittagong. The contributing factor of Bangladesh's change of fortune on the Test front against a top team has nothing to do with miracles. A crucial decision was made that Bangladesh would no longer play for a draw. And then the execution was almost perfect on a turning wicket where a debutant off-spinner, who has been honing his skill in the otherwise ill-structured domestic first-class competitions, played the biggest role in that success. The result against England is more than just a win and we can rest assured from now on that Bangladesh will try to be as fiercely competitive in Tests as they already are in ODIs.
The England tour has had far-reaching implications in the context of Bangladesh's coming of age in the truest sense. The world took notice of this tour not because of the three closely-fought ODIs, but because of the way the home side fought in the two Tests.
England had expected a tough fight in the three ODIs when they arrived here a month ago, but they never expected Bangladesh to push them into tight corners in the Tests -- the oldest yet most important format of the game where a team's real value is judged.
Bangladesh's Sri Lankan coach Chandika Hathurusingha perhaps summed it up well when confronted with the question of how big that Test win is: "I won't describe it as my achievement. I am just a paid employee here. For Bangladesh this is huge because this is Test cricket. You have played 95 Tests and this is the first win. I think this is the beginning for something big. In that way it's really up there. I was surprised with the reaction of not only Bangladesh's cricket, but also the way world cricket reacted to this win. Everyone was very positive."
Hathurusingha was right to point out that this could be the beginning of something big. But to be a big team from one that gained Test status 'obscenely prematurely', as Scyld Berry wrote in The Telegraph on October 19, we need to make those necessary adjustments even if it goes against the popular sentiment.
Bangladesh's next serious assignment is a full series in New Zealand starting on December 26. There are already calls that if Bangladesh are to prove that they have really improved they would have to be successful away from home. This is a kind of rhetoric Bangladesh have been familiar with for a long time. Why on earth would Bangladesh need to prove that when this particular qualifier is also applicable for the very best teams in world cricket including England.
Having said that, the New Zealand series will be the first big challenge for Bangladesh going into a hectic 2017 when they will also feature in three more Test series -- away in Sri Lanka and India and most probably against Australia at home after the ICC Champions Trophy in England.
And for a team that is now more capable of executing a plan once they have endorsed it as a realistic option, it is high time to select the right combination and on top of it a captain who will lead Bangladesh in a very demanding Test arena.
We have already got a captain in every sense for the ODIs and T20s in Mashrafe Bin Mortaza whose success for the last couple of years is something any skipper would be very proud of.
Mushfiqur Rahim leads Bangladesh in Test and before being critical of him we must first acknowledge his bold decision that actually played the key role in our first-ever Test win of substance. He was the person most vocal in the demand for a spinning track and virtually forced the curator in Chittagong to prepare what eventually turned out to be a magnificent Test wicket where the ball spun but was consistent in its spin over the course of a classic match.
In Chittagong he did exceedingly well and it will not be an overstatement if we say that it brought out the best of Mushfiqur as captain despite that 22-run defeat. However, for those who have been closely following this extremely introvert gentleman, it was an exception and cannot be treated as the rule.
Bangladesh won the second Test in Dhaka in dramatic fashion and those closely associated with the team are convinced that the post-Tea session could not have been that devastating for England had there not been a serious dressing down in the dressing room after the visitors had put up 100 runs for no loss.
While it is true that Ben Duckett put the Bangladesh attack to the sword in that opening stand with England captain Alastair Cook, it was Mushfiqur's inexplicable decision to use as many as four bowlers without any logic and his defensive field placements that contributed greatly to the disadvantageous position. There is another glaring instance in the same Test when his ultra-defensive approach allowed Adil Rashid and Chris Woakes to put on 99 runs for the ninth wicket and, more importantly, gave England a first-innings lead. It is nothing new and his defensive mindset has already been well documented over the years.
It did not come as a surprise when the board named him captain for ODIs and Tests in 2011. That decision was born of the fact that he was the best performer in the team across all formats and that he had been captain in age-level cricket. Someone hugely driven by emotion, Mushfiqur expressed his desire to quit the captaincy in 2013 after the ODI series in Zimbabwe. But the board, understandably, convinced him to continue as there was no suitable alternative. He was eventually relieved of his ODI duty with the return of the injured Mashrafe Bin Mortaza and that decision paid rich dividends.
Being a fast bowler Mashrafe has always been attacking and positive in his approach. He has never been afraid of defeat and his partnership with coach Hathurusingha has changed Bangladesh's one-day fortunes. Unfortunately, Mashrafe with those bad legs is not fit to play the demanding five-day contest.
In what ways do Mashrafe and Mushfiqur differ? As human beings, both are very good souls and are always caring for others but they are like Desmond Haynes and Gordon Greenidge in the dressing room -- one acts like he is attending a cocktail party and the other appears to be at a funeral.
The board will announce a Test captain for the New Zealand tour sooner or later. Will it be Mushfiqur again? And even if Mushfiqur is retained -- as can be expected after the Tigers' seminal triumph -- we would like to believe that the board will name a vice-captain not just to fill that position, but with the serious intention of grooming a future Test leader.