'This is the beginning of something very big'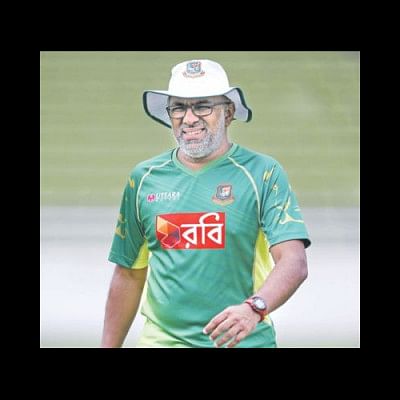 Implementing new strategies has been a trademark of Bangladesh head coach Chandika Hathurusingha's tenure in since his arrival in 2014. It was something noticeable right from his first series against India in 2014 to the recent Tests against England. With the England series done, the Sri Lankan is set to take a break and leave for Australia this week. Prior to his departure, he spoke to The Daily Star's Naimul Karim on the tactics used against England, the upcoming New Zealand series and how this group of Bangladeshi cricketers loves to take challenges. 
TDS: How did the idea of playing on a turning track in Tests come up?
CH:  We wanted a sporting wicket that brings a result for either team and then thinking about how it was going to help us.Depending on what we had, we thought this was the best way to go.
TDS: Were the players afraid that playing on such turning tracks might make it worse for them, especially after losing the ODI series?
CH: I will tell you one thing. If you are afraid to lose, you will never win.  That's my short answer. That's one thing we tried to instill in the players when we started first. If you are afraid of something, you limit yourselves. It's not just the outcome; you need to challenge the players' ability as well. 
TDS: Was it difficult to convince the players?
CH: We had to make them buy the idea because if the players are not comfortable then there is no point of having any plans. They need to trust the plan. We just suggest things. And they liked the idea. That's the positive thing about Bangladesh's cricket. The players are not afraid to challenge their limits. It was not difficult. This group does not fear failure anymore. 
TDS: Your strategies are very specific and sharp. How did you develop these attributes?
CH: When I was a player I was not super talented like other players who had achieved a lot of things. I was an okay player. I wanted to maximize what I had and so I had to find other ways to be competitive in Tests and in other levels. That's probably the reason why I have lot of ideas or why I am not afraid to try things.  Before I came to Bangladesh I knew that this team had plenty of potential and obviously they were not maximizing it. That's what I worked on. 
TDS: Can you give us hints on your strategies for the New Zealand series?
CH: I really don't want to elaborate because I won't give my plans early. But I can tell you that I have made plans beyond the New Zealand series I have already been thinking about our game plan for the World Cup. For example who might we play in the final or the semifinal of the 2019 World Cup? And then I start thinking backwards from there. What will be the major obstacles for us in England in 2019, and then from there the Champions trophy. And then I come back to the New Zealand series and I try to find out what we can get from this series. I firstly ask whether we have the ammunition to be competitive there or can we win there? When we answer these questions we are not taking risks, but we come to terms with what we have.  
TDS: Does any of your plans include Mehedi Hasan in ODIs?
CH: You are all jumping too quickly. I don't think he will play ODI cricket very soon. If I do that I don't think we are developing a player properly. He will lose his rhythm. He has a nice rhythm for Test cricket. Bowling in ODIs and Tests are two different arts. I think it's too early to put him in that position. He was the best bowler among both teams in the series. He bowls with the right speed and control both the old and the new ball in Tests. When he bowls one spell badly he comes back and bowls the second well. That's the beauty of Test cricket.I think it's too soon to bring him to ODIs.
TDS: Coming to the ODI series, how disappointed were you to lose that?
CH: You are not disappointed when you don't have an opportunity to win. When you do have the opportunity and you don't win, then that's disappointing. I think we played good cricket at times during the ODIs, but we didn't play well when it mattered.
TDS: The dew inChittagong  in the final ODI spoiled the party didn't it?  England got immense turn in the first innings, but Bangladesh didn't get anything in the second.
CH: Dew is in the nature. You can't control that. But I am disappointed because, normally they use a kind of chemical on the ground that works against the dew. We expected that chemical to be used in Chittagong in that ODI. But I don't think they used it that day.
TDS: How would you describe the Test win?
CH: I won't describe it as my achievement. I am just a paid employee here. For Bangladesh this is huge because this is Test cricket. You have played 95 Tests and this is the first win. I think this is the beginning for something big. In that way it's really up there. I was surprised with the reaction of not only Bangladesh's cricket, but also the way world cricket reacted to this win. Everyone was very positive.
TDS: What are the future plans going ahead? Will the BPL be important in deciding the teams for the New Zealand series?
CH: No (laughs). If you wait to plan in the last minute, you fail. The players can enjoy their cricket, but there is nothing to do with BPL.