Mehedi rockets up ICC charts, Tigers gain 8 points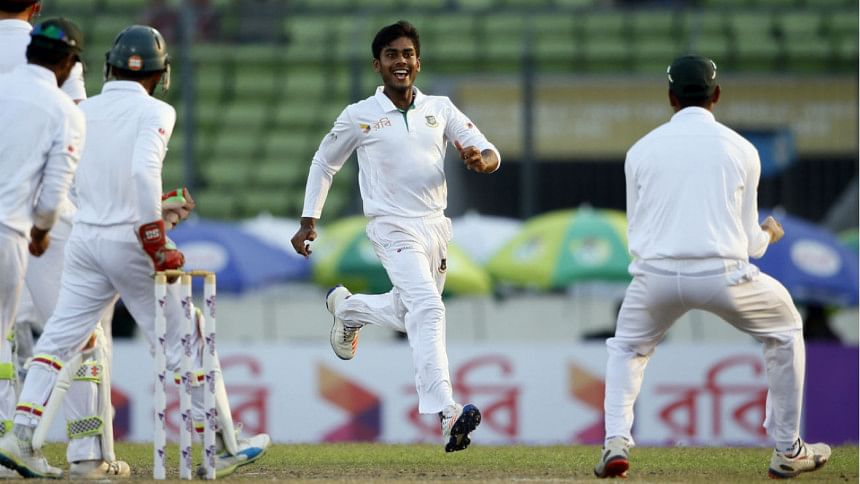 The watershed moment that was Bangladesh's first Test victory over England on Sunday has been reflected in the ICC player and team rankings as well, with Bangladesh gaining eight ranking points in the Test teams' table and man-of-the-series Mehedi Hasan Miraz jumping to 33rd position in the Test bowlers' table in the ICC rankings today. 
Mehedi entered the player rankings last week after taking seven for 138 on his debut in Chittagong. His 12 for 159 in Bangladesh's 108-run win over England in Mirpur elevated him to number 33, which means he is currently the second-highest ranked Bangladeshi Test bowler behind Shakib Al Hasan (15th)
According to the article on icc-cricket.com, the 19-year-old looks strong to gain further points and can potentially break into the 20 as he is still in the qualification period. A bowler qualifies for a full rating after he has taken 100 wickets, while Mehedi has claimed 19 wickets in two Tests.
Bangladesh's 108-run victory in Mirpur has also earned the youngest of the 10 Test playing countries eight ranking points. This means it is now on 65 points, just two points behind eighth-ranked West Indies.

 

In contrast, fourth-ranked England has dropped to 105 points after conceding three points.