Biggest win for Bangladesh cricket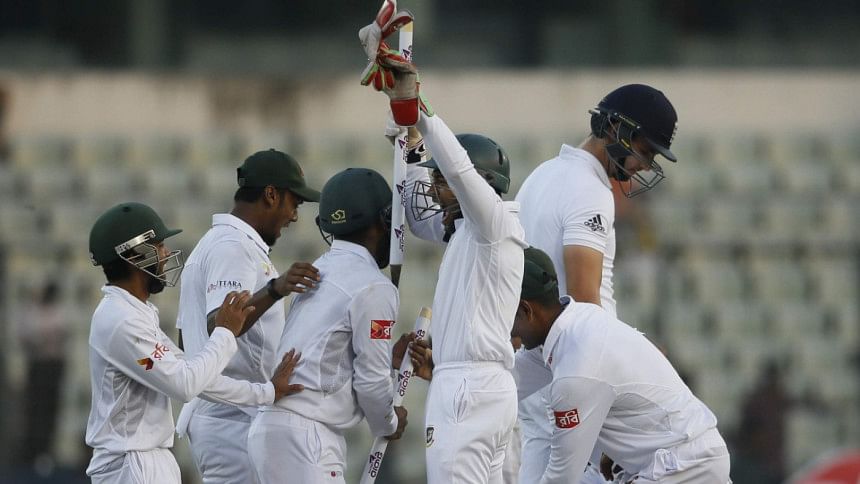 School kids. They all celebrated like school kids. If they had bags on, those would have been thrown high in the air as well.  As soon as the handshakes were done, Bangladesh's players erupted with a never-before-seen energy following a Test series.
The change in emotion -- from disciplined handshakes with the England players to childlike enthusiasm -- was a sight to behold. The Mirpur stadium might have had one-third of the spectators compared to a one-day game, but the intensity of the Bangladesh players' celebration-- who were dancing in circles and shouting their lungs out -- suggested that the win yesterday surpassed any limited overs success.
Therefore it was not a surprise when skipper Mushfiqur Rahim described yesterday's win as Bangladesh's biggest ever success at the post-match press conference at the Sher-e-Bangla National Stadium.
"We had earlier won against the West Indies and Zimbabwe, but to beat such a big team in a Test feels very satisfying. This is a big achievement for us in Test cricket.
"But I believe that we can further improve our record in the future and go for 2-0 series wins. Personally,  judging by the way we came back and fought in this series, I think this is the biggest win in Bangladesh's cricket so far," said Mushfiqur.
At Tea, England were cruising at 100 for no loss, but they eventually lost their ten wickets for 64 runs. The sequence of events that took place in the last session of the day yesterday was something no one in the stadium would have expected to see even in their dreams. Mushfiqur himself was surprised.
"We never believed that they would be all out after 100 for no loss. We knew that it would be difficult for new batsmen on this wicket. We had that belief and the bowlers also bowled really well.
"I think the bowling partnership was really important at that point in time and we did well. I think they also fell under pressure because of the wicket. And in the third innings on this wicket one odd ball could have made the difference," explained the skipper.
Bangladesh have been successful in ODIs in the past but have failed to replicate that success in Tests. Even in their best cricketing year in 2015, they struggled against Pakistan and India in the longer-format. That is the main reason why yesterday's win was celebrated with such vigour. It almost felt as though a mental block had been lifted.
"We have been doing well in ODIs. And I personally believe that we are on the right track in Tests as well. We have the belief that we can beat any team at home in ODIs and are gradually gaining that belief in Test cricket is well. We believe that we can come back outstandingly from any disaster, just like in the ODIs," said Mushfiqur.
Run through Bangladesh's records in the recent past and you will find a number of drawn Tests. Many of those Tests were played on placid wickets which barely had anything in them for the bowlers.
The wickets in this series against England though were anything but placid and that, in a way, reflects the changed mentality of the cricketers.