Mehedi engulfed by adulation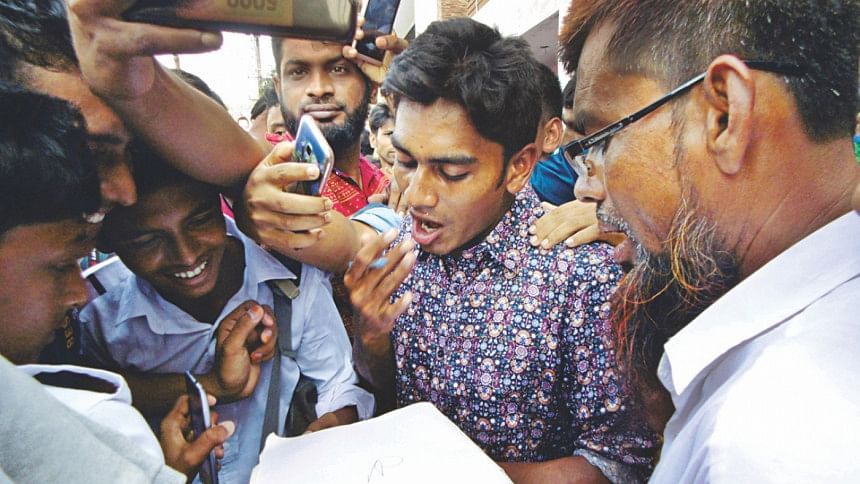 Mehedi Hasan Miraz returned to Khulna to a hero's welcome as fans from his locality and extended areas flocked to his home to greet the teenager.
Mehedi's 19-wicket haul in the two Tests against England, which saw him etch his name in the record books and also helped Bangladesh to their first win against England in the second Test, has seen the 19-year-old become a household name and the next budding superstar in the Tigers' ranks.
People from the adjacent districts of Khulna, Satkhira, Bagerhat, Gopalgang, Jessore and Narail came to congratulate Mehedi. While some came to take a quick snap, others looked on in awe at the youngster who had conquered one of cricket's giants.
One of his fans, 53-year-old Salauddin Sheikh, travelled three hours by bus from Bakerganj in the Barisal district to Mehedi's home. Not satisfied with catching a glimpse of the all-rounder, Sheikh waited half-an-hour more and finally got the chance to embrace the champion.
Miraz was astonished to hear about his journey and reminisced about his early years in Barisal, his paternal home.
As the crowd grew in size, some local youths led by Mehedi's youth-level coach Al Mehadi attempted to form a cordon around the all-rounder, but Mehedi himself broke that barrier several times as he met with his beloved fans.
Firaz, Mehedi's teammate at the Kashipur Cricket Academy, came with his mother to meet his friend and upon being spotted, was called by Miraz who held the boy in a long embrace.
"I am very happy with the love I am getting from everyone. It has surpassed all my expectations. The love from the people here has led to my triumph and I will respect their expectations going forward," said Mehedi while speaking to The Daily Star.
"Today my local organisation -- including Kashipur Cricket Academy and the Club Association of Khulna -- will give me a reception," Mehedi beamed.
Mehedi's father, Mohammad Jalal Hossain, meanwhile said he was satisfied with what his son had achieved and did not want anything more from him.
"I have already gotten everything I had imagined. I do not want anything more. I am proud of Mehedi and I am proud to be his father."