More questions than answers in Shakib's appointment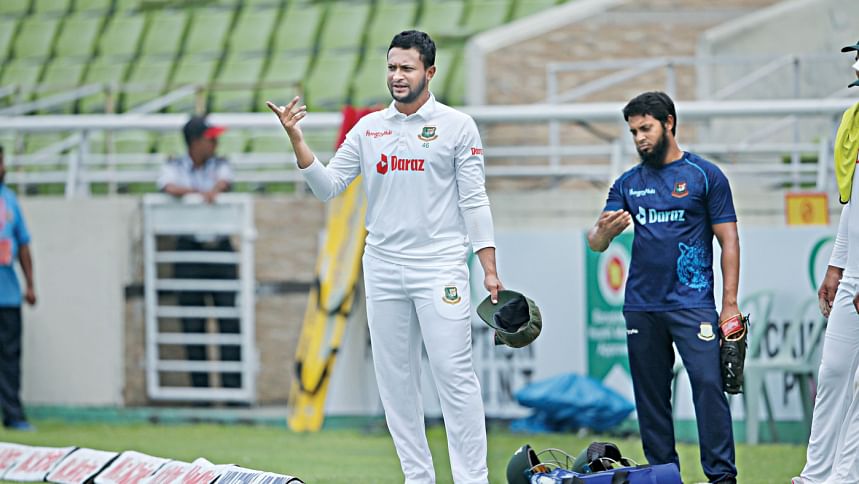 Usually, when a new Test captain is appointed, the first focus is on the direction he wants to take the team. But Bangladesh's newly instated captain is yet to speak about his plans for the team or the brand of cricket he wants to see it play.
In fact, Shakib Al Hasan left the country on Sunday night without giving any soundbite to the media after being handed the captaincy on Thursday.
His first assignment is the tour of the Windies this month. However, he will join the squad in the Caribbean on June 10, two days after the squad's first practice session on June 8.
On the very day Shakib was announced as captain, the Bangladesh Cricket Board (BCB) President Nazmul Hassan had to comment on the fact that the captain would be available for upcoming Tests, because Shakib had missed quite a few series in the recent past.
On the other hand, the BCB president could not comment on how long the 35-year-old Shakib's captaincy would continue. There also seems to be no set target for the board or captain to aim towards.
Without Shakib having said anything so far and the board president saying nothing of note, the prevailing culture of unaccountability becomes even more obvious. There has also been no announcement from the BCB about whether he has submitted any plan for the team's direction.
The BCB president had even remarked on the day of Shakib's appointment that it was hard to have an impact in Test cricket with the Test squad they currently have.
"Right now, the things we need in order to do well in Tests are difficult to accomplish with this squad. As long as they play, that effect [lacking Test mentality] will not go away … I think two years from now, you will see lots of changes [in squad and performances]."
The above statement only points to short term solutions and makes Shakib's appointment appear like a stopgap one. Having appointed Shakib for a third time, are BCB looking for something new or the same reality that held sway during Shakib's last stint? If it is the same old, the resurgence of the pace unit under Mominul Haque will have come to a disastrous end.
During his last stint, Shakib, keen on a heavy focus on playing spinners at home, had said pacers would be used in New Zealand and there was nothing to worry about. That ignored the reality that for pacers to do well abroad, they need matches at home and on pitches that offer them the bare minimum.
Will it be different this time? Will the focus again be just on winning at home despite Bangladesh's greatest Test achievement of winning in New Zealand having been delivered by pacers?
At the moment, there are no answers.