Babu's pitch-perfect tune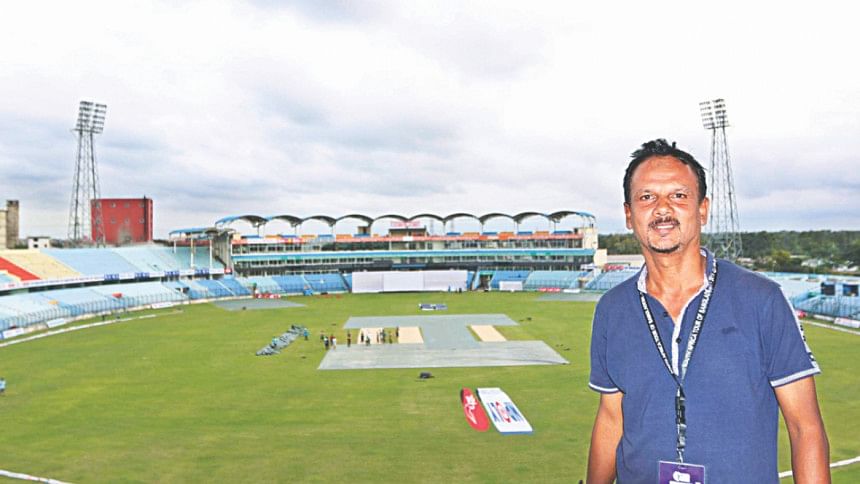 There were three great actors in the classic Test that ended in Chittagong's Zahur Ahmed Stadium yesterday -- winners England, heroic losers Bangladesh and the pitch that made the displays of resolve and resource from both teams possible.
The pitch -- a parched one in appearance -- was an excellent one for Test cricket because while it was quite unusual in that it turned from the first ball of day one, it was unique in that it did not break or become dangerous over time. The turn was consistent, as was the bounce.
"If you come tomorrow, you will not be able to tell it apart from the other pitches on the square," said Zahid Reza Babu, the curator, to the Daily Star yesterday afternoon. Although he is barred from commenting on pitch preparation, this comment indicates that the reason the pitch held so well together was because of the grassy sub-surface that binds the soil.
Generally the men behind the scenes that make such entertainment possible remain hidden from view because their work is done when the cameras are turned off or focused on other things. Still, the role of the pitch in this cracker of a match was so central that Babu was shown as a smiling presence on the sidelines as the action unfolded in the middle on numerous occasions during the match.
But for once, the man behind the scenes was brought forward by Bangladesh skipper Mushfiqur Rahim yesterday.
"Babu bhai has made an amazing wicket," the skipper gushed at the post-match press conference yesterday. "This is the first time that we got a wicket suited to our plans. The positive sign was that we took 20 wickets."
These may seem like simple words, but they were golden for Babu. In a chat with The Daily Star in his office at the ZACS yesterday afternoon, he proudly listed Bangladesh's mostly positive results at the ZACS after he had taken charge of the ground in 2010.
"We can ask for nothing more than this. We do not hear words like this," said Babu. "We do a thankless job mostly. This is our prize, that he said this in front of the media is the biggest thing in my life. It is reward for the work I have done all these years.
"Mushfiqur even thanked me on his way out of the stadium after the match just a little while ago," said the delighted curator.
His impact on this match was such that Sabbir Rahman, the young batsman who proved to the world over the last two days just how mentally strong he is with a debut half-century in trying conditions, came after the match and hugged 'Babu bhai' for providing him the opportunity.
"I told him that you will be part of history, and I have just joined you in a small way. I can say that you scored a fifty on my pitch on your debut," added Babu.