Anatomy of a classic
'In a way it is a pity that there had to be a loser at the end of this Test' – England skipper Alastair Cook after the 22-run win over Bangladesh yesterday.
DAY 1, MORNING: England 81/3 in 28 overs
England won the toss and Bangladesh debutant off-spinner Mehedi Hasan Miraz opened the bowling and bowled Ben Duckett with a peach. Shakib Al Hasan had England captain Cook bowled off the sweep before Miraz trapped Gary Ballance in front. Joe Root came out and played classy shots, but it was Bangladesh's morning.
Winner: Bangladesh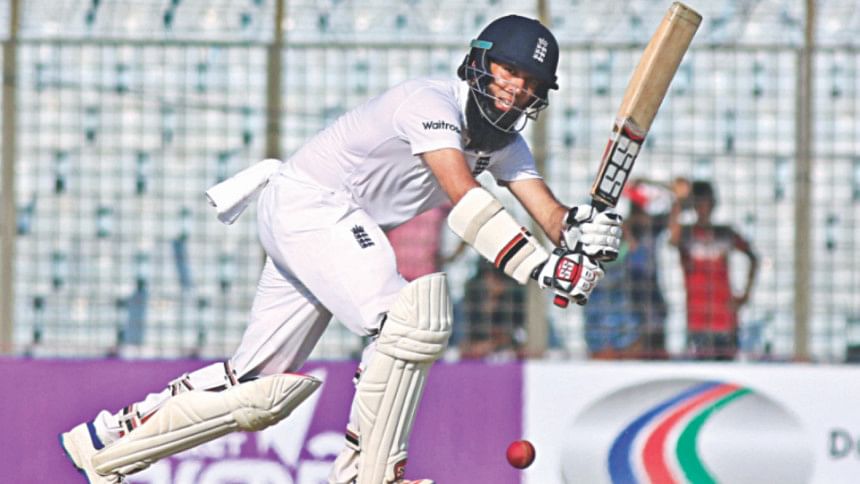 DAY 1, AFTERNOON: England 173/5 in 62 overs
Joe Root was dismissed by Miraz early in the session before Ben Stokes was castled by a sharp turner by Shakib to leave England at five for 106. But Moeen Ali batted with Jonny Bairstow to take England to some respectability. But five wickets by tea after winning the toss makes it Bangladesh's afternoon.
Winner: Bangladesh
DAY 1, EVENING: England 258/7 in 92 overs
Miraz bagged two more wickets – those of Bairstow and Ali -- and had a debut five-for to have England seven down for 237. But by that time the pitch and its demons became apparent, so England ideally should have been dismissed by the end of the day.
Winner: Undecided
DAY 2, MORNING: Bangladesh 29/2 in 13.5 overs
Bangladesh bowl out England for 293, with Miraz picking up Chris Woakes and Stuart Broad and Taijul Islam picking up Adil Rashid. 293 seemed enough especially with Ali dismissing Imrul Kayes and Mominul Haque in the last over before lunch.
Winner: England
DAY 2, AFTERNOON: Bangladesh 119/3 in 43.2 overs
Tamim Iqbal and Mahmudullah Riyad puts on a 90-run partnership, batting beautifully on the tough pitch against England's spinners. Riyad however departs to what turns out to be the last ball before tea. But their partnership takes Bangladesh to a good position to overtake England's total.
Winner: Bangladesh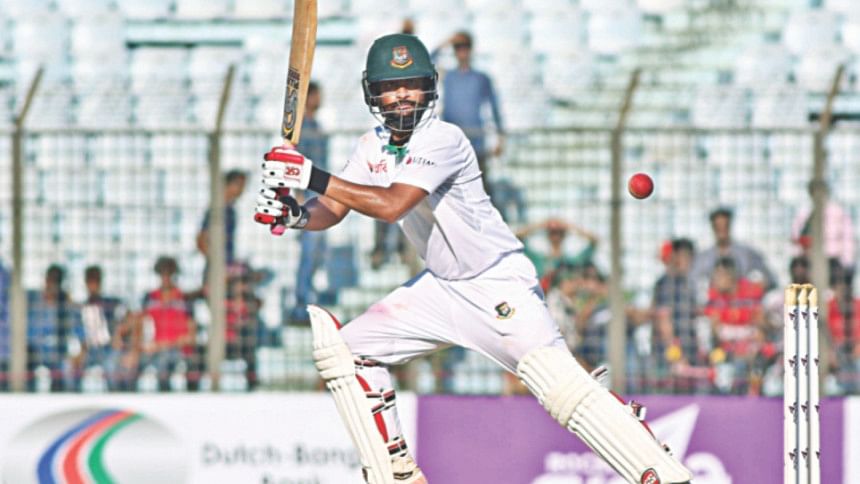 DAY 2, EVENING: Bangladesh 221/5 in 74 overs
Tamim falls for a monk-like 78 off 179 deliveries to Gareth Batty with the score on 163 for four. Mushfiqur and Shakib then put on a 58-run stand, but with the close in sight Mushfiqur is caught at slip off Ben Stokes.
Winner: Undecided
DAY 3, MORNING: Bangladesh 28/3 in 11.2 overs
A suicidal leap down the wicket that had Shakib stumped off the second ball of the day saw Bangladesh's last five wickets fall for 27 runs as the home side were all out for 248, 45 runs behind. Shakib tried to make amends with the ball however, taking the wickets of Duckett and Root after Miraz dismissed Cook.
Winner: England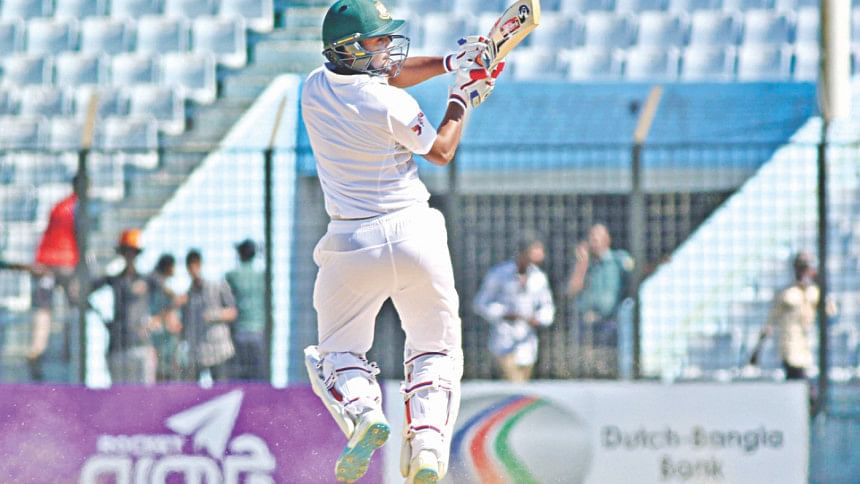 DAY 3, AFTERNOON: England 108/5 in 43.0 overs
Ballance fell to Taijul and Ali became Shakib's third wicket as England stumbled to 62 for five. Disciplined batting from Stokes and Bairstow took England to 108 but Bangladesh were scenting a quick end to England's innings and a chaseable total despite the costly deficit.
Winner: Bangladesh
DAY 3, EVENING: England 228/8 in 76 overs
Stokes played his best innings against spin bowling and put on a 127-run partnership with Bairstow. Kamrul Islam Rabbi bowled Bairstow for his first wicket and Shakib picked up his 15th five-for by dismissing Stokes and Rashid, but it seemed too late as the lead had already swelled to 273.
Winner: England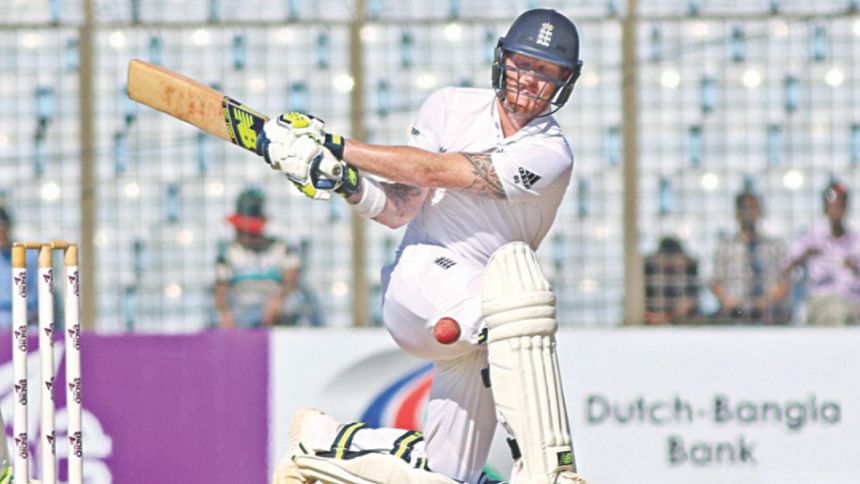 DAY 4, MORNING: Bangladesh 86/2 in 22 overs
After Broad was run out and Taijul claimed Woakes within four overs of the start, Bangladesh rocketed to 86 by lunch, exactly 200 runs adrift of a historic chase. Imrul provided the impetus with 43, but was out sweeping Rashid while Tamim was claimed by Ali at short leg.
Winner: Bangladesh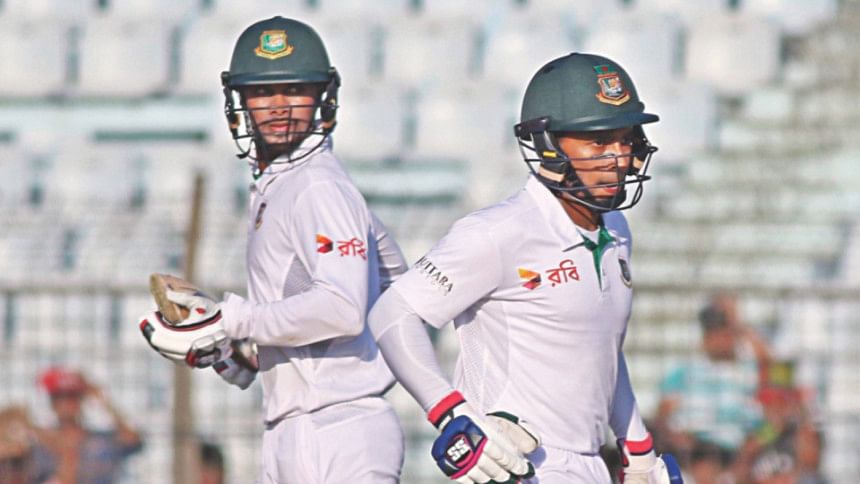 DAY 4, AFTERNOON: Bangladesh 179/5 in 50 overs
Riyad's edgy knock came to an end when he played across the line to Batty after Mominul had fell to the same bowler. Shakib edged Ali behind to leave Bangladesh at 140 for five and the Test seemingly lost. But then Mushfiqur and Sabbir began batting.
Winner: England
DAY 4, EVENING: Bangladesh 253/8 in 78 overs
Mushfiqur and Sabbir batted courageously and with purpose in an 87-run stand that took them to within 59 runs of victory. Then a Batty delivery spat up and the skipper was gone. Miraz and Rabbi followed quickly to Broad before Sabbir and Taijul took them to the close with hopes still alive.
Winner: England
DAY 5, EVENING: Bangladesh 263 all out in 81.3 overs     
There was only 19 minutes of play as Stokes completed a stellar match by removing Taijul and Shafiul Islam in the space of three balls after 10 runs were added to the overnight score.
Winner: England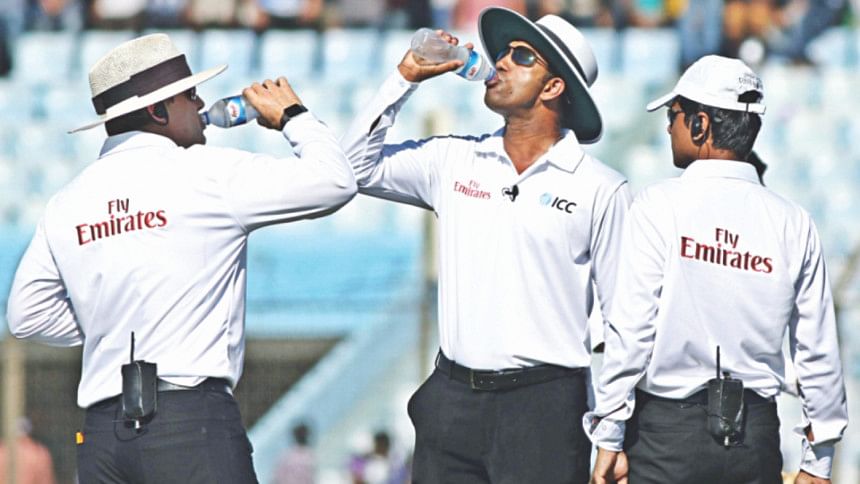 Session score
England: 6 Bangladesh: 5 Undecided: 2