I thought like a bumblebee: Cook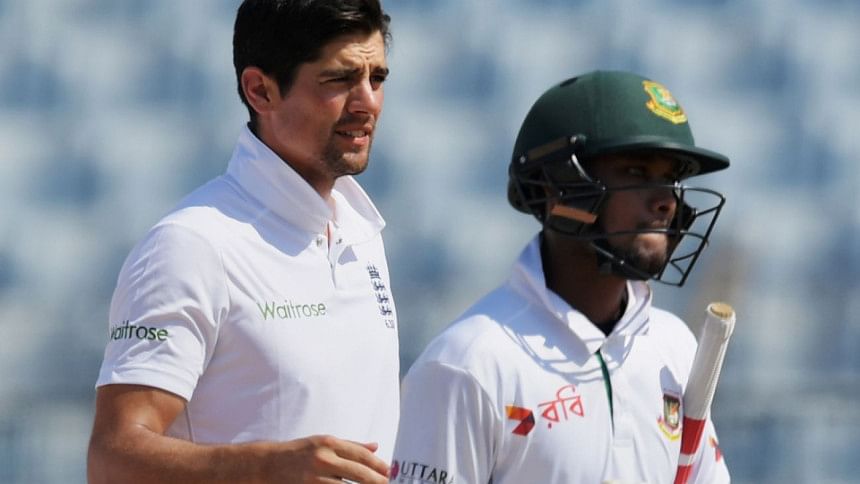 England skipper Alastair Cook has said that he was 'fairly confident' of winning the first Test against Bangladesh despite the tight scenario.
On the final day of the first Test, Bangladesh needed 33 runs to win while England required two wickets.
"I was fairly confident this morning, to be honest. I thought we would be able to create enough chances. But the doubt was whether we would be able to take those chances.
"It was a brilliant Test match. After the first session I didn't think it would go onto the fifth day. There were ebbs and flows. The crucial moment was in day three when we managed to get a lead and that proved the difference obviously," said Cook after the match in Chittagong.
Cook decided to go into the attack with both his pacers and he preferred to use the reverse swing rather than spin.
"I thought like a bumble bee. I took my time last night and floated around with a few ideas in my head and then decided it would be Broads and Stokes. I think the real reason was that they would be able to take more runs against the spinners. Once the new ball was available I would have used the spinners, but if you used the spinners early on, you couldn't have changed," he said.
He also gave credit to Bangladesh for coming so close in the fourth innings.
"The way they played spin in these conditions, they deserve a lot of credit. I genuinely thought 280 was enough at first," said Cook.
Furthermore, he added that there would definitely be changes in the second Test in order to give more players a chance ahead of their Tests against India.