England tour of Bangladesh, 1st Test
Wasn't possible for Sabbir to score all 33 runs alone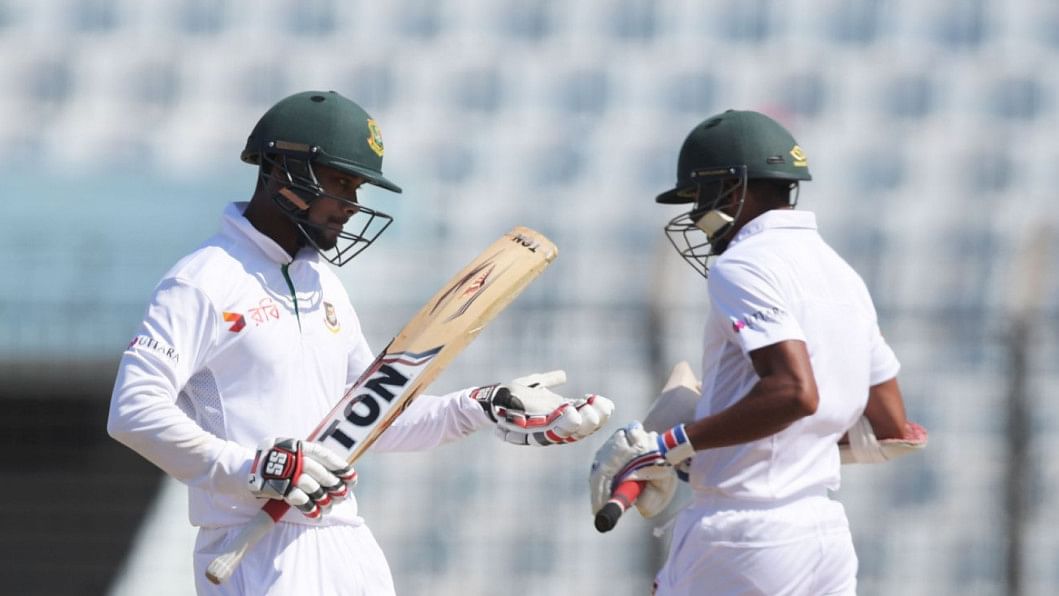 At the end of it all, there were several talking points.
How different would have the game been had Bangladesh managed to take the first innings lead? How different would it have been had Mushfiqur Rahim not received a shooter from the pitch that eventually led to his dismissal in the second innings?  
There was immense drama throughout the Test and it continued right until the final day. The last two wickets were reviewed as well; the first by England, and the second by Bangladesh. It was a sign as to just how crucial a role the Decision Review System played in this Test.
However, Bangladesh skipper Mushfiqur wasn't ready to go into any of those talking points. Despite the defeat, Mushfiqur rated this Test as the second best in his career and said that he was happy to have finally found a pitch that suited Bangladesh's style of play at home.
"The entire Test was a big achievement for us. In the past we lacked consistency. And to play consistently for five days despite not having played Test cricket for 15 months is not easy. And I think we were consistent 90 to 95 percent of the game. We showed real character.
"There will be many talking points after the game. People can complain about the DRS and many other things, but that fact remains that we did everything we could in our hands to do well here. We are happy with our main effort," said Mushfiqur.
When asked if Sabbir Rahman committed a mistake by giving Taijul Islam too much to play on the final day, Mushfiqur said: "It wouldn't have been possible for Sabbir to have scored 33 runs alone. And Taijul wasn't playing that badly either. If it was the last wickets, things would have been different. And they were bowling pace from both ends, so it would have been a risk for Sabbir as well to go for the hit. That's why the decision was to take every run that came by."  
The skipper was extremely happy with the way the wicket behaved throughout the five days and praised the curator. "Babu [Bhai] has made a magnficient wicket. I have played many Tests and I think this is the first time that we got a wicket that helped and supported us. Maybe if we could have played a few domestic matches on this kind of a wicket, we would have been more prepared."  
"I don't know when we played on such a wicket the last time. If you notice, our batsmen batted better in the second innings and that showed that we managed to adapt to the situation well. Hopefully we can learn more from here," he added.
He further explained as to how difficult it was to bat on the Chittagong track.
"Every ball is vital on this track. No one can be set even if he scores a 90 or 100 because the odd ball can jump on you. Unless you get a full toss or a short ball it's difficult to score," he said.
Many would reckon that the defeat might have inserted a sense of frustration into the Bangladeshi camp, but Mushfiqur denied that assumption completely.
"It does feel bad to lose but we are not frustrated. It was a big learning for us. I think even though we couldn't win this Test, this is one my best. I rate the draw against Pakistan in Khulna as the best and then this," he said.