Tale of two all-rounders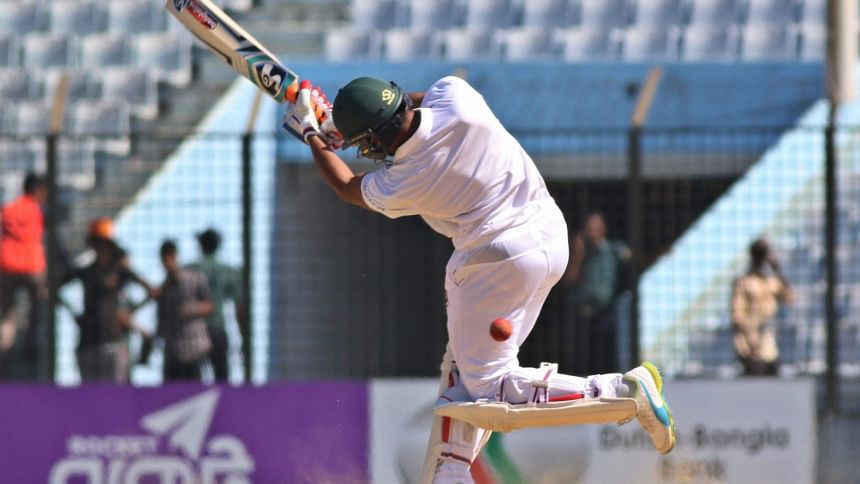 The third day brought the first Test alive at the Zahur Ahmed Chowdhury Stadium in Chittagong yesterday, but unfortunately for the home side it was England who edged ahead in their bid to take a 1-0 lead in the two-Test series against Bangladesh. After both sides battled tooth and nail for three days, it was the actions and achievements of their respective star all-rounders that brought the match to the juncture it is in today.
Shakib Al Hasan and Ben Stokes sit at two and seven in the ICC Test all-rounders' rankings respectively, but yesterday the Bangladeshi's performance was on a lower plane in the all-rounder stakes. His bowling was artful and brilliant, and his five for 79 is the reason Bangladesh are still in this match. Even so, that brilliance may well be remembered as an attempt to make amends for his shocking display with the bat, in which he was stumped going for a wild heave off the second ball of the day when he was the only non-debutant batsman left. It may be that his disregard for the match situation with the bat has a larger impact on the result than his 15th five-wicket haul.
Stokes meanwhile put in a genuine all-rounder's performance, perhaps the best of a career much younger than Shakib's. He utilised reverse swing and was England's best bowler during Bangladesh's first innings on a dustbowl where spinners otherwise ruled. He bowled with pace and untiring intent to take four for 26 and speed Bangladesh's demise 45 runs behind on the first innings. Most tellingly for an all-rounder much less experienced, he showed much greater match awareness than Shakib with the bat; admittedly not a high bar yesterday.
He came in at 46 for four with the Bangladesh spinners, Shakib at the helm, threatening to make short shrift of the England line-up. He hit only one four in his first 44 balls and scored just 17 as he defended resolutely and assuredly, never following the ball and instead focusing on playing it late in defence -- something that his more senior batsmen failed to do in unfamiliar conditions.
His 85 was studded with six fours and three sixes, but he was judicious in picking nine bad balls to blast in his innings, which he did as only he can -- holding nothing back.
Like he said after the day, "It wasn't a case of scoring at a huge run rate."
In contrast, Shakib seemed to be batting in a T20 match in which the 72-run deficit when Bangladesh resumed would have to be scored in five overs.
If it seems unfair to pick on one shot that he hit on a day when he kept Bangladesh in the match, it must be borne in mind that it was not an instinctive airy shot to a wide ball bowled by a pacer but a premeditated hoick off a spinner turning the ball square. And it was not the first time he wasted an advantageous position for Bangladesh.
Fittingly, Stoke summed up the shot best. "It was a bit of a shocking thing the second ball this morning. Obviously he [Shakib] was their last top-class batsman. Luckily the way that Moeen [Ali] bowled throughout the innings and the amount of spin that he was getting, it was always going to be tough for him. It opened the door for us to finish them off quite cheaply."