A loss in the books, but a win for hope
It could have been much less or a bit more than the 19 minutes it turned out to be. A cricket fandom raised and sustained on limited-overs cricket sat in front of their television sets all over the country, commenting on social media in droves about a Test match that only had 33 runs and two wickets in it.
At the end of those 19 minutes, a disconsolate Sabbir Rahman sat hunched on the pitch, head bowed. At first Stuart Broad -- the man who on the previous evening had played a major hand in the young man's eventual despair -- came into the picture and put a consoling hand on the shoulder of the debutant who has played such a stirring hand in bringing his country to the brink of their greatest cricketing achievement to date, only to see it snatched away in the space of three deliveries. Joe Root then hunched down beside his fellow batsman, opened his own helmet and said a few words.
Sabbir just sat with his head propped up by the handle of the bat, which he had propped up on the Zahur Ahmed Chowdhury pitch that played a starring role in producing not only the greatest Test on Bangladesh soil, but one of the best Test matches in recent memory.
Could he have been thinking that he should have allowed Taijul Islam to face as many as 33 out of 51 deliveries during their 25-run partnership? As the batsman likeliest to have taken them home, Sabbir ideally should have played the lion's share. It wasn't the debutants fault -- it was a team decision based on Taijul not being an absolute mug with the bat, but it eventually proved a gamble too far.
For the statisticians, Bangladesh lost the first Test against England by 22 runs in Chittagong on the fifth morning yesterday. Over four days and 19 minutes of cricket 1044 runs were scored from 2110 deliveries and the 40th wicket fell when number 11 batsman Shafiul Islam was adjudged leg-before by umpire Kumar Dharmasena off a reverse swinging ball by player-of-the-match Ben Stokes. The 26th review of the match was asked for by Shafiul, but there would be no 12th overturn of an umpire's decision.
Three deliveries ago England had successfully reviewed a leg-before call against Taijul Islam and Stokes claimed the visitors' ninth wicket. Before that, an assured start from Sabbir, who resumed the day on 59, and a top-edged hook from Taijul that went to the boundary behind the keeper had shaved 10 runs off the 33 that was on every cricket fan's tongue before start of play.
Then it was over, as most feared it would be. A 286-run target on a pitch as difficult as this one was not expected to be chased. It was by all accounts thought to be beyond a side that had only once chased a target over 200, that too against an attack much inferior and on a pitch much friendlier.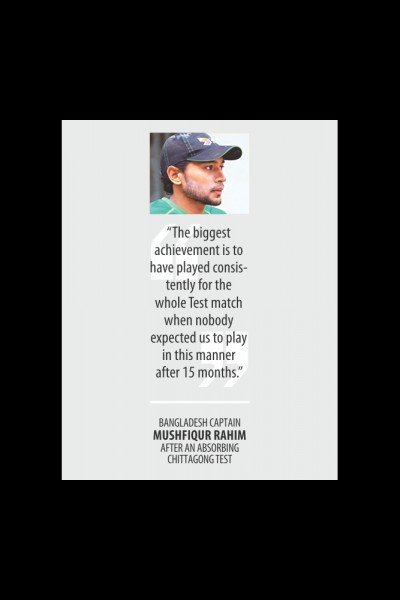 But this match was about much more than the statistics show, although they do reveal a lot. It was about a Bangladesh side playing a Test after almost 15 months and an England team that encountered conditions as alien to them as can be imagined. Both sides played their part in the spectacle but even in defeat this Test perhaps means more to Bangladesh.
Coming into this match with three debutants and a pace attack that is not their first choice, they kept pace with England throughout the match. Mehedi Hasan announced himself as a formidable young prospect with a debut five-wicket haul and a disciplined mind that belies his youth. Sabbir displayed a strength of character not many would have expected from a player often called a limited-overs specialist. Hit on the side of the helmet off his 23rd ball in Test cricket in the first innings, he came back in the second to play an innings that nearly took his team home even after Shakib Al Hasan had departed with 147 runs to go, and skipper Mushfiqur Rahim left with 59 runs left.
The skipper himself was immense in this match. He formulated the strategy that has suddenly made Bangladesh look like a side that can win Test matches. He executed that strategy to near perfection. He thought on his feet on the field, and set imaginative fields throughout the Test, giving his strength the best chance of picking up 20 wickets -- which Bangladesh did for only the ninth time in 94 Tests. As importantly, his keeping was nearly flawless and at times brilliant, such as the take to dismiss Moeen Ali in the first innings.
Along with Tamim Iqbal in the first innings and Sabbir in the second, Mushfiqur's batting on the fourth day revealed another dimension of Bangladesh's batting, generally known to be good strokeplayers but not great grafters in tough situations. It does not get much tougher than the 87 runs he put on with Sabbir for the sixth wicket on Sunday.
At the end of the match, there were two differences between the teams that brought about the narrow result. The reverse swing that Stokes and Broad exploited to such ruthless effect was missing among Bangladesh's pacers and had those home batsmen not experienced in international cricket all at sea, but that could be offset by Bangladesh's superior spin attack and their better batting against spin. The most crucial difference however was circumstantial -- Bangladesh's 45-run first-innings deficit which came about when they lost five wickets for 27 runs on the third morning after Shakib Al Hasan's suicidal swipe.
So hopes and heads should be held high as they start preparing for the second Test in Mirpur starting on Friday.