Crossing the line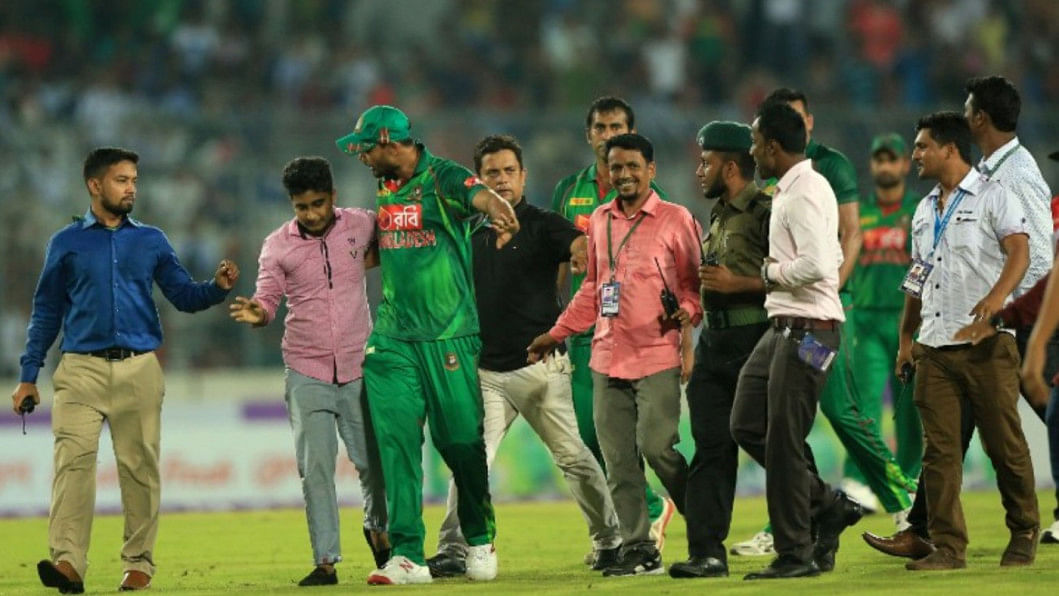 Pitch invasion by a fan is nothing new in the sporting world. But in the context of Bangladesh, Sunday night's pitch invasion by what appeared to be an 'emotionally charged' fan while the Tigers were bowling against Afghanistan in the third and final ODI was something unique.
Mehdi, the spectator in question who was realeased from police custody last night, hogged the spotlight when he ran onto the playing surface from the VVIP stands of the Sher-e-Bangla National Stadium in Mirpur apparently to embrace Bangladesh captain Mashrafe Bin Mortaza. He was eventually whisked off the ground by the security personnel after a big voluntary hug from the Bangladesh captain.
People can interpret this incident in many ways, but firstly and most importantly it breached the security protocol inside the stadium. The home of Bangladesh cricket in Mirpur has got fencing high enough in all stands except for the grand stand in an attempt to protect any pitch invasion.
It is a shame that the security personnel failed to protect that small corridor of uncertainty. We are not sure whether the security enforcers were also watching the game, which has often been the case.
Besides, the people who chased the invader did not really resemble those specially trained bouncers employed for these kinds of interventions all over the world.
The second cause of concern was the reaction from Mashrafe himself. He was actually seen protecting the pitch invader from being physically harmed. And by doing this our most loved cricketer has unwittingly sent the wrong message. We know how big-hearted a man he is. We would have appreciated Mashrafe publicly showing no sympathy to someone who has flaunted the law while doing everything in his power to protect him privately, which he has been doing over the years for many hapless people.