Did clear thinking expire in 2015?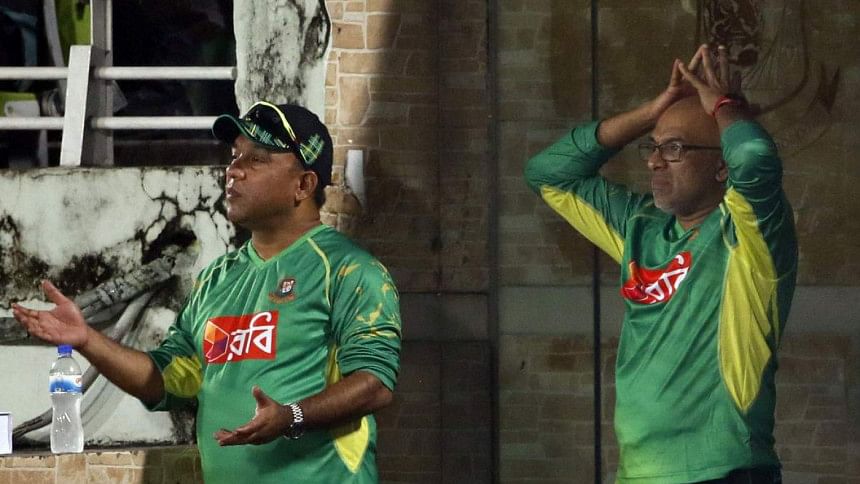 There was a reason why Bangladesh fans were so eager for the ODI series against Afghanistan and England to start, and that was to see the Tigers continue the scarcely believable run of success they had in the format in 2015.
So, after a near 11-month gap between ODIs behind them, the point of interest surrounding the series against Afghanistan was whether Bangladesh can build on the success of a year ago. Then, Bangladesh had turned around an abysmal series of results in 2014 with a clear-minded, simple approach that resulted in them being one of the most impressive ODI sides of 2015.
So has that clarity of thought carried over into 2016? From the evidence of a series poised at 1-1 that could easily have been 2-0 in favour of Afghanistan had it not been for a certain Shakib Al Hasan, the answer is in the negative.
Some might say it is too early to determine, but consider the evidence. In 2014, the new firm of coach Chandika Hathurusingha and skipper Mashrafe Bin Mortaza identified the 2015 World Cup on the pace-friendly pitches of Australia and New Zealand as the opportunity to make a splash.
After years of reliance on spin bowling, the new wave of Bangladesh cricket advertised a growing strength in pace in the likes of Rubel Hossain, Al Amin Hossain, Taskin Ahmed and the man who started it all -- Mashrafe. 
The order of the day therefore was sporting pitches with a bit of grass that provided pace and movement, at the same time rewarding the natural stroke-players in the batting department.
The result was a team that was more able to compete on the world stage and beat such varied opponents as South Africa, India and Pakistan at home. It all went very well with a coach and captain insistent on playing to the team's strengths regardless of opposition.
11 months on, inexplicably, the slow and low pitches of a weaker Bangladesh have returned. It is inexplicable because the home team's squad does not match the pitches, which are widely known to be prepared according to the team management's suggestions. There are four fast bowlers in the squad and three playing in the team.
The stroke-players, apart from losing their patience too soon, have found it hard to score the big runs they scored in 2015.
This muddled thinking is not restricted to the pitches. This series is also the first where the new selection procedure has been in effect, and the first impression has not been a good one.
Critics of the new procedure -- which has included the team manager, cricket operations committee chairman and head coach in the squad selection process -- have labelled it a convoluted one while lamenting the exit  of previous chief selector Faruque Ahmed, whose strong-minded views were thought of as a valuable counterbalance to equally strong voices within the management. 
Opener Tamim Iqbal has reinvented himself as someone who looks to bat deep into the innings from his earlier incarnation as an early-over swashbuckler.
This was in part due to his partner Soumya Sarkar's explosive exploits in 2015, but the opener has since been confounded by poor form to an extent that is affecting those around him. But he has been persisted with -- a team policy that somehow does not apply to Imrul Kayes who finds himself playing in the troublesome number three position as often as not. The reasoning is that Soumya played well in ODIs 11 months ago, and his recent failures in domestic cricket are ignored.
Meanwhile pacer Al Amin, who performed excellently in last year's ODIs, finds himself out of the squad and his replacement Shafiul Islam has not seen action yet. Muddled thinking and double standards abound. 
There are no obvious reasons for this reversion to second-guessing, especially after a year as productive as 2015. Right now only speculation is possible, and one theory doing the rounds is that there may be a fear that England, with their newfound aggression, would find sporting pitches to their liking and pile on 350-plus scores like they have been doing in England.
If that is indeed the case, then the coach, captain and powers that be are reverting from fearlessness to timidity, a move that may render 2015 an anomaly rather than the start of an upward trend.