Our obsession with institutional pride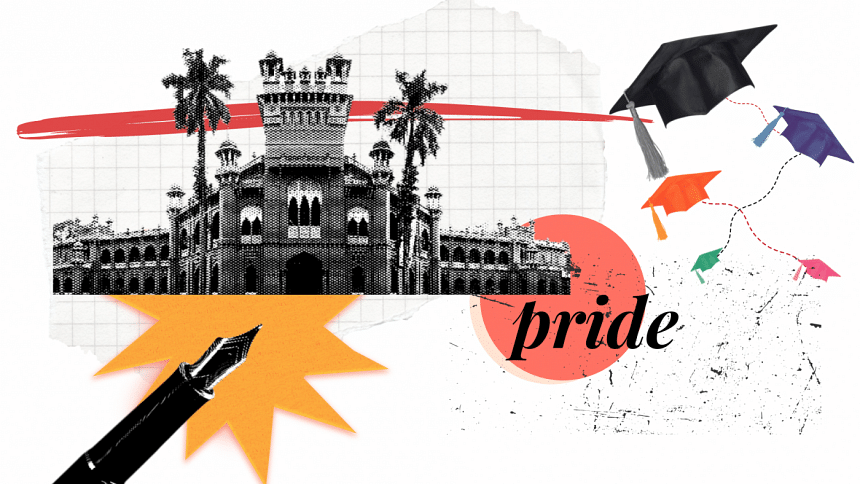 One of our classmates got into the Department of Mechatronics Engineering at Khulna University of Engineering and Technology (KUET), a very well-deserved achievement given his passion for robotics. But whereas we expected him to post photos in front of blueprints of robotic models, we instead received Instagram stories from him in the Department of Chemistry at the University of Dhaka.
Ask any first-year college student about what they want to study, and an overwhelming majority will answer that they haven't decided yet. The common consensus is that they would like to wait it out and see. And with the weight of expectations looming over them, all they can muster up the courage to say is any discipline in Dhaka University or Bangladesh University of Engineering and Technology (BUET).
These two instances portray our longstanding obsession with institutional reputation.
Our society is still only willing to accept two possible career pursuits for students – either being a doctor or an engineer. As such, talking about one's passions is still taboo and following them, is treachery. What's more, the fates of the students are decided well before they themselves can actually take a decision. This poses a significant threat to the students' notion about what they find intriguing and what their true calling is. 
We have now come to a stage where the quality of a university is evaluated based on the number of its alumni in the Bangladesh Civil Service (BCS). People even (possibly in jest) pity the Massachusetts Institute of Technology (MIT) and Harvard University for not having as many graduates in the BCS as the least-ranking university in Bangladesh. Where it was once shameful for undergraduate students to not have a future plan, now it's more humiliating for us to not be willing to sit for the BCS exam.
There's nothing gravely wrong about it, but the prospective candidates believe the institutions are magically going to land them in the Secretariat.
Institutional reputation has become so deeply steeped in our consciousness that we equate getting admission to our self-worth. But acing the admission tests is only just one measure of a person's talent. It's a shame how we overlook the truest manifestations of a person's genius.
Just because a huge number of highly successful people happen to be from leading public universities doesn't mean all their achievements can be attributed to their institutions. Universities can only do so much. Moreover, students gravitate towards only a handful of institutions because of the availability of necessary infrastructure and resources. As a result, it generates stigma around other, even better institutions.
Such conviction puts enormous pressure on the students. Failure to get into public universities leaves them mentally drained. It sucks up every zeal they had for studying, clouding their lives with an implausible regret and inferiority complex. They even turn against their passions.
Who's going to take the blame for such silent deaths of dreams?
People of our country have so far worshipped institutional reputation and influence. The true divinity, however, lies within the individual.
Abdullah gracefully drowns in the proses of Joyce, Dostoevsky, Faulkner. Call him ashore at [email protected]