The Sorry State of Public University Halls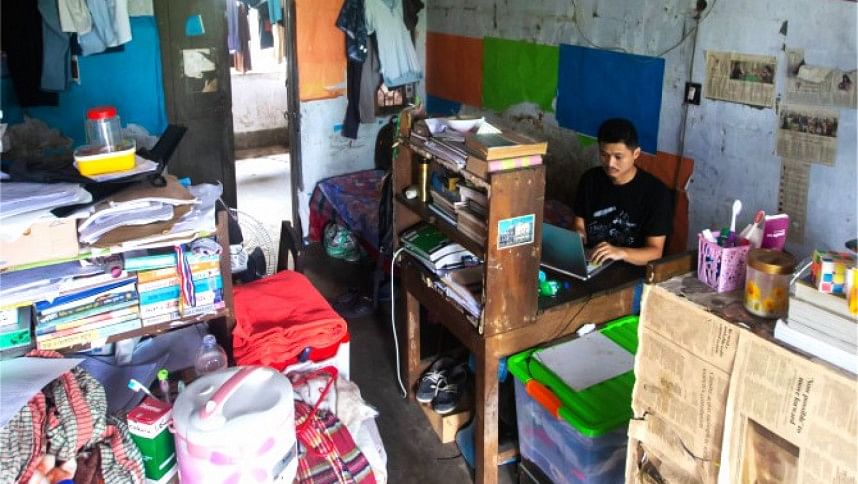 Throughout my search for public university hall (dormitory) residents to talk to for this article, I was refused by many. I could sense that these refusals were primarily instigated by fear. A conversation that's much needed among our students was suppressed by the fear of an established hierarchy, lingering across the corridors of these dorms like an evil spirit. 
"The room is detrimental. We have to sleep on the floor, with 8 people in one room. In the first year, we had some 35-40 students in one room, one bigger than this one. There's not even enough space to keep our luggage. The cement keeps peeling off the ceiling, you can see the rod popping out of the ceiling," said Salman Habib*, a resident of Surja Sen Hall, Dhaka University (DU).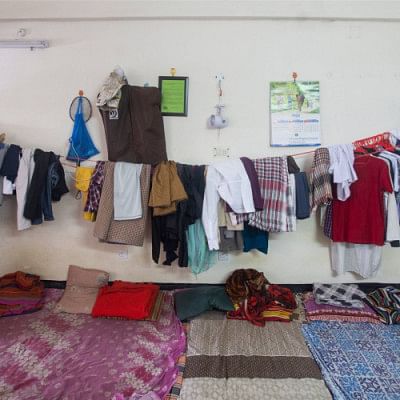 Vivek Chowdhury, a resident of Ahsanullah Hall, Bangladesh University of Engineering Technology (BUET) shared his first-year experience in the halls, "Our room was practically impossible to share with five other students. Since the first day of university, I haven't had space to keep a table for myself. I once found some insect larvae in the hall's water filter and reported it to the authorities. However, they claimed we were the ones to blame for mishandling it." 
The key problem in university halls is the lack of availability of accommodation for freshers. They often have to live in a mass room sharing it with over 30 residents without proper ventilation, hygiene or other necessities for a student's well-being. These mass rooms, commonly referred to as gonorooms, are controlled by the political groups.
In medical colleges, the situation is as miserable. 
"The common problem that everyone has to face is that when they enter as freshers, they have to accommodate themselves in the gonoroom. It's a horrible place for any student to be in with no personal space whatsoever," said Sakib Ahmed*, resident of Dr Fazle Rabbi Hall, Dhaka Medical College. "Even if they can manage to find attachment in a room by luck, around 8-12 people have to stay in one small room, which was originally designed for 4." 
When there are these many people crammed into a room, hygiene is the first major compromise. "The washrooms are filthy, almost to the point that they cannot be used by any means. The corridors and grounds around the hall have been converted to massive dustbins by the students themselves," said Sakib*.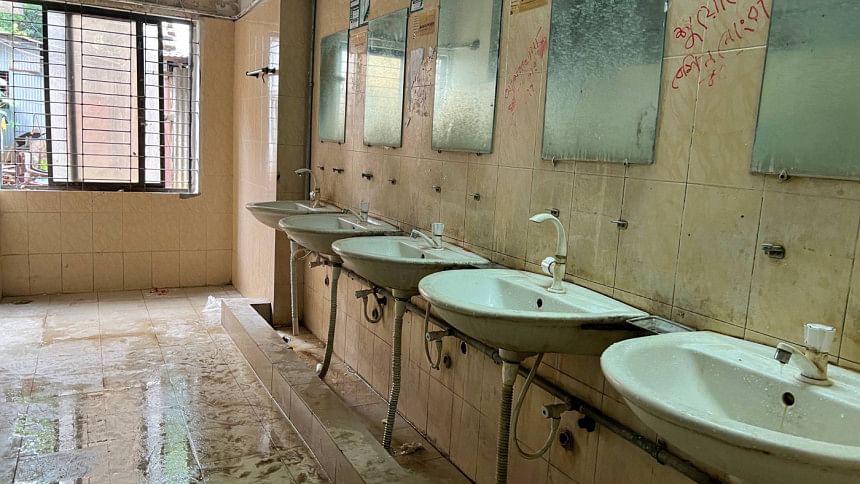 The quality of food in dorm dining and canteens has long been one of the most crucial problems in public university dormitories. "The food quality in dining is below par, compared to the expenses made," said Zarin Tasnim*, resident of Shamsun Nahar Hall, DU.
"Owing to the bland taste and lack of food value, I had to resort to cooking for myself, which isn't always feasible. Besides, pure drinking water is unavailable and it isn't always convenient for everyone to buy bottled mineral water. Many students are left with no option but to use tap water," she said. 
The miserable quality of food forces many students to eat outside, which, according to Sakib*, isn't always an affordable privilege, "The major problem with food in my hall is that there is no dining system and only canteens are available. You have to spend around 200 taka per day for lunch and dinner, given that you want to have a proper meal."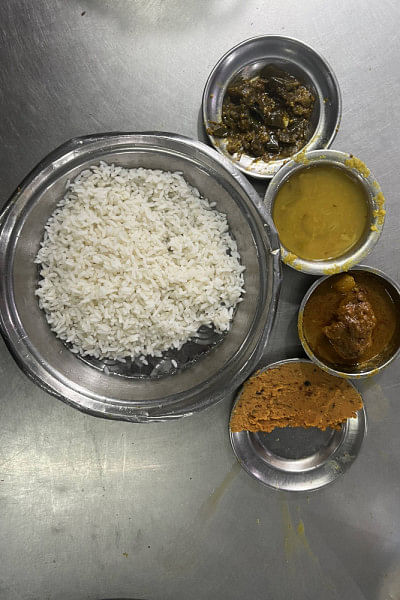 In many cases, the problem regarding accommodation in dorms is less about the lack of space, and more about the discrepancy in allotments influenced by political patronisation. While freshers are forced into gonoroom or crammed in groups of 8-12 in one room, students with political affiliations get better allotments with much ease. 
"There's a chain of command in every hall," explained Salman*, when speaking about the impact of politics in dorms.
"Every batch controls their immediate junior batch. One must listen to their seniors or else he can just get kicked out of the hall. Many of us can't afford to pay monthly rent in students' mess. Moreover, many seniors don't leave their rooms until they get a job. Some of them reside even up to 7 years, or more. The discrimination in room allotment is primarily impacted by political influences and seniority. For example, if I have eight people living in my room, someone out there is living with two people in one room which was originally designed for four," he said.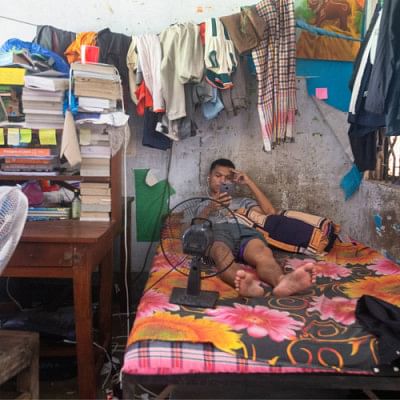 The hierarchy and chain of command influenced by student politics brings more to the equation than just accommodation crisis, according to Salman*.
"If a student is called by a senior to the guest room or a political program, he has no option but to go. Consequently, they'll end up wasting 3-4 hours. For a student residing in the dorms, his prime concern is survival and, in the process, they're lagging in their self-growth. With fear in the back of their minds, there's just no environment for thinking fresh or investing in self-development," he said.
The situation is as bad, if not worse, in women's dormitories where hall allotment is similarly influenced by political connections.
Neela Ferdous*, a resident of Deshratna Sheikh Hasina Hall, Rajshahi University of Engineering Technology (RUET), shares her experience, "Our hall doesn't have enough capacity and so freshers and second-year students aren't allocated any seats unless they have political affiliations. Naturally, in my first year, I didn't get a seat in the hall and used to live in a students' mess. I was stalked and harassed badly and it took a huge mental toll on me. Now, as a third-year student, I share a room with four others which is also pretty congested."
"Starting from the first year, students are placed into gonorooms where 30-40 students are stuffed inside a room," continued Zarin*. "Things are worse at political gonorooms where almost 80 students share a room with many having to sleep on the floors. Even after being allotted a room, we're forced to share single beds with roommates." 
When speaking to students, it was clear that their demands revolve around basic facilities like accommodation, hygiene, quality food and a safe environment, requirements that should've been ensured by the hall authority to begin with.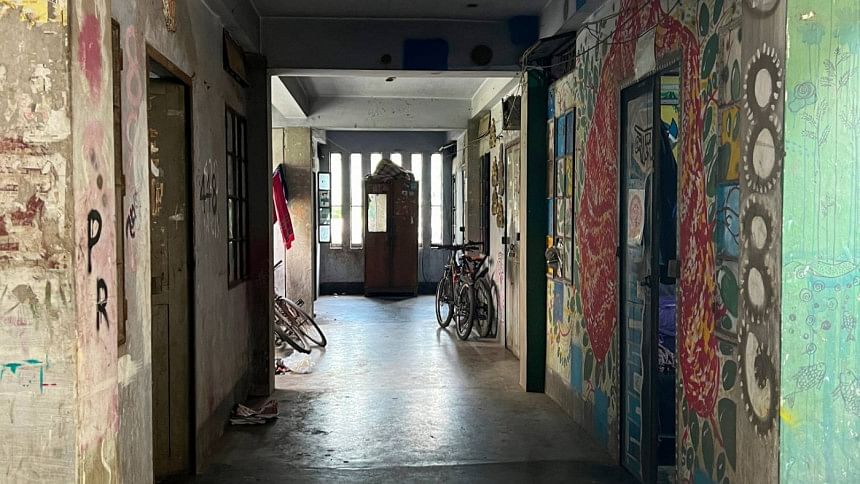 "Renovation of hostel building, proper indoor game rooms, regular cleaning of the corridors and grounds are necessary. We don't have a permanent toilet cleaner allotted by the hall authority. Twice or thrice a week, cleaners only clean rooms and toilets of those who're willing to pay extra at their own expense," said Sakib*.
"Most importantly, the authority needs to make sure all students get their allotments irrespective of political background or their residency in Dhaka," he concluded.
"The curfew in our female hall usually starts at 7 PM, and it's 6 PM in winter. The rule is so rigid that anyone delaying even 10 minutes or so has to face severe punishment," Neela* explained the outdated regulations in her hall.
"The curfew should be delayed to at least 9 PM. We don't have a reading room and WiFi service in our hall, despite it being available in the men's dormitories. Buying internet data every month isn't affordable for everyone," she further elaborated on the troubles faced by female hall residents.
When asked to comment on this topic, university administrators admitted the need for change.
Prof. Md. Nurul Alam, Vice Chancellor of Jahangirnagar University (JU) said, "A University should give all facilities to its students. Quality food, standard living places are must. Even, in our University, recently I sat with all the hall provosts of my campus and instructed them to be more careful about food quality and price of food. I instructed them to fix meal rate after discussing with students."
Abdullah Hel Kafi, president of JU's Hall Provost Committee, said, "No University should have gonoroom. A fixed place needs to be ensured from the first day of a student life. A reading space, high speed internet facilities are must for a student. Provosts of the halls need to be more concern about all the students."
In 2020, DU authority had decided to close all gonorooms and evict all illegal occupants residing in halls using political patronisation. However, they're yet to act on their decision. The authority earlier attempted to evict illegal occupants from the dormitories several times but were reportedly thwarted by politically-aligned student leaders.
Public university dormitories in Bangladesh have been a nightmare for its students long enough. As per accounts of multiple students in BUET, the halls of BUET have been much safer since the ban of student politics after the murder of Abrar Fahad.
Considering the deplorable living condition in other public universities, the question remains – is the death of a student truly the cost of better living conditions in dormitories?
*Names have been changed upon request.
This article was written with contribution from Sheikh Tajul Islam Taj, JU Correspondent, The Daily Star.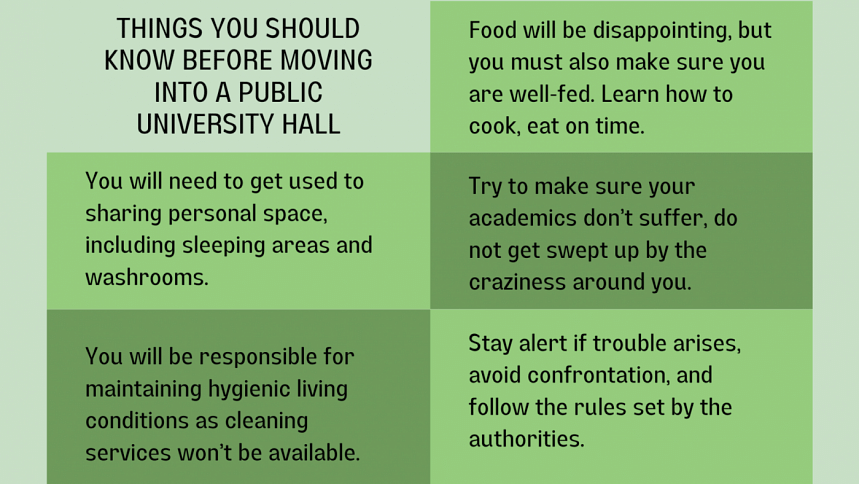 Reference:
Dhaka Tribune (April 29, 2020). Dhaka University finally decides to end 'Gono room' culture in dormitories.
Remind Ifti to be quieter at [email protected]