Keeping up with alternative diets
The Bengali cuisine is full of diversity – from spicy and flavourful kebabs to sweet and delicate desserts. However, for a lot of people, such diversity is often not an option because of their commitment to an alternative diet, which includes modifications or substitutes for certain food items or ingredients.
We look to explore how diverse some diets may be, and the connotations surrounding ethical, religious, health concerns and all other reasons one might follow them.
For most people, common allergy-inducing food items like aubergines and shrimps can easily be substituted. For others, however, restrictions based on allergies or other health issues go way beyond what we're accustomed to, and may even change their lifestyles drastically.
Soumyabha Das, a twelfth-grade student at Sir John Wilson School, has strict restrictions on protein and cholesterol due to a congenital problem in one of his kidneys. He cannot eat a lot of his favourite food such as ghee, egg yolks, chicken, or red meat.
"I had to resort to substitutes such as fish for chicken, cholar daal for regular daal and proteins. I eat nuts during break at school instead of regular processed food, which is much healthier. These substitutes were all talked through with dieticians who suggested these preparations," explained Soumyabha.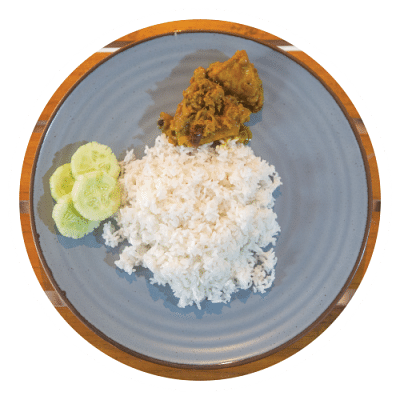 While talking about his experiences in local restaurants, Soumyabha further elaborated that most restaurants have fewer protein-heavy options and said, "I would ideally opt for chicken steak meals or fish and try to maximise my veggie intake."
Food restrictions can become more extreme depending on the individual's health concerns. Twenty-five-year-old Shahjada Aswad, who is currently working at bKash, has gluten intolerance. So, he cannot eat wheat or flour-based products, which encompass a significant portion of the local cuisine.
When asked about how people generally react to his restrictions, he replied, "Most people in Dhaka do not really know what gluten is, let alone understand that someone could be allergic to it. They seem to be pretty curious whenever I have to explain it. They also empathise with me when they learn that I can't have any food with flour or wheat."
Shahjada further added, "Restaurants tend to be pretty limited for me. This is especially true for fast food. I can't remember the last time I had pizza or a burger. Being gluten-free means you are limiting cheap snacks and fast food from your menu. It might be healthier but it's difficult to get an affordable fulfilling diet. Gluten-free options are available now but they are very expensive."
While some diets are restricted by health concerns, others are bounded by religious values. Anuvab Paul, an A-Level student at Bangladesh International Tutorial, is a vegetarian. As a member of International Society for Krishna Consciousness (ISKCON), a movement within Hinduism, he can only eat vegan food items, except dairy.
ISKCON members cannot eat anything with onions, garlic, moshur daal, or anything that comes in contact with, or is prepared by someone outside of their particular sect. It is worth noting here that members of ISKCON are not the most mainstream followers of Hinduism.
According to Anuvab's beliefs, the food eaten by an individual has an impact on their consciousness. Therefore, their diet upholds a strict preparation process, which includes cooking the food with a very calm state of mind. 
He also emphasised on the community aspect of temple-based kitchens, "In these gatherings, we tend to meet a lot of people, and discuss and try to understand each other's approaches to life. Such interactions do strengthen our community as members form better bonds, and they give you that sense of belonging."
As for the lengths Anuvab had to go in order to stick to his diet, he looked back on a four-day trip from school.
"I faced a lot of challenges going on a trip with people who were not vegetarian. Even though the food was separately cooked for me, it did not meet my expectations as maintaining the restrictions was understandably difficult," he said.
On the topic of vegetarian diets, a major misconception is that they don't align with Bangladeshi cuisine. The nationally ingrained saying "Maache bhaateh Bangali" ("Fish and rice make a Bengali") can be attributed to the vast assortment of fish incorporated in the cuisine.
However, there is a huge variety of recipes that don't call for any meat. A lot of authentic Bengali food is innately plant-based, as the dairy and meat-based korma curries, kebabs, and biryanis were influenced by the Mughal rule.
Yet, the way vegetarianism or veganism is marketed tends to alienate Bangladeshis from committing to the lifestyles. It is associated with expensive foreign food items like tofu, tempeh, and quinoa. Anuvab said that his family combines a range of crunchy vegetables, milk and homemade cheese to make hundreds of dishes, making it very affordable.
On the more seemingly expensive end of diets, there's veganism. Eighteen-year-old Usraat Fahmida, who is currently on a gap year, tried a vegan diet for 3 months in 2020. Coming from a meat-loving family, she wanted to make some lifestyle changes by cutting out animal-based products.
However, finding vegan food items in Dhaka is a constant struggle due to their limited availability and high prices. Upon asking Usraat about her experience, she recalled, "For me, a lot of the vegan alternatives such as, soybean meatballs and tofu were quite expensive, especially compared to one dozen eggs."
Considering that many go vegan for ethical reasons, eating imported food without paying attention to carbon footprint goes against vegan values. However, eating responsibly while being a vegan is feasible, and Usraat's cooking chronicles tell us that you don't necessarily have to buy imported food or spend a fortune to implement a plant-based diet.
Veganism opened up a portal to a wide range of cuisines for Usraat. She was thrilled to be introduced to a lot of Indian, Korean, and Japanese food. Convenience was another plus-point, as she could try these cuisines with locally grown vegetables.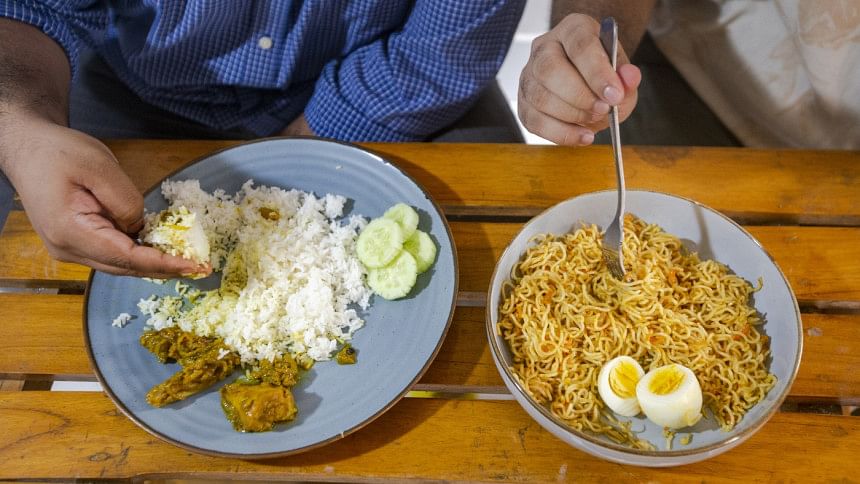 Usraat's vegan experiment came to an end after 3 months, after being unable to keep up socially and facing issues from parents who never understood the benefits of veganism.
Unlike a lot of diets, Usraat's was one that she had chosen herself. Having a say in one's diet is becoming increasingly common, unlike diets dictated by allergies or other restrictions. The ketogenic diet is an example of a diet chosen primarily for its popularity, without any particular health concerns.
Twenty-four-year-old Wasima Tanzim, content writer at ForethoughtPR, was compelled to follow a keto diet because of how effective it is marketed to be. She followed the diet for six months and said that it was great for her as it included a lot of cheese, butter, and eggs, items we don't necessarily consider when people mention being on a restricted diet.
"It would be great if I received more support in terms of the food I am offered, as needing more protein and fat sources is not entirely economical. Barbecue restaurants looked great, and if unavailable, dishes with chicken and eggs minus rice or potatoes worked just fine," she said.
She is no longer following this diet due to her changing lifestyle and concluded by saying, "Keto is great, but do consult a doctor because it is not suitable for everyone."
An important aspect people tend to overlook when they experiment with their diets is that not all bodies are the same. Our bodies respond uniquely to different of food items or certain restrictions. Therefore, consulting a professional is essential before making any major changes to diets.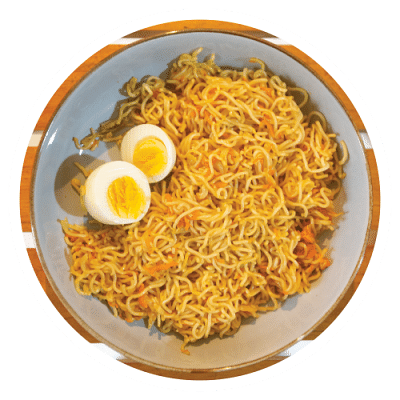 However, for people to consult professionals, they would need to be properly aware of the implications of these alternative diets.
When asked why we need more awareness and representation surrounding different diets, Anuvab said that awareness can make our food more inclusive and sustainable. Usraat, alternatively, accentuated the social aspect of having a diet of this sort. She assumes that more people are leaning more towards alternate diets every day, whether it be for ethical or health reasons.
With resources at our fingertips now, there should definitely be more awareness so that our restaurants, grocery stores, and society are catering to an ever-changing demographic. Therefore, it is high time that we are informed about the diverse types of diets. Here's to being hopeful about not having to break your bank, or have a crippling fear of being isolated or discriminated against for your diet.
Hrishik spends his evenings adjudicating debate spars, and writes poetry at 3AM. Send him matter banks about Economics at [email protected] [email protected]
Send Shanum thoughts, prayers and memes to deal with lactose intolerance at [email protected]