Witnessing the price hike parody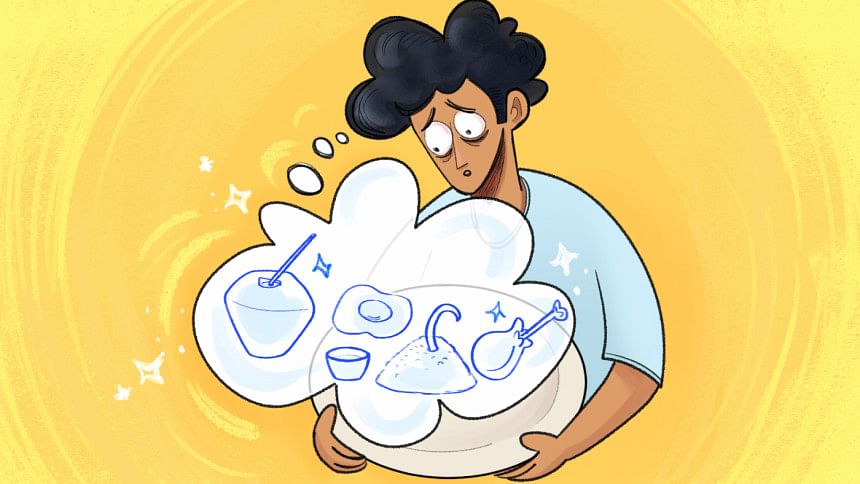 As usual, Dhaka is at a standstill with motorcyclists plugging every possible gap between cars and buses, pedestrians attempting to pass through the thick conglomeration of automated mass, and hawkers and beggars pleading for attention to remind you of the eternal drama of stop and go. At a short distance near the intersection stands an all-powerful traffic police officer who is presumably using his mobile phone to find out what's cooking at home. There are two major hospitals nearby. An ambulance is emitting a high-pitched, mechanical wail. Some hobnobs in SUVs with sheathed flag stands announce their presence with legally banned hydraulic hooters. The bosses are running late, so am I. Out here in this intersection, the police sergeant is the king, who is obviously oblivious to our needs. His men on the four corners will not yield unless they receive a signal from him. Stuck in this urban chaos, I witness the drama that is hidden in plain sight.
The characters are many. They come from all walks of life. Their presence is propelled by yet another never-ending gridlock of necessities and the elusive allure of opportunities. Why else would someone risk being in such heavy traffic? The man hours lost here at this traffic signal can be calculated in monetary terms. Feel free to Google if you want.
I catch sight of a man selling green coconuts outside a public hospital. Is it for a patient who needs to rehydrate to regain his strength following a mosquito bite that brought him to his knees? Oh, those pesky mosquitoes! They are so powerful that they can even make fools of those in power. Thank you, city fathers (and our brothers-from-other-fathers), for rearing them, caring for them, and creating awareness about them. Now I know which stripes to avoid. Just yesterday, I saw one of your PR campaigns featuring a line of white-hooded rickshaws with large dummy mosquitoes above them. The rickshaws marched with an annoying buzzing sound. Brilliant. I had tears in my eyes thinking my tax money was well-spent. This is way more subtle than the motorcades and street rallies with foggers, pesticide sprays, and loud music. I hope the mosquitoes will take note of such human efforts and die voluntarily.
But looking at the green coconut, or dub, as we call it, I missed a heartbeat. Isn't it ironic that our normal cardiac sounds come in pairs: lub-dub, lub-dub? Oh, I love dub, but my missed beat alerted me to the labh (profit) that the ruthless businessmen are making off the misfortune of a hapless mass. If I were a "dub poet" who used spoken words with reggae beats to make social and political commentary, I would have composed a poem now. But I am rendered speechless. I hear the price of a dub, a fruit that is abundant year-round, has doubled because doctors have prescribed fluids as part of a mosquito-inflicted dengue patient's diet. There is no poem that can portray the cruelty and inhumanity that we are witnessing.
Will we hear yet another "eggcellent" proposal to import dub in order to force the local market to lower their price? You have cried "import" too frequently to make the threat banal. Onions, green chillies, poultry, eggs, rice, edible oil, lentil beans and pulses, dub – what's next? For the local market operators, there are always new consumable products from which to profit. Why are the hilsas we send to our cousins across the border less expensive than the ones that are sold in this country? The drama has so many subplots. Everyone knows that there is a foreign currency shortage. The threats of importation sound hollow. Where will you get the line of credit? Yet, the prime minister warned last year that there would be a shortage of essentials. She called for austerity measures in the wake of the Russia-Ukraine war. Now that our big neighbours, from whom we traditionally import essentials, have banned or limited exports of certain items, what are the measures to stabilise the market? Where is the pep talk on food security when we need it?
The characters in the drama are then all abstract figures. Each represents a distinct strand. Together, they form a theatrical braiding of threads: the businessmen and traders are characterised by their insatiable appetite for profits, and the befuddled bureaucracy and the government they serve by their inefficiency in controlling the market and price hikes. If you allow me to say so, the antagonist in this drama is an elusive syndicate with whom even the commerce minister has to trade delicately.
Meanwhile, the stock characters in this play are the ordinary public, who are left with nothing but recipes and tips on preservation and conservation. There is a limit to the extent to which people with fixed incomes can tighten their budgets, postpone their desires or plans, and skip or compromise their meals. Every uptick in the price of essentials amplifies their struggles. The least they deserve is a bit of sensitivity and sympathy.
The repeated performances of this ongoing drama played in open air have made all these characters well-known. We seem to know the guys, or their types, from Khatunganj to Nawabganj, who manipulate the kitchen market. We seem to know the types who punch their calculators to assess the export-import game and send money abroad. We seem to know the middlemen who rub their hands together in glee as they charge extra or make extortionary demands while goods are transferred and transported. They form a chorus whose members sing with "Tk" signs dancing in their eyes.
Oh, the phone call of the traffic sergeant has ended. We have been given the go-ahead to move. I need to rush to my class to make my salary halal. My curtain calls.
---
Dr Shamsad Mortuza is a professor of English at Dhaka University.
---
Views expressed in this article are the author's own.
---
Follow The Daily Star Opinion on Facebook for the latest opinions, commentaries and analyses by experts and professionals. To contribute your article or letter to The Daily Star Opinion, see our guidelines for submission.