Guide to hosting a World Cup watch party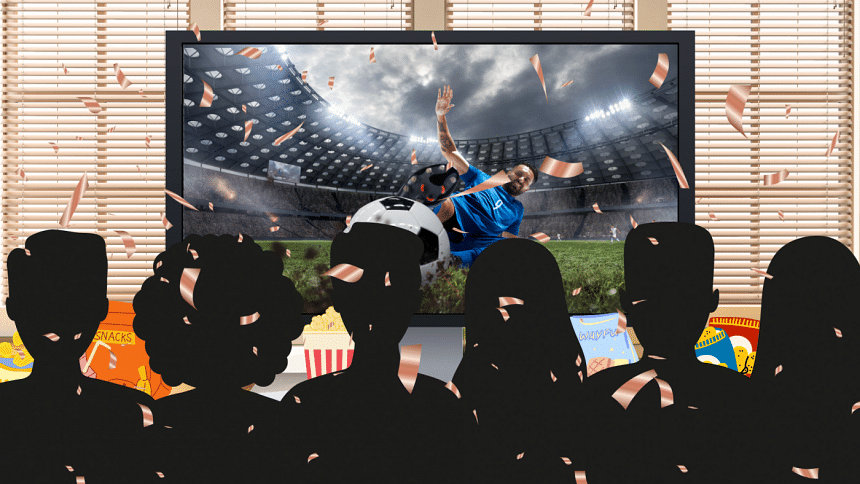 As exciting as watching football matches can be, the simple experience of watching them with the presence of people around you can be ten times more enjoyable. I would argue that the biggest factors going into hosting watch parties are broadly two obvious things: the screen, and the food.
If you're going to be hosting, make sure your TV or whatever device you're going to be watching the match on is large enough and has a strong signal. Even 4K televisions become futile if your cable connection is pure garbage.
There is no point in watching the game if the players look like moving blobs on your screen. You also want to be able to see and enjoy the expression on the players faces after yellow cards, so hook your television up to a good cable service provider. A good online stream also works, but be prepared to content with a delayed feed, and your neighbours spoiling the match for you with early cheers to goals and saves.
As for feeding your guests, your best bet is to go for any and all types of finger food. Finger foods are easy to grab and eat, and they allow you to focus your attention on the game. Prepare the food beforehand so you don't have to frantically go on snack runs during half-time, and don't skip out on soda.
The most widely supported game-day appetisers include fries, popcorn, pizza, chips, popcorn chicken, nachos, wings, onion rings, or even pasta. But for the ultimate watch party experience, avoid serving food that requires extra effort to eat, such as burgers or biryani. You want to make sure your eyes are fixated on figuring out whether or not the foul was fake instead of deboning fish.
Turn the volume up, dim the lights, pull out a mattress if you have to, and chuck in some throw pillows to make the match watching experience as cozy as possible.
Create a separate space for socialising or relaxing. Some guests might not be as much into sports as others and may come along just to have fun. Some might even want to take a break from the adrenaline rich environment surrounding the match, so keep a room empty where guests can relax or just talk to each other.
Unfortunately, the 9 PM start time for the final may be a bit too late for some. Thankfully however, the lockdown boosted the popularity of online watch parties. Discord became one of the most popular online spaces for people to co-exist and enjoy movies, shows, or movies together. A large proportion of watch parties this season are being held over voice channels across thousands of servers. There are a few things you should keep in mind if you decide to be the one who hosts these streams online.
A good streamer always has stable internet connection and access to the best streaming sites. Make sure, however, that you are using licensed streaming sites instead of illegal ones that will probably give you malware alongside pesky redirects and ads.
Watch parties can serve as amazing avenues to bring people who would not have otherwise socialised together, and they are also perfect for quality time with your family. So even if you don't go all the way to throw the most extravagant party to impress your guests, just having the match and people around you is enough to create memories that will last till the next world cup rolls around.
Koushin Unber is a proud seasonal fan. Send her football related Youtube videos for just this month at [email protected]