My first encounter with the unknown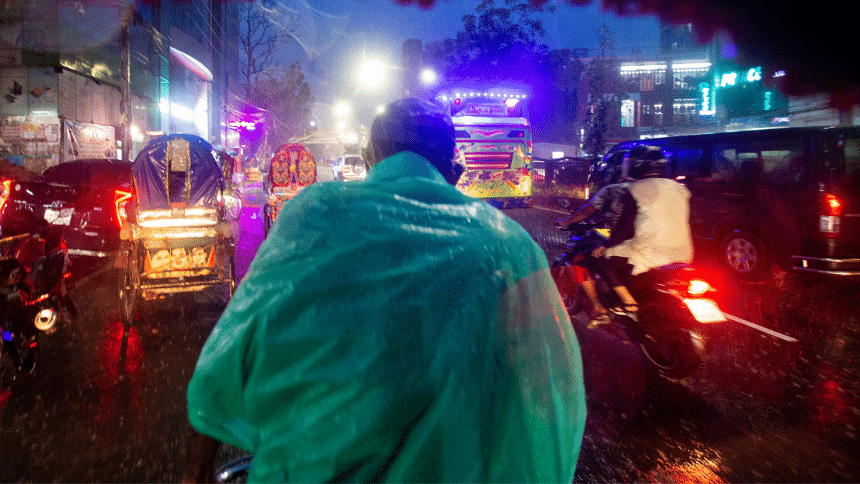 If I didn't have a terrible headache that night, I probably could have avoided all that trouble.
But as men who are insubordinate and churlish, we don't listen to our moms, we neglect to drink water, we get dehydrated, we develop headaches, we fail to fall asleep, and then we face terrible monsters in the night.
I was thrashing around on my bed waiting for my eyebrows to stop hurting and wondering if I should turn off the fan or pull up the covers, when my phone rang. There's never a good time for a phone to ring, in my opinion, but half an hour past midnight is an especially bad time. Headache be damned, I picked up my phone.
"You weren't sleeping, were you?" my friend cackled. His name was Shuvo, and he had a beautiful voice (only when he sang folk).
"Nah. I just got into bed, but I have a headache," I grumbled.
"Excellent! Come downstairs, we're waiting for you."
"What do you mean downstairs? Have you seen the time?" I looked at the time. It was late.
"Look, we're going to Puran Dhaka. It's cold, we'll take a rickshaw ride, it'll be a blast."
"Umm… I'm not sure, I have classes tomorrow…"
"You have 5 minutes to make up your mind, friend. That's how long it'll take me to finish this lollipop, and then we'll be off. Capiche?"
"Capiche? Since when do you use the word 'capiche', you dumb…," Shuvo hung up before I was done.
It didn't take me 5 minutes to decide, to be honest. It was more like 30 seconds, or as long as it took me to get up and walk to the balcony to make sure Shuvo really was waiting for me downstairs. The sight of thinning hair on the top of his head assured me, and by the time I got ready and headed downstairs, 6 minutes and 57 seconds had passed. Disheartened, I stared at the backs of a couple of rickshaws carrying who I assumed was Shuvo and some of my other friends, until they slowly disappeared in the early winter fog.
I was taking a moment to consider what I should do then, when a rickshaw appeared behind me.
Tring tring, the bell rang. I looked up at the face of an elderly rickshawala, and found myself taken aback by a smile that could best be described as… soulful.
"Bakshibazar?" the murobbi asked.
"How did you know?" I mumbled.
"Get on," he gestured with his head.
The rickshaw ride may have been as much of a blast as my friend promised me, but I never really noticed. The man pulling my rickshaw seemed frail and elderly when he pulled up next to me in front of my house, but the closer we got to the destination, the stronger he seemed to get. At first, he was having trouble overtaking pedestrians on the road, but when he crossed Chankharpul, I was sure he tring tring'ed a running motorcycle in the middle of an open road. The fog that was threatening to surround us just an hour ago was now gone, and the air took on the heavy odour of soil expecting rain.
"Mama, do you like rain? It could rain tonight," the rickshawala asked. His paddling never missed a beat, his eyes never left the road.
"I love the rain, but it's supposed to be winter now, isn't it?" I asked back.
"It really depends on what you want, mama," this time he looked back and smiled. He helped me pull up the rickshaw's hood, and handed me a plastic sheet. I would be protected from the rain.
By the time the clouds roared and the sky broke, I already knew it was going to rain. The rickshaw that was supposed to take me to Bakshibazar had travelled somewhere else by now. Somewhere dark, a place hidden by the sheets of rain pelting down.
I hunkered down in my rickshaw and enjoyed the drops of water clashing into the plastic sheet in my hands. I remembered a ghost of a headache, and the remnants of a home I had left some hours ago. I wondered if I would go back, and smiled as I realised I didn't know.
Azmin Azran is Editor-in-charge of SHOUT.