The myth of women's football being unmarketable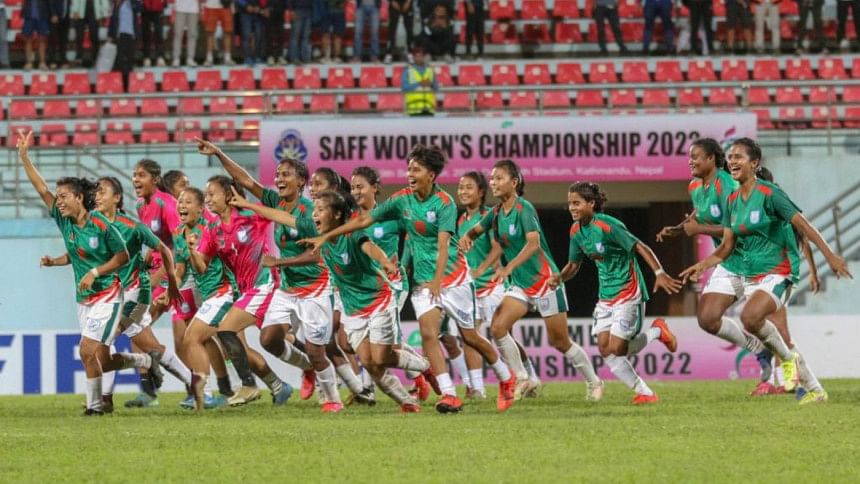 In Bangladesh, for the better part of the last decade, men's football has dominated the headlines while women's football has remained a footnote. Remarkably, despite the women's team's impressive international track record, local clubs have consistently failed to recognise the untapped potential of women's football. It wasn't until our national women's team secured victory in the 2022 SAFF Women's Championship that the spotlight finally cast its blazing rays upon this deserving facet of the sport. Questions have arisen, and voices are demanding change: it is high time to invest in our women. For far too long, we have yearned for an advocate to emerge and uplift Bangladesh women's football.
Enter K-Sports – a leading sports marketing agency in the country that has been a crucial partner in high-profile sporting events, such as the ICC Cricket World Cup 2011, the unforgettable Argentina versus Nigeria friendly, the Asia Cup 2012 and many others. In 2019, K-Sports sponsored the Bangamata Asian Senior Women's Central Zone Volleyball Championship – the first time a Bangladesh national women's volleyball team participated in an international tournament. The event was successful, and it brought the agency into a new field: women's sports. Since then, Fahad Karim, the president and founder of K-Sports, has been planning to invest in women's teams. He believes that now is the right time to create an international platform to help develop women's football in Bangladesh, thus leading him to create the first-ever franchise league for women.
He has observed that the wellspring of talent within Bangladesh's women's football is a treasure trove awaiting discovery. It was this realisation that sowed the seeds of inspiration for the inception of the Bangladesh Women's Super League (WSL).
For years, our female athletes have had to adapt to products designed for men, sharing resources, match balls, officials, stadiums, and support staff. WSL is aiming to rectify this imbalance.
The visionary initiative is aimed at harnessing and nurturing the latent prowess of female footballers in the country. The inaugural edition of the league will take place at the Bir Shrestha Shaheed Shipahi Mustofa Kamal Stadium in Dhaka. Each team will comprise both national and international players, supported by technical and other staff. To promote the involvement of local players, teams will consist of individuals from four domestic tiers, along with one "national icon." This model is ambitious yet highly admirable, as it strives to ensure a level playing field for all teams while also emphasising the development of domestic talents alongside the inclusion of foreign players.
If successfully executed, the WSL 2023 promises to be a pioneering endeavour on multiple fronts. It will be the first time that a league is governed exclusively by female match officials and referees. Behind the scenes, the marketing team has worked relentlessly to ensure that every component of the league caters to and celebrates female athletes. The match ball, "Ostro," meaning "weapon" in Bangla, was crafted and designed to represent the league's unique identity. The champion's trophy has been manufactured in England. For Bangladesh, this initiative represents a transformative approach that has long eluded not only our nation, but also the broader South Asian context. For years, our female athletes have had to adapt to products designed for men, sharing resources, match balls, officials, stadiums, and support staff. WSL is aiming to rectify this imbalance.
In the realm of Bangladeshi football, a conspicuous deficiency exists – the scarcity of cutting-edge technology and resources aimed at elevating the sport. It is a deficiency that has substantially contributed to the nation's struggle to make an impact on the international stage. Fahad, unwavering in his conviction, envisions a transformative shift as the antidote to this long-standing predicament. His vision encompasses the introduction of state-of-the-art technology and data analytics, intended to propel the sport into a new era of excellence. Anchored in this vision is a profound faith in the potency of marketing. Notably, the league has secured the services of esteemed international commentators – Mark Tompkins, Paul Masefield – and recently retired professional footballer Gilly Flaherty. The talent extends further with the inclusion of international stars Karishma Kotak, Laura Esposto, and Sonal Sharma, who will be joining in as presenters.
In contemplating such a formidable line-up, there arise sceptical considerations: can the league sustain such an ambitious undertaking, or will it face an abrupt demise? In response, Fahad acknowledges that, during the initial years, financial losses are likely inevitable. But he perceives them as an investment in a brighter future. He draws inspiration from the successful models adopted by European associations, observing the benefits they are currently reaping.
Additionally, it is worth noting that the WSL's launch, originally slated for an earlier date, has been rescheduled to late November. This decision is underpinned by a host of logistical and strategic considerations, including a desire to secure adequate attention and prime broadcasting slots. Consequently, the move to schedule the league after the ICC Men's World Cup aligns with an ideal timing.
The concept is to adopt a grand vision – transform this league into a resounding statement and a spectacle typically reserved for male footballers. Along the way, there are not just occasional speed bumps but rather monumental mountains to conquer in order to succeed in orchestrating an event of this magnitude. Fahad readily acknowledges these challenges, but his unwavering determination is truly commendable.
The steadfast support of the Bangladesh Football Federation has played a pivotal role, with the national association contributing its invaluable expertise. A collaborative effort is crucial for the league's sustainable future, and the BFF is wholeheartedly aligned with the proposed plans for the WSL. Informed fans are poised to rally behind the league. Our home international matches have consistently drawn substantial crowds, reflecting a shifting mentality in how we perceive women's football, thanks to our recent successes.
On the other hand, it is disheartening to witness professional clubs reluctant to venture beyond their comfort zones and back their female athletes. Similarly, some corporations have failed to grasp the broader vision, fixating on short-term monetary concerns instead of aligning their actions with their stated support. It is important to remember that, while there may be initial setbacks, one can leap higher only by first bending lower.
Come what may, the WSL will proceed, poised to serve as the catalyst for a new era in women's football in Bangladesh. To those who underestimate the magnitude of this remarkable endeavour, to those who shy away from the risks of lending their support, a simple truth beckons: greatness is born of audacity. Failure to rally behind our female teams now would only widen the gap separating us from those who currently lead the way. We all have a shared dream: to one day witness our players gracing the biggest stages of football.
---
Raiyan Binte Rafiq is a sports columnist for The Daily Star. She is currently pursuing an LLM, while freelancing for INDIVISA. She also oversees recruitment at Next Level Sports Management.
---
Views expressed in this article are the author's own.
---
Follow The Daily Star Opinion on Facebook for the latest opinions, commentaries and analyses by experts and professionals. To contribute your article or letter to The Daily Star Opinion, see our guidelines for submission.
---