SAFF champions' treatment shows how we devalue women
Why are we all so excited about the Bangladesh football team after their win at the 2022 SAFF Women's Championship, even though most of us have rarely, if ever, watched women's football? I have only one simple answer to this question: representation.
The football team represented us as a nation on the South Asian stage, and they made the entire nation proud by coming home as champions. Many across the country are ecstatic that women in sports are finally getting some representation as well, where not only their skills are being applauded, but the gender disparity in sports, especially in terms of salaries and access to facilities, is also being discussed. (For example, the fact that a male club footballer earns around Tk 50-60 lakh per year, whereas a female footballer earns around Tk 3-4 lakh, was making the rounds on social media.) And many, of course, are happy to see women from minority backgrounds, who are usually erased from mainstream narratives, being held up as role models, rather than being stigmatised as outsiders (although the exotification of Indigenous women and the trap of the "good" minority, similar to that of the "good" immigrant, are things to be cautious about as well).
However, even champions have to fight to take up space in male-dominated rooms, and for the right to be seen and heard, as became all too clear soon after they came home. After the much-anticipated parade in an open-top bus where the city came together to give the team a hero's welcome, the exhausted footballers were forced to stand for the entire 45-minute press conference organised by the Bangladesh Football Federation (BFF) in their "honour," while BFF officials and dignitaries hogged the limelight. In fact, all the pictures from the event show only a row of men sitting at the table or standing at the front in all the photographs taken; the footballers and their coach are barely visible, even though the day was supposedly organised around them and their victory.
Over the past week, the media has been awash with reports of just how much these footballers struggled to get where they are, whether in terms of financial insecurity, social stigma, or simply being undermined and underestimated. Their coach spoke of being taunted and teased by his peers for being "only a women's team coach." Midfielder Sanjida Akhter spoke to The Daily Star about having abuse hurled at her and her family when she started playing wearing shorts. All of these reports made one thing clear: for most women, it is a relentless uphill battle to ensure that their victories aren't appropriated by others, and the places that they should rightfully occupy aren't taken away by those – usually men – in power.
To be seen, to simply exist and take up space – on sporting fields, in courts of justice, on buses and in public office – shouldn't have to be a revolutionary act. But unfortunately, in too many instances in this country, pushing for even a little bit of equality has had distressing – and even dangerous – repercussions for women. When even sports champions are pushed to the back, what is the fate of ordinary women who dare to take on the patriarchal system without the entire nation behind them, and without the lenses of national media trained upon them?
I'm reminded of the woman from Gior, Manikganj, who was reportedly killed on July 21 by her husband for refusing to quit her job. On March 13, a 16-year-old student from Mymensingh died by suicide after posting one last Facebook status about her struggles with mental health and trauma, and the bullying she had faced for speaking about how she felt our patriarchal society's gender roles were suffocating her. Last year, I wrote about a 25-year-old woman who attempted to leave her abusive husband, only to be sent back multiple times by her own family and members of a local shalish, until she and her three-year-old child were killed. The year before that, I wrote about Sumaya Khatun, a bright and hard-working student of Dhaka University whose only "mistake" was pursuing her dream of sitting for the BCS exams – a dream that ended at the age of only 26 by a partner who reportedly killed her for being too "ambitious."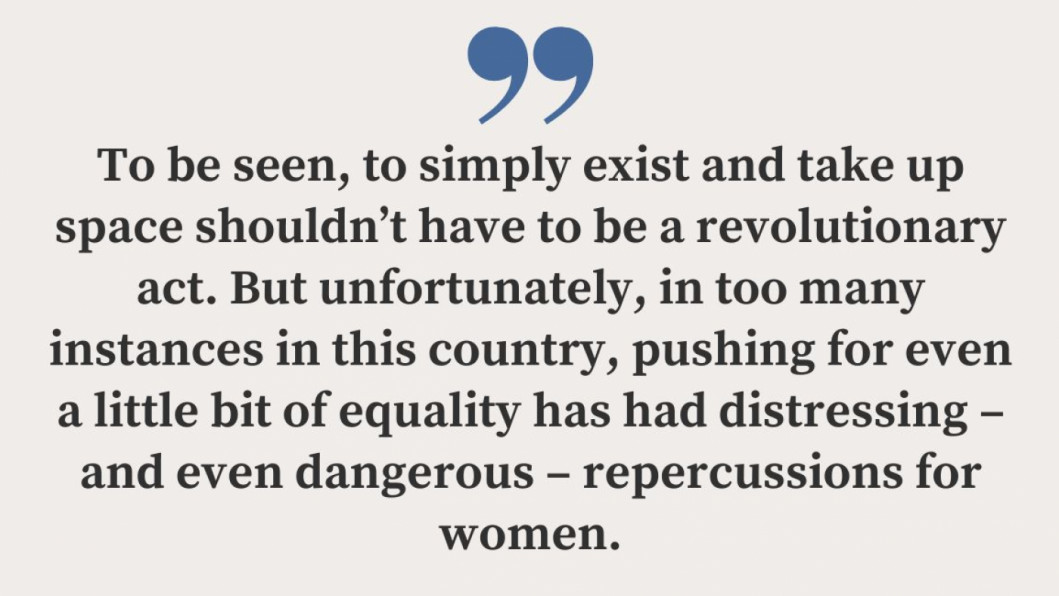 On the day that the women's football team won the SAFF championship and brought pride and glory to the nation, this daily printed four different reports on sexual violence. One of them was the gang rape of a zila parishad member candidate, who later told a correspondent, "They raped me to stop me from competing in the election."
This may seem completely unrelated, and in no way do I want to give the impression that I'm equating cases of horrific violence with instances where women have been mistreated or disrespected. But at the heart of all these stories, there is one common thread: misogyny. At home, at workplaces and in public spaces, wherever women try to push back against gendered norms that they are forced to conform to, too often they are met with maltreatment, threats, bullying and harassment – and in the worst cases – with abuse, torture and death.
It's high time we acknowledged this, and acknowledged the part that we all play in normalising and perpetuating this system. When a girl is taunted or disciplined for wanting the same freedoms her brother has, that is misogyny. When a woman has to work twice as hard to get the same recognition that men in their profession get with far less work, that is misogyny. When women are "forbidden" from pursuing careers because their time should be spent at home looking after their families, that is misogyny. And when women become victims of violence for trying to break all the rules imposed on them – rules that they had little to do with creating – that is misogyny.
We read reports of violence against women every single day in our newspapers. But what is the point of wondering about the ills of society and waxing philosophical about morality and values in the worst case scenarios, when we ourselves allow misogyny and unequal treatment of the sexes to pervade every aspect of our daily lives? Even in the media, we unwittingly normalise the status quo by writing headlines about how a woman was killed or raped because she "refused a marriage proposal" or "refused to stop working," when what we should be talking about is a society where women are so demeaned, where their individual liberties and sense of self are so undervalued and overlooked, that simply the act of saying "no" can change your life forever.
Is it any wonder, then, that even champions are told to stand at the back and keep their heads down?
Shuprova Tasneem is a member of the editorial team at The Daily Star. Her Twitter handle is @shuprovatasneem