From childhood heartbreak to fulfilling a nation's dream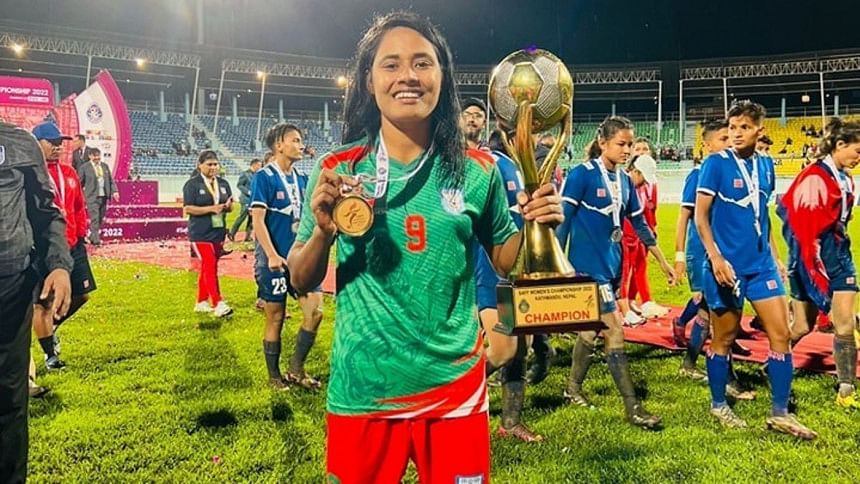 On what was a regular afternoon, a little girl growing up in a poverty-stricken background only insisted on playing her favourite game of football. Her mother, though, under continuous pressure from the surrounding community, took a knife and resorted to puncturing her favourite toy, a football in this case, right in front of those innocent, teary eyes.
The girl in this story is none other than Krishna Rani Sarkar, who became the darling of the nation as her two splendid strikes ensured Bangladesh's victory against Nepal in the final of the just-concluded SAFF Women's Championship.
Krishna made her international debut in 2013 for the U-14s and she played in Under-16, 18, and 19 teams before featuring in the senior team. Under her captaincy in the AFC U-16 Women's Championship Qualifier in 2016, Bangladesh fought on level terms against heavyweights like Iran, Chinese Taipei, Kyrgyzstan, Singapore, and Krishna had led from the front by netting eight goals.
Asked about the lengths taken to stop Rani playing football, Krishna's mother Namita Rani Sarkar said: "What else could I have done? I couldn't control myself because of the constant taunts from the neighbours and the uncertainty surrounding the future of my daughter and my family."
Ever since a four-year-old Krishna started playing football with local girls and boys in a playground next to her house, she was under the scanner of a certain conservative section among the neighbours. She, however, did well academically as the test results placed her among the top students from grade first to fifth, but that did little to dilute the prevalent taboo against girls pursuing sporting excellence.
Krishna is not the only one to face such harsh social stigma. Most of her teammates, too, had to struggle a lot in the beginning after having decided to take up the sport of their choice. However, success is known to dramatically transform attitudes. Now, the same neighbours are heaping praises towards Krishna, with people converging from all over the country to see her.
Earlier in 2016, Krishna and the Under-16's sensational success had seen her birthplace Gopalpur upazila in Tangail come under the spotlight. And after Bangladesh women's maiden SAFF title triumph, the focus on the remote northern Pathalia village of around three hundred families is set to scale several notches further.
Krishna's mother is singing happy tunes at present. "Now things have changed and those neighbours and villagers are now coming to my house and expressing their joy and pride in my daughter's success."
It is worth mentioning that after Krishna's mother had punctured that football in anger, it was Krishna's uncle Gaur Chandra Sarkar who bought her a new football and kept the flame of aspirations alive.
Krishna acknowledged the roles of her father Basudev Sarkar, maternal uncle, primary school teacher Saim-al-Mamun, and high school teacher Golam Raihan Bapan in playing pivotal roles during her developmental phase.
"Among them, Bapan sir not only inspired me, he actually made me a footballer," Krishna said.
"The girls are playing football and doing well now. But girls who are aspiring footballers need support from parents, relatives, and neighbours," she added.
Neighbour Saiful Islam informed before Krishna's success, almost no one from outside the village came to the area. "We are thrilled upon seeing Krishna's success. She let us hold our heads high in front of others," he said.