Stealing the applause and appreciation
As part of my health upkeep, on a daily basis, I take several oral medicines, a spoonful of black cumin, shreds of ginger, garlic and turmeric, large portions of fish and vegetables, and a date or two every other day. I have substantially cut down on rice, and eat no sweets, dairy or bakery items, nor fizzy drinks. Apart from dietary management, I walk briskly for half an hour. After months of regimentation, my sugar level dropped down below seven. Now, in my sudden gain, which I have yearned for years, I am truly at a loss as to which of my practices should I credit for such a joy.
The morning after, as I opened the front door of our house, I was rather amused to see a hitherto unseen and unthinkable drama. The shobjiwala, the baker, my doctor, the beverage shopkeeper, the fishmonger, the spice seller, and a host of unknown people, were all gleeful and looking downright silly wearing garlands of marigold. Seeing the media cameras, they were shoving each other and shouting "I did it," dwarfing me and drowning my voice, and ruining my biggest day.
Our women footballers suffer from a similar quandary, seeing that there are dozens of claimants to the credit after they became the champions of South Asia football on September 19. Overcoming Maldives by 3-0, Pakistan 6-0, India 3-0, Bhutan 8-0, and finally Nepal by 3-1 over a span of 12 days is being shamelessly ballyhooed as contribution of several Jodu, Modhu and Kodu.
Acknowledgement-seekers emerged in full force at Hazrat Shahjalal International Airport. There was a hirik of several non-associated males garlanding each other with marigold. There was a government directive at the time due to Covid resurfacing, but being falsely tagged as THE man responsible for the women's championship was a unique opportunity. The tamasha would not look bad, if that was possible, had the heroes been respected, highlighted and granted their due recognition.
Despite being shoved back to make room for the amla and kamla, the women footballers were magnanimous in their victory and held their head high in dignified modesty. In an implausible defence of the gate-crashing men, they did sign some files at the secretariat, and the Bangladesh Football Federation (BFF) Bhaban. In exposing their hand of disbelief and low expectation, the BFF Bhaban was not illuminated, although the ladies arrived two days after their famous victory. Did someone say austerity?
The impressive open-air festive bus was a surprise, commendably acquired in a day. However, the exclusivity of that triumphal journey through streets lined by grateful fans was also violated by unwanted and unqualified intruders, who did nothing for our football, but were on the top waving along with the champions.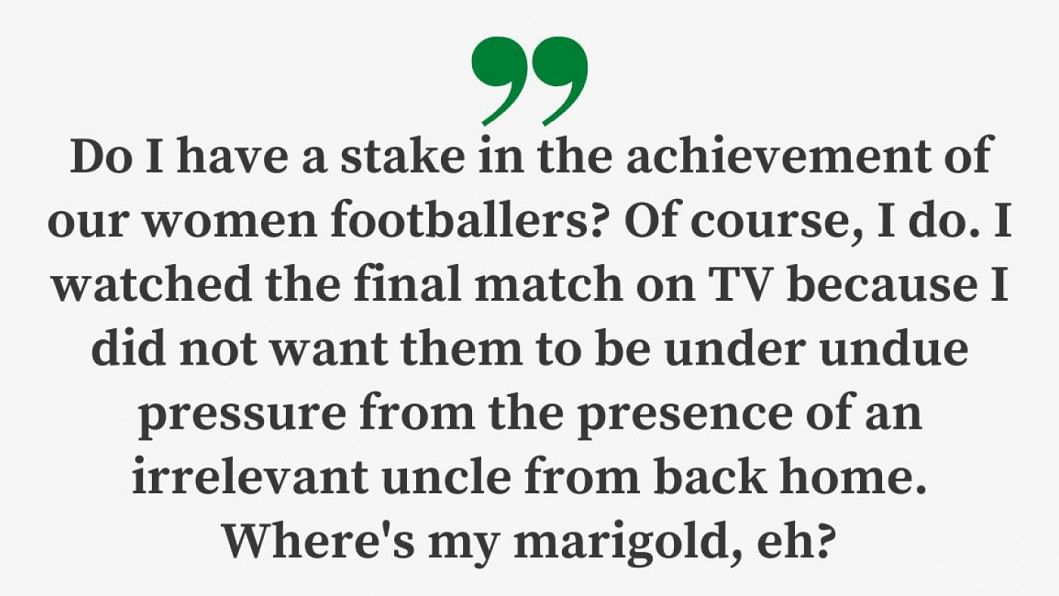 The BFF president of 14 years contributed most by not being at Kathmandu's Dasharath Rangasala Stadium during the final match of SAFF Women's Championship 2022 because, according to him, the players would have been under additional pressure. An astounding concept, no doubt! The "clandestine cheerleader" did not crowd the arrival lounge at the airport either. Instead, he came to light at the infamous press conference later in Motijheel, where, after a while, the players, the coach and the team staff were relegated to the back. Even then, in the nation's heart, the humble and reserved women champs were at the forefront.
The girls achieved the SAFF laurel after years of silent labour, quietly shedding tears and making sacrifices with their families, notably without any significant media attention or public interest. They are now painting a dream on a larger canvas, their determination sky-high. Let us not disserve their type of homespun football by drastically changing the system, especially by selfish schemers, who have sniffed glory.
What could be the psyche behind this ugly practice of stealing the limelight despite having no intellectual, technical, moral or effective input in any of the 23 goals that our girls scored in Kathmandu? The best goalkeeper of the tournament has to sadly take the blame for the only goal consumed, because none of the garlanded guardians will. Undeserved bouquets, yes. Brickbats? Are you crazy?
The sick mental condition stems from a mindset developed under centuries of colonialism, when a petty favour from the masters, acquired by a few among the subjugated, by guile and betrayal, was highlighted among the minions. People are more akin to rejecting such opportunists now.
Ever since the mayhem of stealing the applause and acclamation, I have been thinking rather deeply. Do I have a stake in the achievement of our women footballers? Of course, I do. I watched the final match on TV because I did not want them to be under undue pressure from the presence of an irrelevant uncle from back home. Where's my marigold, eh?
Dr Nizamuddin Ahmed is an architect and a professor, a Commonwealth scholar and a fellow, Woodbadger scout leader, Baden-Powell fellow, and a Major Donor Rotarian.