A win for the dreamers
We need to invest in our women and change how we view their participation in sports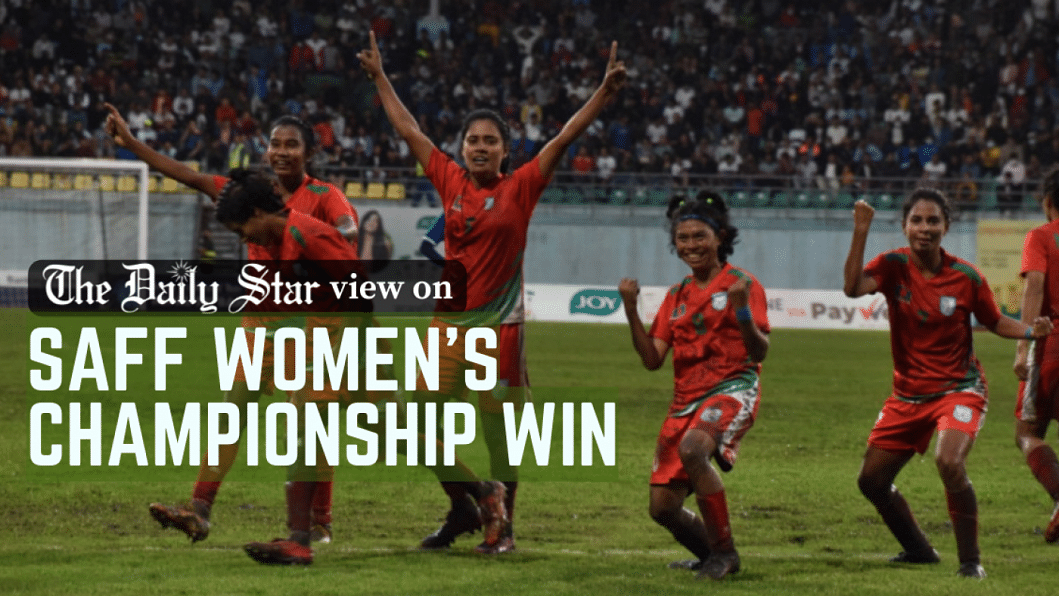 We offer our wholehearted congratulations to the inimitable footballers who have long won our hearts and have now won the SAFF Women's Championship, beating Nepal 3-1 in a riveting final on September 19. Since they began their glorious journey in 2015 with a triumph in the AFC U-14 Regional Football Championship, they have won almost every age-group regional trophy, including the title of the U-18 SAFF Championship in 2018 and the U-19 SAFF Championship trophy last year. This, however, is their first title at the senior level, and the first one for Bangladesh in women's football in South Asia.
Their journey from one victory to another has been one for the books, not least because of the teams they had to beat along the way. Their first and most significant victory was against this conservative society, where entrenched gender norms continue to dictate the limits for what a girl's dream life can be. Coming from different corners of Bangladesh, some from remote areas, the players bravely confronted social taboos and showed their communities, their nation and the world at large what girls can accomplish if only allowed even one-fourth the opportunities we provide our boys.
It is a matter of great national shame that, despite their consistent performances, the women's football and cricket teams get less exposure and fewer resources than the men's teams. On average, an A class female footballer earns a meagre Tk 10,000, a B class player earns Tk 8,000, and a C class player earns Tk 6,000. Male footballers make do by playing club football, where a top player earns as much as Tk 50-80 lakh, compared to a woman player at the top of her game who is paid Tk 5-10 lakh. However, neither clubs nor sponsors are interested in women's football, which means that, for a majority of women and girls pursing this challenging sport, it is still not a financially viable career option.
What is most concerning is that, despite the success of the women's team in the past few years, we have done little to bring about structural reforms to women's football, which means that this winning streak is simply not sustainable in the long run. We need long-term planning, a structural framework to support the team, and top-notch training facilities to help them scale greater heights. We need to promote Women's Football League and organise more age-group tournaments throughout the year to encourage new talent and allow the existing talent to brush up their skills as well as earn a living. The Bangamata Sheikh Fazilatunnesa Mujib Gold Cup Football Tournament, which is a commendable initiative, must be scaled up, and more investment needs to take place at the local and district levels to attract young girls towards the game and hone their talents. Most importantly, we need to change our problematic perception towards women and girls, which is holding them back from realising their true potential.