Our time to give back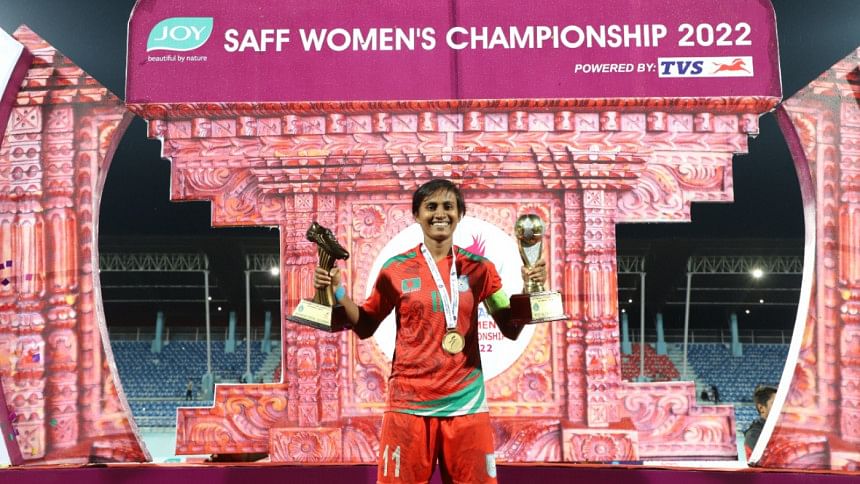 They wanted recognition from a society resistant to women playing football. Coming from humble backgrounds and remote areas across the country, these girls trained in the protected boundaries of the Bangladesh Football Federation (BFF) headquarters day-in-day-out to prove a simple point: women are as good as men.
Yesterday, at the Dasharath Rangasala Stadium in Kathmandu, these enfants terrible made their biggest statement yet. They beat hosts Nepal 3-1 in the SAFF Women's Championship final to present the football-turned-cricket-crazy nation with their first regional footballing glory after 19 long years.
It was in 2003 when the Bangladesh men's team won the SAFF title on their home turf, defeating Maldives in the final. Domestic football was very popular at the time, yet girls across the country could hardly kick a football due to the social stigma associated with women playing football.
Since those heady days, the footballing landscape in the country has witnessed a fall from grace from which it has not recovered.
The only exception has been this set of girls, who won almost every age-group regional trophy since their chequered journey started in 2015 in Kathmandu with a triumph in the AFC U-14 Regional Football Championship before retaining it in 2016. Their impressive trophy cabinet also includes the title of the U-18 SAFF Championship in 2018 and the U-19 SAFF Championship trophy last year.
They even made it to the AFC Under-16 Championship finals twice after finishing as zonal group champions in 2017 and in 2019.
While they might have lost all their games on the big stage against heavyweights like North Korea and Japan, their outings against Australia demonstrated how competitive they were capable of becoming.  After losing 3-2 to the Socceroos in a closely-contested game in 2017, these girls came back stronger in 2019 and settled for a 2-2 draw against the same opposition.
Bangladesh were imperious this time around, coming into this SAFF Championship final with a whopping record that read 20 goals scored and zero conceded. Their journey included a maiden win over five-time champions India, a 3-0 thrashing.
However, it is not the margin of their victories that has defined a team which has come up the ranks together under the tutelage of Golam Rabbani Choton. It is their fearless and attractive brand of football that has been a hallmark of their continued success.
And that success is even more befitting considering their personal struggles along the way.
These champions were born in a society where parents, fearful of backlash, are reluctant to allow their daughters to play football while wearing shorts. They come from communities where daughters are married off as adolescents. These girls showed grit and determination in defying those social taboos.
Ahead of Monday's final, Sanjida Akhter, a member of the winning team, posted a very significant message on Facebook, which went viral.
"Those who are pensively waiting to embrace the dream, we want to win it (the title) for those dreamers. We want to repay their unequivocal support. We are not thinking of a victory parade on an open-top bus with the trophy in our hand. We want to win it for those who have helped us to touch the green grass (of a football field) by shielding us from social stigma," Sanjida wrote.
Now that they have lived up to their promise, a celebrative atmosphere might linger for a while. There may be promises of financial rewards.
But this success can only be turned into a watershed moment provided that women footballers get a structure that can enable them to consider taking up the game as a profession.
The BFF had revived the women's football league for the 2019-2020 season, but that is not inviting enough to give financial comfort to those who want to take up the game professionally.
It is about time the government and businesses come forward and lay the foundations for a professional structure that will help them scale greater heights.
Otherwise, players like Sanjida, Krishna, Monika and Maria, who made us proud by creating a significant piece of history, will be lost in oblivion.