Booters warm up with win in Cambodia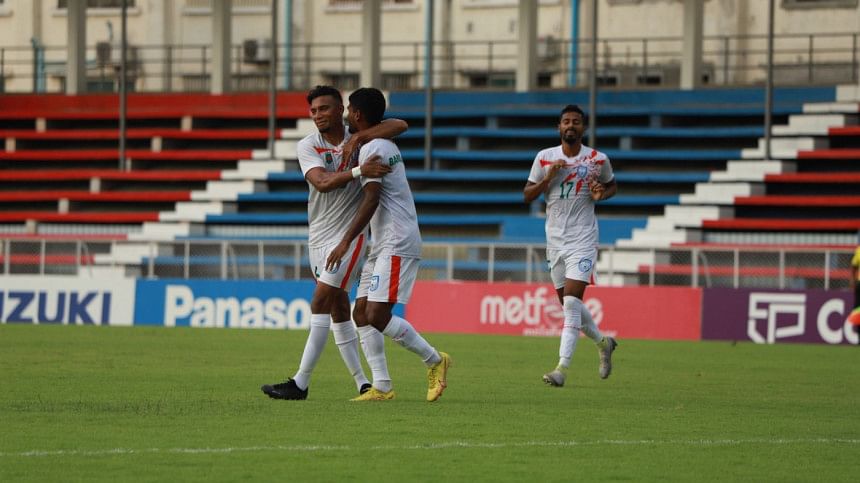 Bangladesh began their second-phase preparation for SAFF Championship with a 1-0 win over Cambodian Premier League outfit Tiffy Army FC in a warm-up match in Phnom Penh yesterday.
Abahani midfielder Sohel Rana scored the decisive goal in the 12th minute of the match in which coach Javier Cabrera tested all of his 21 available players except for winger Rakib Hossain, who is still recovering from a hamstring injury.
Fit-again defender Tapu Barman played the last few minutes as Cabrera fielded centre-backs Tariq Kazi, Mehedi Hasan, left-back Alomgir Mollah and right-back Rahmat Mia behind three midfielders -- Jamal Bhuiyan, Sohel and Sohel Rana -- while Faisal Ahmed Fahim, Mohammad Ibrahim and Suman Reza played upfront.
"It was a good match as we created more [goal-scoring] chances and played well. It was not easy against the opponents who fielded three to four foreign players. It was a good test for us and the positive side is that we won without conceding any goals," captain Jamal said in a video message.
Cabrera believes the win would boost the players' confidence.
"At the beginning, it took us time to get into the match because they were quite aggressive and it was tough in the first 10 to 15 minutes but we had good chances with Sohel Rana scoring the goal. We could have scored one or two goals more to reach the first-half with better result. It was good enough, especially the defensive block was viable," said the 38-year-old coach.
Manager Amer Khan informed that defenders Bishwanath Ghosh and Isa Faisal would join the squad this morning after flying from Bangladesh on Monday night.