'Proud' Cabrera's focus on upcoming challenges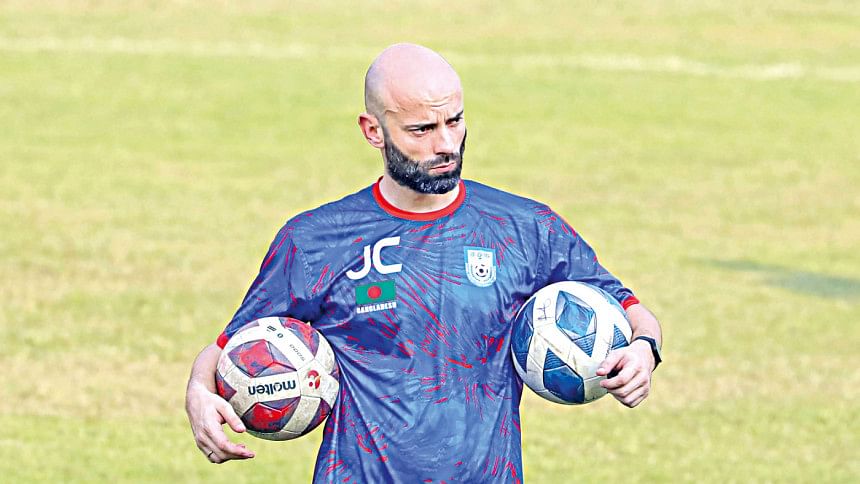 Bangladesh football team's head coach Javier Cabrera said the team would look to continue the performance of the SAFF Championship in the upcoming fixtures this year, with the team scheduled to appear in a number of assignments.
The Spaniard, who led Bangladesh to a first semifinal in the regional event for the first time in 14 years only to lose the last-four battle against Kuwait in extra time, said he was disappointed of the end result but proud of the performance from the charges.
"We're very satisfied with what we have seen. We have seen consistency which is the main issue we always talk about. We always perform in one game or two games but then in the third game or fourth game we always used to drop. This time we have been able to perform in five games in a row. The message is same from everyone that we have to keep this, we have to maintain this level in the next months," the 38-year-old coach told reporters following a meeting with Bangladesh Football Federation president Kazi Salahuddin at his office today.
The Spaniard said Salahuddin was of the same opinion, even though much of their discussion centred around the future rather than the past.
Bangladesh are scheduled to participate in the first round of World Cup Qualifiers in October while the Olympic team will play in the Asian Games in September. There is also a FIFA window in November, which Bangladesh would look to avail.
"He's (Salahuddin) always been very supportive of us. He's very proud of the team, but the idea is to look forward. The meeting was more about SAFF than about how we could continue and how we are going to prepare for the rest of the year," said Cabrera.
Cabrera also felt the fightback against Maldives, where Bangladesh went a goal down before winning 3-1, was the turning point for his side in the event.
"Maldives match was the one that probably decided what was going to happen," Cabrera opined. "We knew that we had to win that match; if we didn't win against Maldives, things would have been very very different. That was probably the game that changed everything. Psychologically the team felt very strong."
The Spaniard also felt his team deserved more from the heartbreaking extra-time defeat against Kuwait in the semifinals.
"The Kuwait game was absolutely fantastic performance. After 90 minutes it was 0-0 against a team of huge level. I'm not upset. We do believe that we could have achieved the final. It was a total 50-50 game or even we were deserving more. Not upset but disappointed. But I'm proud," Cabrera concluded.